Will China get the ultimate aircraft carrier – powered by nuclear energy? 
(Subscribe to Our YouTube Channel Here. 19FortyFive publishes original videos every day.)
A fourth aircraft carrier is one of the top items on China's military wish list. This next Chinese carrier could be nuclear-powered, enabling the People's Liberation Army Navy (PLAN) to join an exclusive club of modern nuclear flat-top owners led by the United States and France.
This could make the PLAN a global power with the ability to protect its sea lanes and territorial claims and even guarantee that it will have the military power to ensure it maintains constant oil supplies from the Middle East.
A nuclear-powered carrier could allow the PLAN to threaten Australia and India, not to mention keep constant vigilance over Taiwan, South Korea, and Japan.
Can the Fourth Aircraft Carrier Be Nuclear-powered?
China is reportedly racing to bring carrier-based nuclear reactors to life by 2027. China State Shipbuilding Corporation has stated it would need to mount a substantial technological leap forward before creating a nuclear-powered carrier. Still, the Chinese are confident in their shipbuilding prowess.
They already have the world's biggest Navy so surface shipborne nuclear power should be in its wheelhouse.
Conventionally-powered Would Still Cause Stress for the U.S. and its Allies
Even if the new carrier is diesel-powered that is one more headache the United States and its allies must worry about. The U.S. Navy could choose to constantly sail two carrier battle groups in the Indo-Pacific, but that depends on how well the American carriers can be maintained so they can stay out to sea in a manner that would keep the flotillas engaged in East Asia.
They Have Delivered the Third Aircraft Carrier Already
The third Chinese carrier, the Fujian, is the fleet's largest and most advanced flat-top. It launched in June. So, the PLAN is sailing with the wind at its back in favorable conditions. The Chinese are believed to have design work for the fourth carrier completed and can start an initial build between 2025 and 2027.
A conventional-powered ship would take less time to construct and perhaps lower levels of maintenance since the Chinese have no experience with nuclear reactors on surface ships.
Some Analysts Are Convinced China Will Try for a Nuclear-powered Carrier
Malcolm Davis, a senior researcher from the Canberra-based Australian Strategic Policy Institute, believes that China will choose the nuclear-powered option. A conventionally-powered ship requires extensive forward basing and maintenance facilities plus supply ships, but a nuclear-powered ship would not need such a network of bases, he told the South China Morning Post. Plus, the Chinese are always striving for the most prestige and media relations value when pursuing future arms systems. By aiming for a nuclear carrier, China could become an even bigger global superpower, Davis said.
Better Catapult Means Better Airplanes Can Be Launched
The PLAN also wants an electromagnetic catapult to launch bigger and better aircraft with more weapons from the fourth carrier's decks. This is easier accomplished with nuclear power. Plus, the PLAN already operates nuclear-powered submarines so shipbuilders should be able to make the leap to provide a carrier with a similar propulsion system.
Fourth Carrier Will Create a Formidable Strike Group
The fourth carrier could form a battle group with the PLAN's advanced Type 055 cruisers that China hopes can launch hypersonic anti-ship missiles soon. Next-generation submarines and naval drones would also be featured in the strike group.
Fourth Aircraft Carrier Is Coming 
One thing you can bet on is that China will have a fourth carrier by the early 2030s. That means it could keep one in maintenance and three out to sea at any given time. Even if a second carrier was incapacitated or needed a re-fit, the PLAN would have two others patrolling in strategic waters.
A nuclear-powered carrier could also maintain a long-term presence in the Taiwan Strait and if the Chinese ever decided to blockade Taiwan it could stay out to sea indefinitely. 
How has the PLAN been able to forge ahead? It has re-fit or built indigenously three aircraft carriers over the last two decades. This is a testament to the strength of the Chinese industrial base. While the United States quarrels over which ships to build and which to retire, China just keeps plugging away and commissioning more naval vessels.
This fourth carrier, nuclear-powered or not, is another cautionary tale that the Americans and their allies must consider when creating a strategy and tactical response to the Chinese in the Indo-Pacific.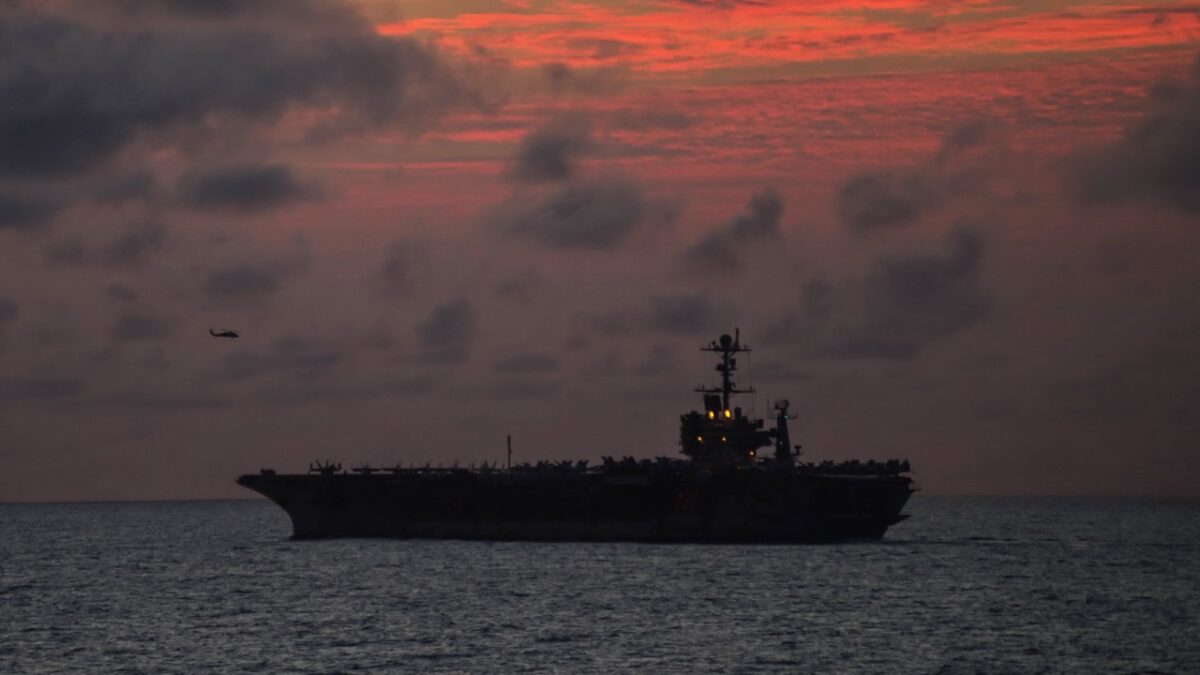 MORE: Is Donald Trump a 'Cognitive Mess'? 
MORE: Should Joe Biden Really Run in 2024? 
MORE: Ron DeSantis May Peak Too Early
Expert Biography: Serving as 19FortyFive's Defense and National Security Editor, Dr. Brent M. Eastwood is the author of Humans, Machines, and Data: Future Trends in Warfare. He is an Emerging Threats expert and former U.S. Army Infantry officer. You can follow him on Twitter @BMEastwood. He holds a Ph.D. in Political Science and Foreign Policy/ International Relations.