Ukrainian forces aren't the only ones capable of using loitering munitions to take out enemy targets, as a video shared on Twitter back in June shows.
A dramatic clip shared on Telegram and reposted on Twitter shows the moment that Ukrainian troops and a multiple rocket launcher were targeted by a Russian drone.
Unlike many similar clips that have emerged online, this video shows equipment in active use being targeted by Russian forces.
Annihilated by Kamikaze in Ukraine
The video, posted back in June, which is backed by dramatic music, starts by showing a BM-21 Grad multiple rocket launcher moving along a country road.
The operators don't appear to be aware of the loitering munition flying nearby, as video footage recorded form the air shows troops leaving the vehicle and slowly moving towards what looks to be a residential building.
The multiple rocket launcher remains parked on the road in front of the building.
The next clip then shows troops running from the vehicle as the loitering munition – or what many consider a kamikaze-style drone –  rapidly approaches the position.
Troops are seen running to the left of the screen, while the loitering munition remains focused on striking the center of the vehicle. Footage recorded from a nearby unmanned aerial vehicle – likely a Russian-operated rotary-blade drone – shows the same scene from the air.
When the loitering munition strikes the vehicle, it creates a quick and dramatic explosion, sending sparks flying into the air and creating a cloud of grey dust and smoke.
As the fire rages, missiles begin launching from the vehicle – not intentionally, but as a result of the damage caused to the vehicle. The video clearly shows missiles firing despite its operators having already fled the scene.
The video was shared on Twitter on June 22 by Ukraine Weapons Tracker, a popular war-tracking Twitter account.
"A Ukrainian BM-21 Grad 122mm multiple rocket launcher was destroyed by a Russian Lancet loitering munition in #Donetsk Oblast," the account writes.
Many similar videos have shown Ukrainian forces taking out abandoned Russian equipment and vehicles with a view to preventing them from being recaptured and repurposed.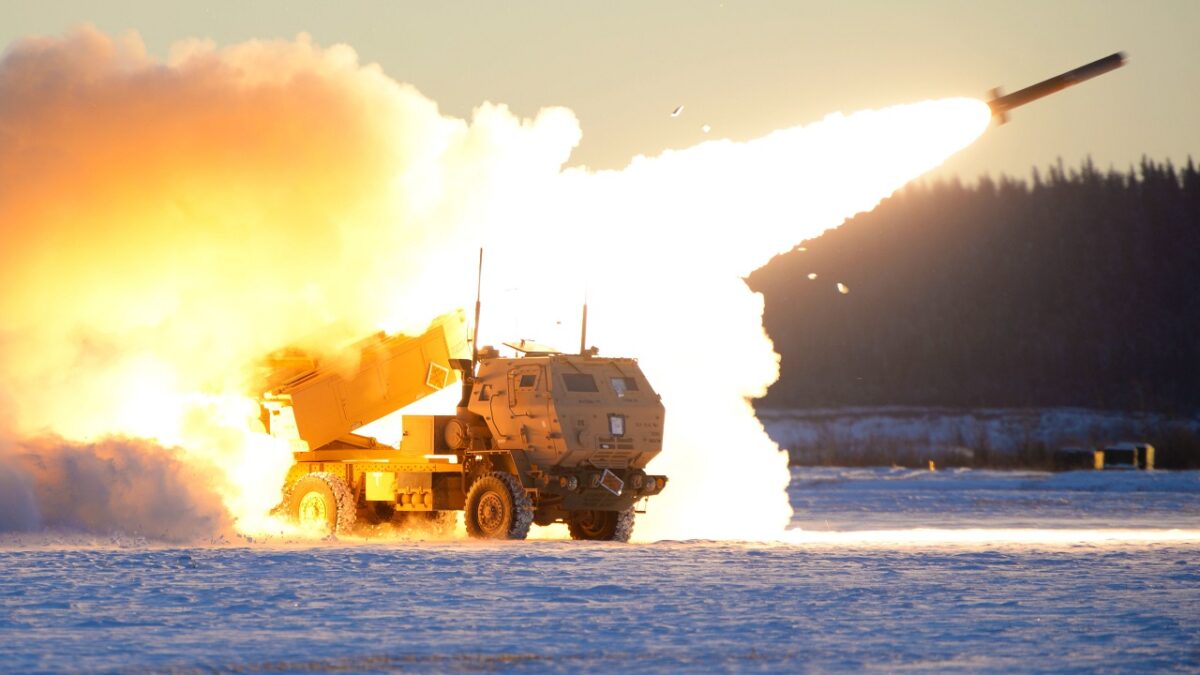 The Lancet drone used in the strike in Ukriane was developed by Russia's ZALA Aero Group, and was first unveiled in 2019. The drone is a fixed-wing UAV designed to explode upon impact, and provides a comparatively inexpensive and more accurate method of taking out Ukrainian ground targets. Unlike traditional artillery strikes, drone strikes are extremely accurate and often do not require multiple attempts to take out stationary ground-based targets.
As the video could be disturbing and upsetting, we have not embedded it for that reason. However, it can be viewed at this link. 
Jack Buckby is 19FortyFive's Breaking News Editor. He is a British author, counter-extremism researcher, and journalist based in New York. Reporting on the U.K., Europe, and the U.S., he works to analyze and understand left-wing and right-wing radicalization, and reports on Western governments' approaches to the pressing issues of today. His books and research papers explore these themes and propose pragmatic solutions to our increasingly polarized society.