Back in June, the Pentagon announced a new package of aid for Ukraine. It will be the first package to include unspecified munitions for unmanned aerial systems, which could help turn Ukraine's thousands of small drones from eyes in the sky into tank killers. 
Consumer quadcopters have multiplied the power of Ukrainian artillery and helped tank-hunting teams locate and stalk their targets. They have also become weapons in their own right. A protracted duel between a Ukrainian drone and a Russian tank involving multiple types of munitions demonstrates the capabilities and limitations of this type of drone bombing and gives a glimpse of future wars. 
The video of the battle in question was posted to social media in March. It shows a contest between a 46-ton T-80BV tank and a 2-pound quadcopter. The drone operator is trying to damage the armored behemoth with nothing more than hand grenades. Persistence pays off.
The Challenge 
Small quadcopters have been dropping modified VOG-17 grenades in Ukraine since 2014. This small, 12-ounce weapon throws out a spray of diamond-shaped steel shrapnel in all directions, making it an effective anti-personnel weapon but pretty useless against tanks. In the early months of the war, drone operators dropped VOG-17s on Russian armor, either as a harassment tactic or in the unlikely hope of doing some damage.
Ukraine's Aerorozvidka drone volunteers developed the bigger R18 drone specifically for anti-tank missions. With a much greater carrying capacity, the eight-rotor R18 can carry three large anti-tank grenades; it has proved highly effective. However, the R18 costs tens of thousands of dollars, and the vast majority of drone operators have cheap commercial quadcopters like the popular DJI Mavic. 
Quadcopter operators never gave up their hopes of defeating Russian tanks. Drone bombing is in some ways a last-ditch measure. As one Ukrainian developer notes, drones are far more effective when used to guide artillery. But sometimes there is no artillery available, and a drone is all you have.
First Blood
The Russian T-80BV in the video has the name BARKAS painted on the turret — Russian for longboat — so it is easy to confirm that we are looking at the same vehicle throughout the footage. 
The vehicle is in battle mode and buttoned down, meaning all the hatches are closed. The crew is limited to the view though their periscopes and cannot see the drone hovering above them. With the engine on, they cannot hear it either. This gives the drone operator the perfect opportunity to line up the shot.
As the bomb falls, freeze-frame reveals it is not the usual VOG-17, but an improvised anti-tank munition. These are shaped charge devices, featuring a hollow copper cone with plastic explosives packed around it. Commonly known as HEAT or High Explosive Anti Tank, such weapons were first developed in World War II. The explosive blasts the copper cone into a narrow, high-speed jet of metal that can punch through thick steel.
The bomb scores a direct hit, but the T-80BV's turret is covered in rectangular bricks of Kontakt-1 reactive armor meant to disrupt shaped charge rounds. When the bomb strikes the turret, there is an orange flash and a puff of smoke, but no visible damage. It looks like the reactive armor did its job and the warhead failed to penetrate.
The tank crew now know they are under attack, and maybe they have figured out it is coming from a drone overhead. But they cannot hit back. 
Some T-80s are equipped with a 12.7mm anti-aircraft machine gun, but these are generally considered irrelevant in the jet age. Also, shooting a drone overhead is not simple, and the gunner would be vulnerable to a shrapnel grenade.
The small quadcopter can only carry one grenade at a time, so the operator recalls the drone to reload. 
Barkas stays put, the crew hoping perhaps that the attack will not be repeated. 
Second Strike 
The drone operator switches tactics for the second attack. The first time around they were probably hoping that a lucky hit would set off stored ammunition. Russian tanks are notorious for detonating in a fireball when the crew compartment is hit.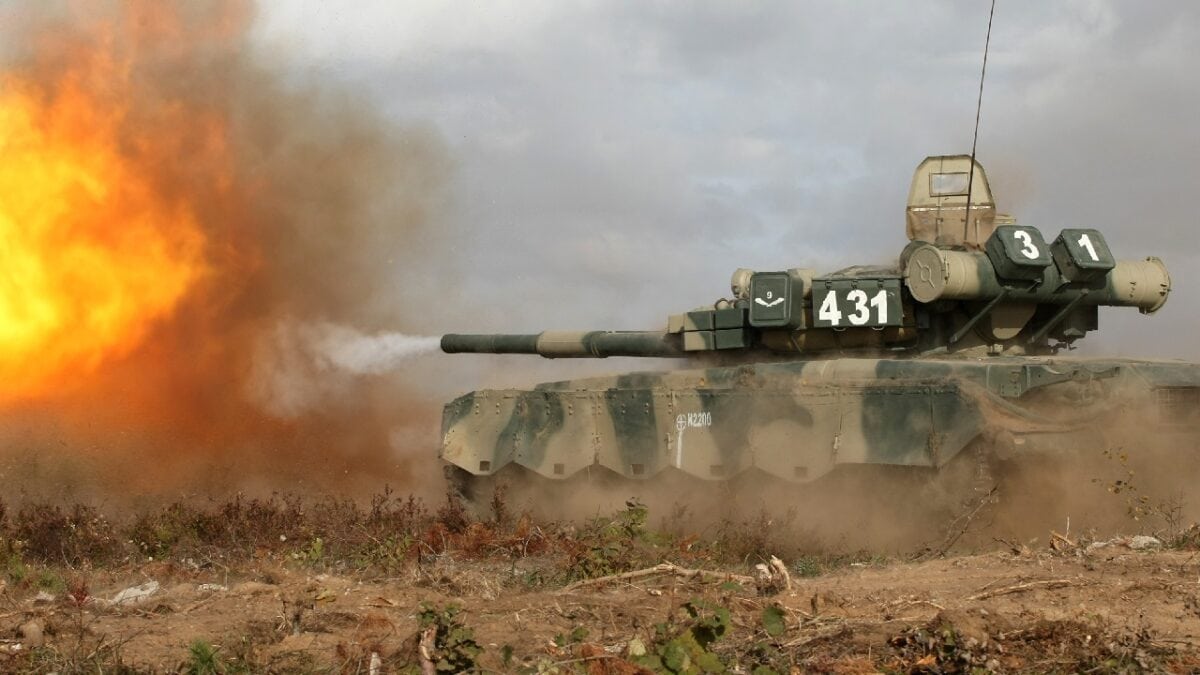 In the second effort, the operator aims at the rear deck of the T-80, where the engine is located. A hit will not produce a great secondary explosion, but the armor is thinner and there are no Kontakt blocks.
The bomb hits and at first there is some smoke, but nothing else. 
This sequence highlights the major problem with attacking something as big as a tank with something as small as a grenade. The U.S. Army's FGM-148 Javelin missile has an 18-pound high-explosive shaped charge warhead. When that punches into a vehicle, the explosive force inside is powerful enough to kill or injure the crew, destroy machinery, and start fires. A small munition with less than a pound of explosives lacks the power to produce this sort of effect behind the armor.
The problem was studied extensively when the U.S. deployed artillery cluster warheads that scatter dozens of small, dual-purpose grenades. These combined fragmentation and shaped charges. They were supposed to be effective against personnel as well as armored vehicles, but the size of the warhead was a problem. 
"It is a common belief that a single hit with a DPICM on an armored vehicle is equivalent to neutralizing the vehicle. This is a claim that deviates somewhat from the realities," notes a report by the Norwegian Defence Research Establishment . "In order to get a complete destruction of an armored vehicle, vital or critical components must be hit… Based on the placing, size and distribution of such components, it may be stated that an armored vehicle needs on the order of 10 hits with a DPICM in order to inflict a kill." 
Those are long odds. But the Ukrainian drone operator, undaunted,  reloads and sends his machine in for another attack. Again the bomb hits the engine deck. Again, there is little visible damage.
But by now the tank commander must be getting nervously aware that if his tank stays in place, the little drone could keep bombing them until it gets lucky. The tank gets in gear and reverses out of its position.
A Palpable Hit 
In the third scene the tank has taken up another position, the commander perhaps hoping he is now out of the drone's operating range. Quadcopters typically only have a control range of a few miles, but the Ukrainians may have extended this with an upgraded antenna. 
The tank crew are out of luck because the drone operator is on them again, working to find the vital spot on the engine with a fourth bomb.
This time it blows a cover off. That must make some noise, but there is no sign of real damage.
Again the tank moves on to another position. Unfortunately for them, they are still within range. The drone is back, and a fifth bomb strikes the engine deck. 
This time a stream of smoke starts pouring out of the back of the tank. That was exactly what the drone operator would have been hoping for: an engine fire that could immobilize the tank. Barkas drives off, still trailing an ominous amount of smoke from the engine compartment. 
Down But Not Out 
When the drone operator finds the tank again, it is on a trackway rather than in a firing position, and it looks abandoned. Most likely the fire has put the engine out of action, and the crew decided not to stay around and try and repair it.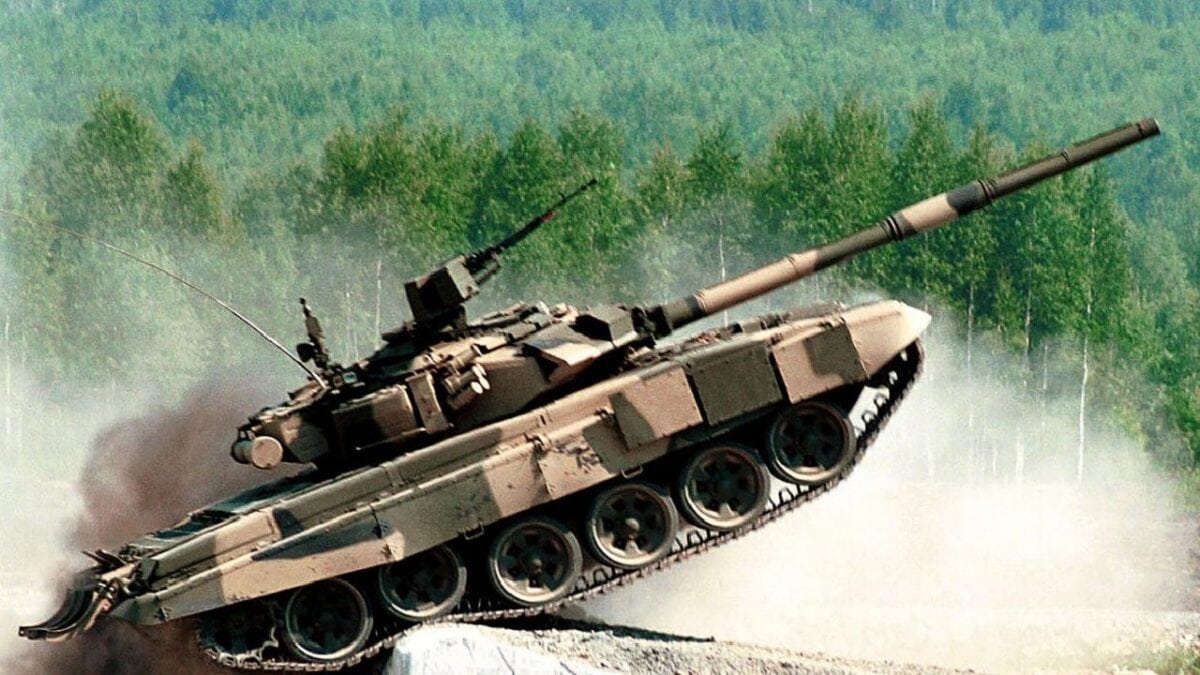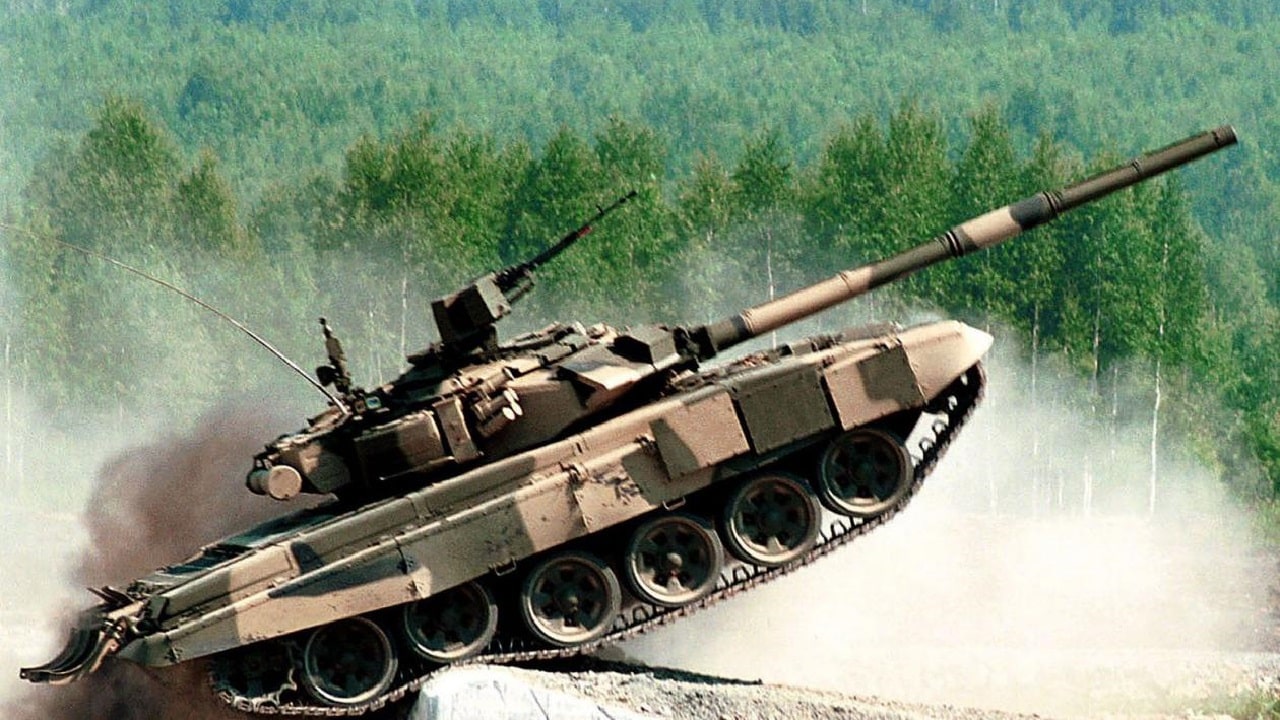 The driver's hatch has been left open. This commonly happens when a crew leaves in a hurry.
Barkas is out of the fight until a recovery vehicle comes to tow it back to a repair center, but the drone operator aims to prevent that. This time he has a new type of ammunition to finish the job, and he drops it directly toward the open hatch.
The RGT-27S2 is a so-called thermobaric grenade with an unusual type of explosive. It produces a fuel-rich fireball that goes on exploding as it expands, creating high temperatures and a prolonged and highly destructive shockwave. Thermobarics are more effective than high explosives for demolishing buildings, and a thermobaric blast wave flows around corners, making it lethal against personnel sheltering in bunkers and trenches. 
Ukrainian forces have increasingly been using thermobaric grenades to destroy abandoned Russian vehicles. 
This time the aim is slightly off. The grenade bounces off the gun mantel and lands in front of the tank, detonating harmlessly. 
Some time later, the drone is back with a second thermobaric grenade. This time the attack is from lower altitude, and the grenade falls straight through the hatch and into the tank. 
There is no sign of a detonation though, likely a fusing failure. Hand grenades turned into drone bombs, like other improvised munitions, do not necessarily have reliable fusing like factory-made weapons.
Endgame
Either because he is out of thermobaric grenades or because he does not now trust their reliability, the drone operator reverts to a more basic weapon: a Russian F1 hand grenade. The Russian's call it "lemon," while to American eyes it resembles the old Mk2 'pineapple.' This is a Russian design dating back to 1939. It contains 60 grams of explosive, twice as much as a VOG-17, giving it more punch for demolition.
Again the operator drops the grenade through the hatch. This time it detonates and there is a burst of orange flame from the tank interior, followed by a stream of thick gray smoke as the fire takes hold. 
This eighth attack is the death blow for Barkas. 
The fire will ruin sensitive electronics such as thermal imagers, radios, and the ballistic computer. All the wiring — there is about a mile of it in a T-80 — will be melted and useless, destroying the electrical system. It is no longer a matter of simple engine repair but a complete refit and replacement of the entire interior. If the stored ammunition starts to explode, things will be even worse.
A T-80 tank costs something like $6 million, and this one was destroyed with a few hundred dollars-worth of grenades. But it is not just the cost that matters. Russia simply does not have the capacity to produce tanks as fast as they are being destroyed. 
What Does This Encounter Teach Us?
According to a recent report by UK think tank RUSI, Ukraine is losing 10,000 drones a month, mainly to Russian jamming. While this may be an overestimate, jamming has certainly increased, and the life time of a combat drone may be short, Fortunately $1,000 quadcopters are as expendable as ammunition. And clearly jamming is not as widespread as the Russian would like: In this video , despite moving several times, Barkas cannot find an electronic warfare umbrella to shelter under.
This duel also shows the major limitations of consumer quadcopters as battlefield weapons. The limited bombload and the challenge of manual aiming mean that it is not a one-hit, one-kill weapon. A bomb capable of taking out a tank in one go, and with a better aiming mechanism, must be high on the drone operator's must-have list.
Ukraine has asked the U.S. for old Rockeye anti-tank cluster bombs, so they can be taken apart and the individual bomblets repurposed as drone bombs. The shaped charge will be more effective than a homemade version, and they were designed to take out Russian tanks. Further, the fuse is purpose-made for air-dropping, thus reducing the failure rate, and aerodynamic fins should make them more accurate. The munitions just supplied by the U.S. may help make up for this deficiency. 
There are many more videos of drones delivering the coup de grace on abandoned Russian tanks and personnel carriers, though few show the entire sequence of immobilization followed by destruction. In many cases it takes several bombs (this one BMP took nine), but it seems the Russians are not able to bring anti-drone weapons to bear, even during what must be an hour-long sequence of bombings. 
This battle will add fuel to many existing arguments. Does it show that the tank is dead, or just illustrate the need for better counter-drone protection? Does it prove that small quadcopters are too small to be effective in the anti-armor role — or that they are the sort of cheap, long-range tank-busters that footsoldiers need? They cannot deliver a knockout, but they can chip away until the target is destroyed. Is that insufficient, or a real bargain for the price?
Ukraine is planning to acquire 200,000 small drones in the coming year. This should provide plenty of opportunities to see whether Barkas' Last Stand was just one bad day for a particular T-80BV, or the harbinger of a new era of warfare. 
Expert Biography
David Hambling is a London-based journalist, author and consultant specializing in defense technology with over 20 years' experience. He writes for Aviation Week, Forbes, The Economist, New Scientist, Popular Mechanics, WIRED and others. His books include "Weapons Grade: How Modern Warfare Gave Birth to Our High-tech World" (2005) and "Swarm Troopers: How small drones will conquer the world" (2015). He has been closely watching the continued evolution of small military drones. Follow him @David_Hambling.