A video of U.S. President Joe Biden declaring his love of ice cream made the rounds on social media towards the end of June.
The 20-second-long clip, edited from Fox News Channel's footage of the president's Small Business Association's Women's Business Summit at the White House could hardly be described as Biden's finest moment.
It was anything but, to be frank. 
"My name is Joe Biden. (Laughter.) I'm Dr. Jill Biden's husband.  (Laughter.)  And I eat Jeni's Ice Cream, chocolate chip. (Laughter.) I came down because I heard there was chocolate chip ice cream.  (Laughter.)," reads the official White House Briefing Room transcript. "By the way, I have a whole refrigerator full upstairs. (Laughter.)  You think I'm kidding, I'm not."
The laughter is so present in the clips that it almost could be mistaken for a laugh track – and Biden certainly played to the crowd, before turning his attention to Senator Ben Cardin (D-Maryland). The two men, who were colleagues for years, engaged in lighthearted banter.
Then Biden gets serious, addressing the tragic school shooting in Nashville, Tennessee back in June, in which three children and three adults were senselessly murdered at the time.
"Before I begin to speak, and the reason I spent a little time on the kids, I — I just want to speak very briefly about the school shooting in Nashville, Tennessee," Biden noted.
"You know, Ben and I have been doing this our whole careers, it seems.  And it's just — it's sick.  You know, we're still gathering the facts of what happened and why.  And we do know that, as of now, there are a number of people who are not going to — did not make it, including children," the president continued. "And it's heartbreaking. A family's worst nightmare."
What Is Joe Biden Doing? 
The president then used this tragedy to call for gun control, while also once again making it about his own suffering – mentioning his late son Beau Biden, who had served in combat in Iraq – before turning the focus back on the Women's Business Summit. 
During his speech, he made sure to mention again Jeni's Splendid Ice Creams.
"And by the way — by the way, it is splendid.  (Laughter.)  You think I'm joking.  If I were allowed to take you upstairs, we got a whole freezer full of Jeni's chocolate chip ice cream.  (Laughter.)," Biden quipped. "You know, it's pretty dull when you've been in public life as long as I have and you're known for two things: chocolate chip ice cream and Ray-Ban sunglasses.  (Laughter.)  But what the hell, you know?"
Actually, Biden is known for three things, his love of ice cream, those Ray-Ban sunglasses, and his near constant gaffes (arguably a fourth would be his penchant for making up stories and telling outright lies). His comments could only be described as a blunder of epic proportions.
And all of it is unexplainable. 
Very Poor Choice of Words – Hardly New
There is a case to be made that perhaps Fox News was a bit disingenuous as the clip suggested "Biden Addresses Deadly Nashville School Shooting" and failed to clarify that it wasn't a press conference, and rather was an address to a previously planned White House business summit. 
It was thus a staged event, and Biden's "Ice Cream Speech" (as it should be forever known) had been written in advance, like many of Biden's seemingly off-the-cuff talks. 
However, someone in the White House should have to answer for why given the tragedy unfolding at the time that the speech wasn't at least toned down.
The answer is that Joe Biden is often inflexible and unwavering when it comes to his remarks, even when he wants to appear folksy.
This is why he repeats his obviously made up stories like the one about his exchange with an Amtrak conductor or why he keeps telling the same lie that a private citizen couldn't own cannons when the Second Amendment was drafted.
Even when Biden is fact-checked, he continues to tell these stories and lies because he likes how it makes him look.
Biden Gets Another Pass…But Why? 
The Ice Cream Speech is no different. A wiser man, or at least one with a better team, would have taken a different course, given the events that were unfolding and not all information was available.
Indeed, the media's response speaks volumes too. The fact checkers have gone out of the way to defend Biden – noting he wasn't actually addressing the shooting directly
The case has been different for Republican politicians.
Remember when President George W. Bush was informed about the 9/11 attacks on the World Trade Center and the Pentagon – he chose to keep reading to school children, as he didn't want to upset them. Even as he may have had to worry about whether there could be more attacks, Bush remained calm and collected.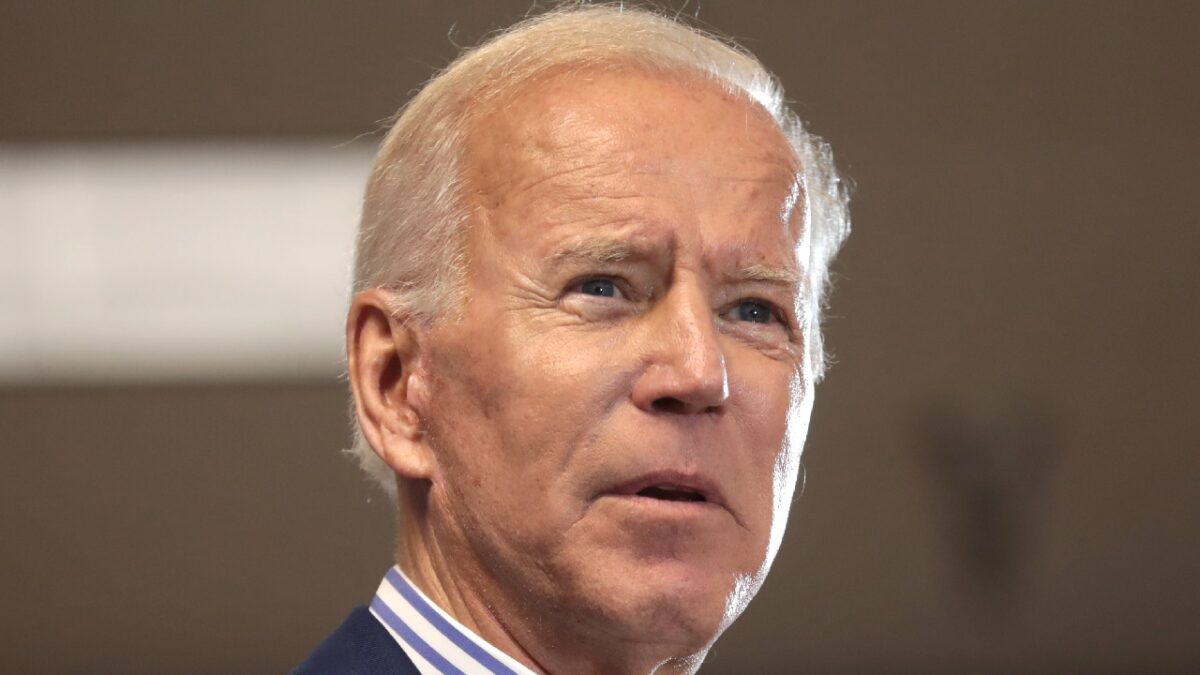 He was a rock, but he was criticized for it. Michael Moore and others suggested that somehow he was in over his head, when anyone could tell Bush was in deep thought at that moment.
Bush didn't tell jokes, but he also didn't overreact. He also didn't have a moment to prepare before making his remarks.
By contrast, Biden had time to prepare. 
Biden even went on to tell his planned jokes, for which he received cheers and laughs months back– both before and more importantly after his comments about the dead in Tennessee. And Biden ate it up, like it was a bowl of splendid ice cream. How strange indeed.