Though the Kremlin's forces could not secure a quick victory against Ukraine last year, the Russian Army is solidly defending against Kyiv's counteroffensive.
Much credit is due to the ZALA Lancet loitering munition, an unmanned aerial vehicle with a maximum range of 40 kilometers and an endurance of approximately 40 minutes.
As previously reported, the ZALA Lancet can serve in both a reconnaissance and attack role. During flight, it can be directed by GPS coordinates or visual control. Moreover, at the terminal part of a mission, it can be controlled manually to the target via electro-optical guidance and a TV guidance unit.
Designed by the ZALA Aero Group, a subsidiary of the Kalashnikov Group, the Lancet — the successor to the Kub, a flying-wing-style loitering ordnance system — is arguably one of the few successful domestically built Russian platforms to see service in Ukraine. The Lancet was first unveiled in June 2019 and was field-tested in Syria, where anti-government forces in Idlib used it in 2020-2021.
The Lancet features two X-shaped wings at the front and rear of the fuselage. An electric motor powers it, driving a two-bladed propeller located at its rear. The device is constructed of plastic and composite materials and weighs just 12 kilograms, including its 3 kg payload.
It is a simple but deadly platform, as noted in a recent video shared to social media back in June.
Kamikaze Attack in Ukraine
A nearly minute-long clip shows a Lancet – what some consider a kamikaze-style drone– striking a Ukrainian BM-21 Grad 122mm multiple rocket launcher in the Donetsk oblast back in June.
The video, which was first shared by the Russian war bloggers @antiseptic_channel on the Telegram social messaging, was recorded from multiple angles — including from the Lancet's first-person perspective.
Two crewmembers of the Ukrainian launcher were seen fleeing before the Lancet strikes, possibly indicating that they had spotted it.
As the Grad burns, several rounds are seen launching, likely being cooked off.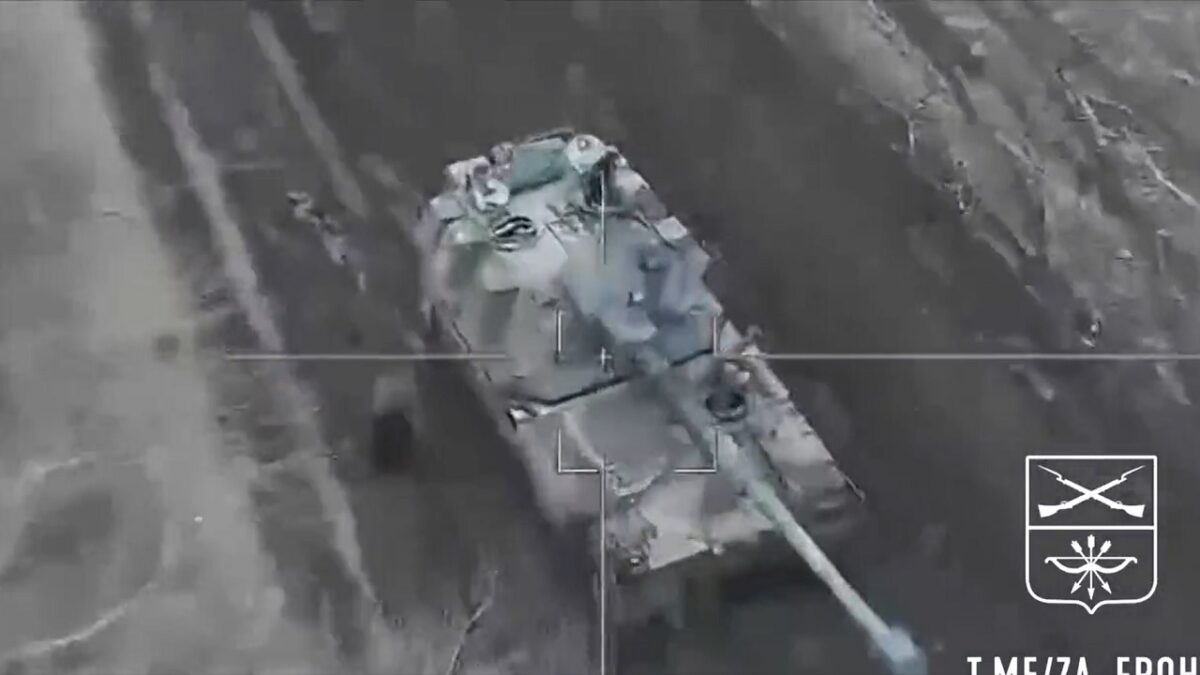 Countering the Lancet
Russian and Ukrainian troops have tried to counter the threat from drones and loitering munitions. Countermeasures include jammers to block radio frequencies, as well as metal mesh tarps that serve as a form of reactive armor over artillery and forward observation posts.
However, some of Kyiv's troops have adopted another approach — making it open season on the Lancet with simple pump shotguns. Back in May, videos circulated online that showed how Ukrainian troops from Air Command South downed one of the Lancets with a 12 gauge shotgun.
#Ukraine: A Ukrainian BM-21 Grad 122mm multiple rocket launcher was destroyed by a Russian Lancet loitering munition in #Donetsk Oblast. pic.twitter.com/ugtIPPg8eB

— ???????? Ukraine Weapons Tracker (@UAWeapons) June 22, 2023
Author Experience and Expertise:
A Senior Editor for 19FortyFive, Peter Suciu is a Michigan-based writer. He has contributed to more than four dozen magazines, newspapers, and websites with over 3,200 published pieces over a twenty-year career in journalism. He regularly writes about military hardware, firearms history, cybersecurity, politics, and international affairs. Peter is also a Contributing Writer for Forbes and Clearance Jobs. You can follow him on Twitter: @PeterSuciu.