The war in Ukraine is very much being waged on social media to drive public opinion on who is winning and who is losing.
And right now, at least by our very much unofficial scorecard, Ukraine is winning the social media war, with footage showing the pounding Russian forces are taking daily.
What happens next is anyone's guess, but it sure seems Putin and his forces have all sorts of problems with Ukraine – and now with the Wagner Group. 
Make Putin Pay: Footage Shows Ukrainian 2S7 Pion 203mm Self-Propelled Cannon in Action 
A video has been shared on social media by the open-source intelligence monitor OSINTdefender (@sentdefender) back in March that is still getting buzz online and on social media platforms around the world.
In the 54-second-long clip, Ukrainian soldiers from 93rd Mechanized Brigade could be seen conducting artillery fire utilizing a 2S7 Pion 203mm self-propelled cannon, reportedly targeting Wagner Group forces near the frontlines in the city of Bakhmut.
Massive shells are shown being loaded into the equally massive breach while the blast and recoil from the gun were extreme enough to shake the camera. The 2S7 Pion is actually known to have a blast so powerful that it can physically incapacitate unprepared soldiers or crew members from its concussive force. The platform is even equipped with an audible firing alarm that provides a five-second warning to give time for the crew to prepare.
Where the shells actually landed can't be known, but the artillery duels in the Donbas region of Eastern Ukraine have evoked comparisons to those from the Western Front during the First World War – while both sides have dug massive trench lines and built up defensive positions.
In addition, the past fighting in and around Bakhmut has also been compared to the Battle of Stalingrad during the Second World War, as combatants engaged in house-to-house fighting. The Kremlin has employed the Wagner Group, the mercenary army made of convicts and other criminals, to bolster its forces in the region.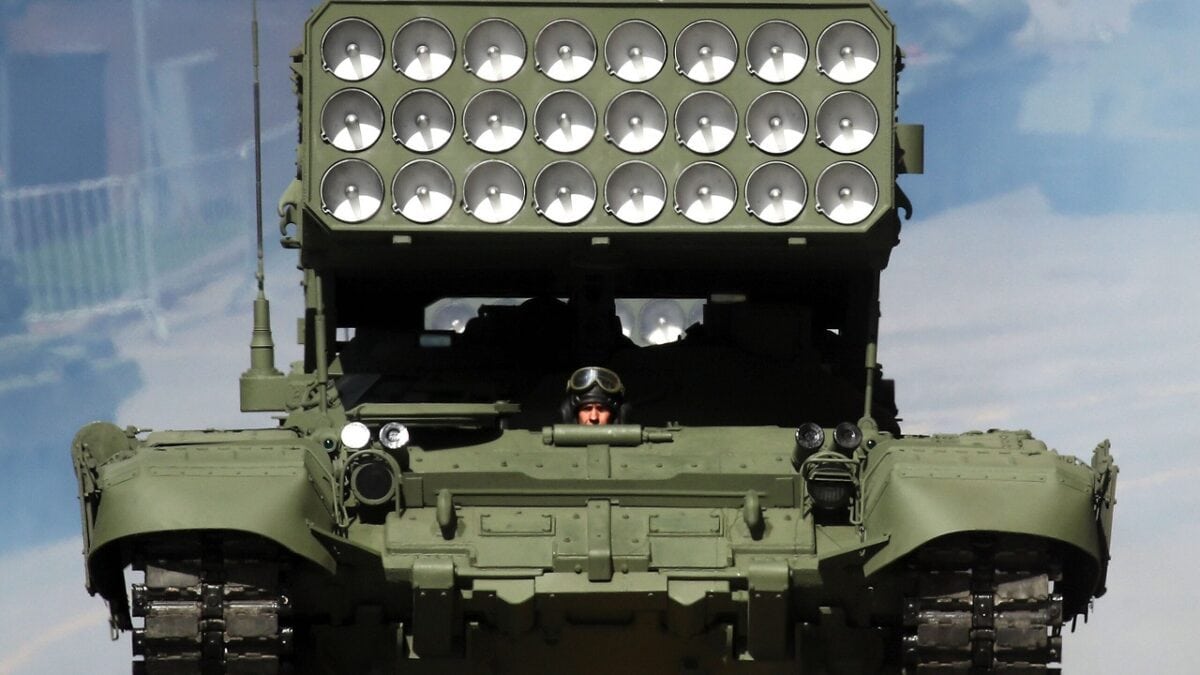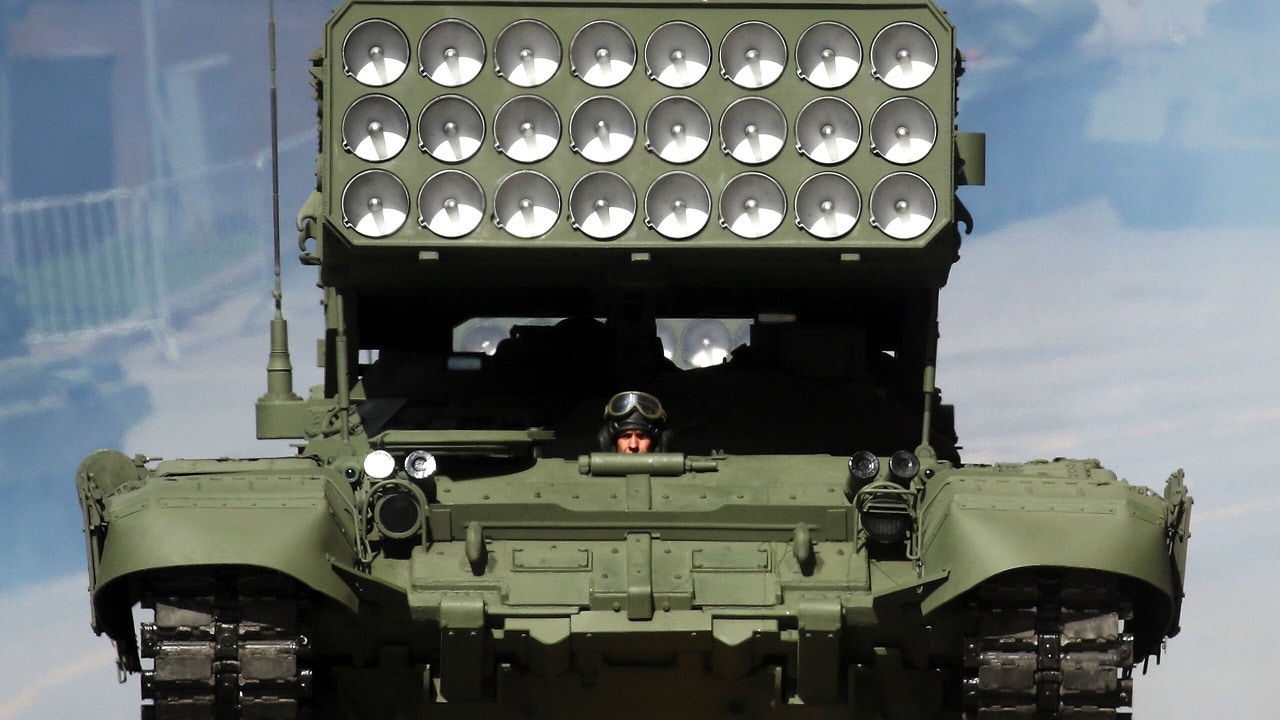 The private military contractor (PMCs) group that was created by Kremlin insider Yevgeny Prigozhin has also evoked comparisons to Nazi Germany's infamous Waffen SS for its war crimes – and ironic, given that Russian President Vladimir Putin had used the pretext of "denazifying Ukraine" to launch the so-called "special military operation" just over 13 months ago.
While the battle for Bakhmut might be over with a supposed Russian victory and the Wagner Group now moving to Belarus after a near revolt, footage like this is popping up all over social media to this day. 
The Truly Big Guns in Action
In the recently posted video, one of Ukraine's 2S7 Pion 203mm self-propelled cannon was given its moment in the spotlight. Both Russia and Ukraine inherited a significant number of the Cold War-era platforms following the dissolution of the Soviet Union.
Kyiv had nearly 100 in reserve that were restored to active service during the war in Donbas, which began in April 2014 when armed Russian-backed separatists seized Ukrainian government buildings – declaring both Donetsk and Luhansk as independent republics.
It is unknown how many are now operational.
Moscow had some 260 in reserve, while some 60 had been modernized and upgraded as the 2S7M. These received new running gear and electronics.
The Pion in the Crosshairs
Development of the 2S7 Pion began in the early 1970s. It essentially mounted a 203mm cannon on a newly-designed tracked chassis that was based on the T-72/T-80. The vehicle, which is self-entrenching, is normally operated by a crew of more than a dozen. However, it could carry only a handful of rounds of ammunition for immediate use, with the rest carried by a support vehicle.
The gun has a range of 37,500 meters (23.3 miles), while rocket-assisted projectiles increase the range to 55,500 meters (34.5 miles). Due to the long-range, the crew can actually fire and then move before the first round strikes an enemy position. As a result, the 2S7 is less susceptible to counter-battery fire.
Ukrainian Soldiers from the 93rd Mechanized Brigade conducting Artillery Fire utilizing a 2S7 Pion 203mm Self-Propelled Cannon against Wagner Forces near the Frontline in the City of Bakhmut. pic.twitter.com/mGhzJwBqE0

— OSINTdefender (@sentdefender) March 28, 2023
It can also fire nuclear ammunition – a point that has been seen as a serious concern among Western analysts.
Combat Use
The 2S7 Pion is unique among Soviet-era hardware in that it wasn't widely exported. It was first employed in combat in the Soviet-Afghan War, and all of its subsequent uses have been in conflicts involving Russia with the exception of the 2020 Nagorno-Karabakh War – although the Kremlin still provided direct material support to the Armenian and Artsakh forces. At least one 2S7 Pion was captured by Azerbaijan forces in the conflict, and subsequently seen in that nation's "victory parade."
Both sides have employed the guns in Ukraine, and to date, it is unknown how many may have been destroyed. But it is clear these big guns will keep firing as long as they're on the battlefield and there are shells to fire.
Author Experience and Expertise:
A Senior Editor for 19FortyFive, Peter Suciu is a Michigan-based writer. He has contributed to more than four dozen magazines, newspapers, and websites with over 3,200 published pieces over a twenty-year career in journalism. He regularly writes about military hardware, firearms history, cybersecurity, politics, and international affairs. Peter is also a Contributing Writer for Forbes and Clearance Jobs. You can follow him on Twitter: @PeterSuciu.