The word "phalanx" has a time-honored and bad*** significance in warfare, both ancient and modern warfare alike. 
In ancient Greece – specifically from the 7th century BCE to the 4th century BCE – the phalanx was an infantry formation used by hoplite soldiers, typically arranged in a rectangular shape which, to make a long story short, presented a solid wall of shields to the enemy, which made it difficult for attackers to penetrate, and in turn enabled the hoplites to mount a highly effective offensive of their own. 
Fast-forward to the present day, and the word "phalanx" now refers to a highly sophisticated gun system for defending the warships of America and her allies from enemy warplanes and missiles. Say hello to the Phalanx Close-In Weapon System (CIWS). 
Phalanx CIWS Early History and Specifications 
The Phalanx CIWS was designed by General Dynamics and is currently manufactured by Raytheon Missiles & Defense. The design roots trace back to 1969, with actual production starting in 1978; in 1980, the aircraft carrier USS Coral Sea (CV-43) became the first warship to have the weapons system installed.  
 According to the official U.S. Navy fact sheet:  
"MK 15 Phalanx CIWS provides ships of the U.S. Navy with an inner layer point defense capability against anti-ship missiles (ASM), aircraft and littoral warfare threats that have penetrated other fleet defenses. Phalanx automatically detects, evaluates, tracks, engages and performs kill assessment against ASM and high speed aircraft threats. The current Phalanx variant (Block 1B) adds the ability to counter asymmetric warfare threats through the addition of an integrated, stabilized, Electro Optic sensor. These improvements give Phalanx the added ability to counter small high speed surface craft, aircraft, helicopters and unmanned aerial systems (UAS). Phalanx is the only deployed close-in weapon system capable of autonomously performing its own search, detect, evaluation, track, engage and kill assessment functions. Phalanx also can be integrated into existing ship combat control systems to provide additional sensor and fire-control support to other installed ship weapon systems." 
It is essentially a seaborne version of the M-61A1 Gatling Gun, dispensing 20mm Armor Piercing Discarding Sabot projectiles at a mind-numbing 4,500 rounds per minute against enemy aircraft and ASMs and 3,000 rounds per minute against so-called "asymmetric threats." 
When fired, the Phalanx sounds remarkably like a buzzsaw. Because of the distinctive shape of its radome, the unit is affectionately nicknamed "R2D2" after the adorable little droid from the Star Wars franchise. Besides being deployed on every U.S. Navy combat ship except the Zumwalt-class destroyers and San Antonio-class amphibious transport docks, the weapons system is also used by the U.S. Coast Guard, the Royal Canadian Navy, Royal New Zealand Navy, Royal Australian Navy, and British Royal Navy.
The USS Stark Tragedy: Could the Phalanx Have Averted It? 
The first time I ever heard of the Phalanx gun system was when I was a mere 11 years old, but it was under tragic circumstances, a tragedy that could've been prevented had the weapon system actually been employed during those circumstances: the USS Stark incident of 17 May 1987. In this incident, the Stark (FFG-31), an Oliver Hazard Perry-class frigate, was patrolling the Persian Gulf in the midst of the Iran-Iraq War – this was three years before Saddam Hussein's Iraq officially become our enemy – was hit by two Exocet missiles fired by an Iraqi Dassault F1 Mirage fighter (though some reports claim it was actually a converted Dassault Falcon 50). 
For whatever inexplicable reason, the warship's CIWS radar was not activated at the time of the Iraqi plane's approach, and 37 U.S. Navy sailors perished as a result of the missiles' impacts, with 21 additional crewmen wounded. The Iraqi government eventually apologized for the incident, and the Stark's skipper was relieved of command…but who knows how things might've turned out differently had the Phalanx been properly utilized?
Where Are They Now?
Besides the obvious answer of actively serving U.S. Navy warships, that is?  
Well, there are at least four Stateside museums that I'm aware of whereupon you can get reasonably up-close-and-personal with a Phalanx (though obviously you won't be able to get a live-fire demo); you see, all four WWII-vintage Iowa-class battleships have been converted into floating museums, and all four of these ships were reconfigured with four such guns before they were decommissioned. 
Most famously, there is the USS Missouri (BB-63), permanently docked at Pearl Harbor, Hawaii, immortalized as the ship aboard which Imperial Japan's surrender was signed. Next, there is the USS New Jersey (BB-62), docked in Camden, New Jersey and therefore the only one of the Iowa-class battlewagons to actually be berthed in the state bearing her name (yes, the USS Texas (BB-35) is docked in her namesake state, but isn't part of the Iowa class); as my 19FortyFive colleague Peter Suciu points out, she's the most decorated American battleship in history. 
In Norfolk, Virginia, you have the USS Wisconsin (BB-64). Last but not least, there's USS Iowa (BB-61), in Los Angeles Harbor, California; this is the battleship tour that I can personally vouch for, as I've done it about a half-dozen times, and it never gets boring. Once you've completed your USS Iowa tour and worked up a healthy appetite, you'll have many great restaurants in neighboring San Pedro to choose from.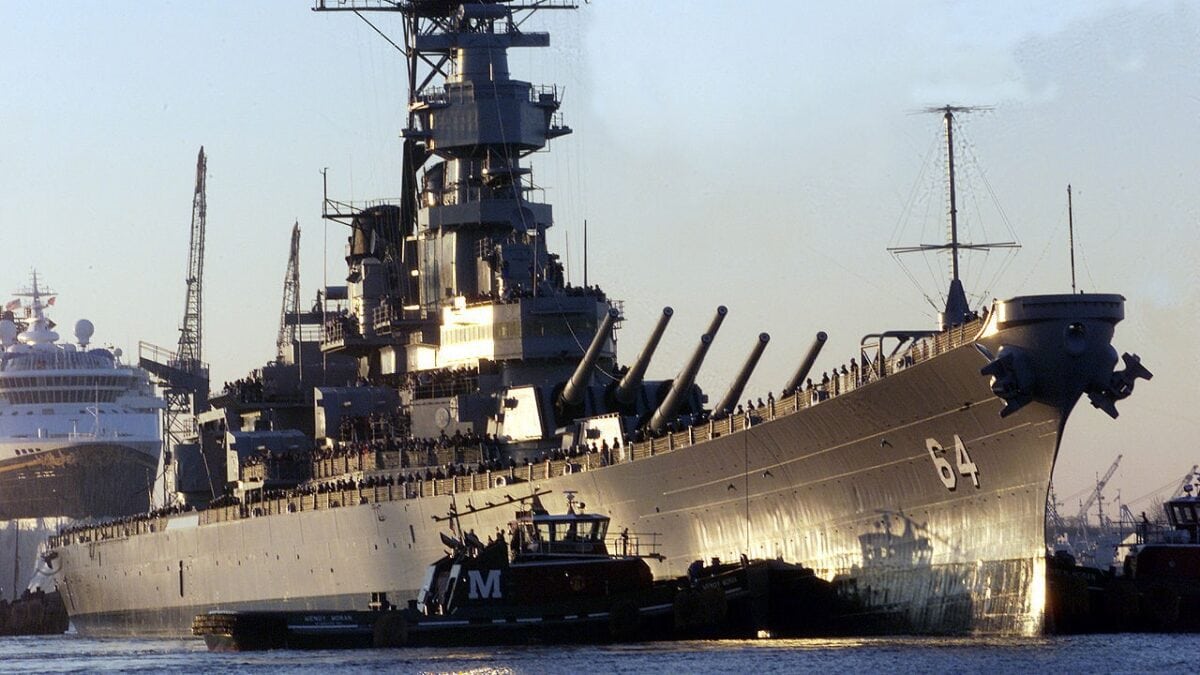 Christian D. Orr is a former Air Force Security Forces officer, Federal law enforcement officer, and private military contractor (with assignments worked in Iraq, the United Arab Emirates, Kosovo, Japan, Germany, and the Pentagon). Chris holds a B.A. in International Relations from the University of Southern California (USC) and an M.A. in Intelligence Studies (concentration in Terrorism Studies) from American Military University (AMU). He has also been published in The Daily Torch and The Journal of Intelligence and Cyber Security. Last but not least, he is a Companion of the Order of the Naval Order of the United States (NOUS).