Taurus Judge, a 3 Minute Explainer: As a home defense option, the Taurus Judge could be an intruder's worst nightmare.
The five-shot revolver, which was designed and produced by Brazilian Taurus International and introduced in 2006, is available chambered for .410 bore shotshells and the .45 Colt cartridge. While it is noted for its recoil with .410 loads, making it far from ideal for beginners, it will certainly provide the stopping power for those times when such things matter.
That fact could explain how the Judge has remained a top-selling revolver this year according to data from the NRA's American Hunter based on sales on the popular GunBroker.com site.
Scales of Justice
The double-action revolver is far from compact—and truly resembles a "hand cannon" in the most literal way—so for those who care about a truly concealable option the jury is probably out on whether this will be an ideal choice. As TheTruthAboutGuns noted, "Only a Taurus Judge could make Dirty Harry's famous large frame revolver, a Smith & Wesson Model 29.44 Magnum ('blow your head clean off') look sort of compact."
But the trade-off of size vs. the ability to fire a .410 shotgun round could sway the option accordingly. In this manner, it could be essentially a judge, jury and that aforementioned executioner when used as a home defense or personal defense weapon.
The revolver features Taurus Ribber Grip, which aids in absorbing the recoil while enhancing user control and it offers a fixed rear sight and a high-visibility front sight.
The Judge is available with three barrel lengths including three-inch (which almost seems "snub-nosed" given the oversized frame), 4-inch and 6.5-inch. It can be used as both a double- and single-action revolver. Its exposed hammer allows shooters to cock and fire the revolver in single action-mode, while a transfer bar safety mechanism prevents the hammer from striking the firing pin unless the trigger is pulled fully to the rear. In addition, the revolver also utilizes the Taurus Security System, which enables shooters to disable the weapon completely with the turn of a key.
Legality of The Taurus Judge
While it was designed to fire the shotgun shells, the Judge features a rifled barrel, so it has only run into its own legal troubles in the State of California. That is where it was deemed it to be a "short-barreled shotgun" under state law even if under federal law it is not in fact seen as one.
This is because California law is far more specific about shotguns and includes a firearm that is designed or redesigned to fire a fixed shotgun shell and because the barrel length is less than eighteen inches, the Judge has been judged to be a short-barreled shotgun.
In other words, under California's definition, any firearm that can fire a fixed shotgun shell can be designated as a shotgun. That makes it illegal to own or possess in the Golden State, and sadly for those residents, there is no appealing that ruling.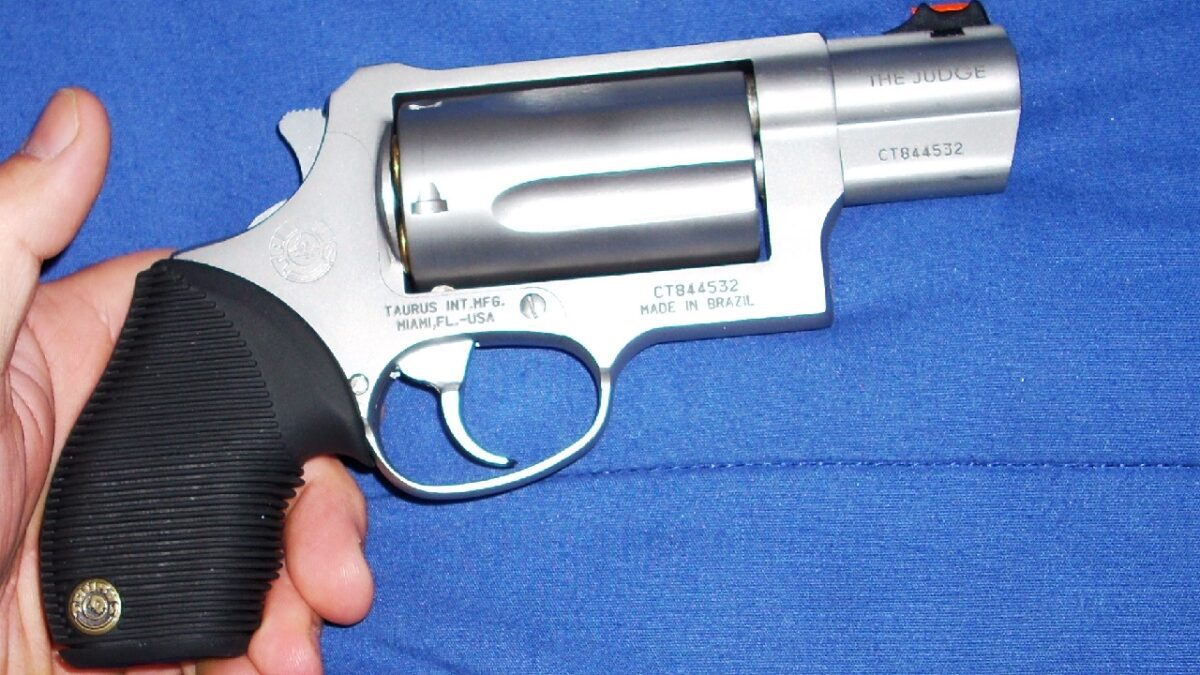 Peter Suciu is a Michigan-based writer who has contributed to more than four dozen magazines, newspapers and websites. He is the author of several books on military headgear including A Gallery of Military Headdress, which is available on Amazon.com.