The war in Ukraine is becoming the transformative event of the 21st century?
Putin's illegal invasion is draining his armed forces by the day, and some experts think he could lose the war.
And we know one thing: social media will be one of the best ways to get a sense of who is winning or losing over the longterm: 
Social Media Shows Us the Ukraine War Up Close 
In a video shared to social media back in the late spring, an M982 Excalibur extended-range guided artillery shell could be seen easily slicing through a Russian D-20 152mm towed howitzer on the left bank of the Dnipro River in the Kherson Oblast.
The U.S.-made Excalibur is a GPS and inertial-guided munition that is capable of being employed in close support situations within 75 to 150 meters (250 to 490 feet) of friendly troops.
It was a prime example of "one shot, one kill."
The type of weapon that fired the round isn't known, but it was likely from a UK-supplied M777 155mm howitzer.
The M982 Excalibur can be used in poor weather with bad visibility, while the high-explosive round can also be delayed to penetrate buildings or bunkers. It has been widely employed to target Russian artillery.
Too Much?
Yet, it may have been a bit of "overkill," and some commentators to the post from Ukraine Weapons Tracker (@UAWeapons) – which shared the video – suggested the M982 Excalibur ordnance was likely as costly as the platform it took out.
Russia had more than 1,000 of its D-20 152mm howitzers in service when it launched its unprovoked invasion of Ukraine last year, and an untold number have already been destroyed. Not clear in the video was whether the platform seen targeted by Kyiv's forces was still operational or if it had been disabled. The gun-howitzer is typically operated by a crew of eight soldiers; yet, none appeared present at the time of the strike.
It has been suggested that the crew spotted the drone that recorded the incident and which likely acted as a spotter for the Ukrainian artillery. It is also possible the gun was disabled and was used as a decoy – in which case, Kyiv wasted one of the expensive Excalibur rounds.
The D-20 and Its Derivatives
As noted, the Kremlin had more than 1,000 D-20 howitzers in service, but Kyiv's forces also had a significant number in its arsenals, and it has likely bolstered its strength from those captured by Russian forces.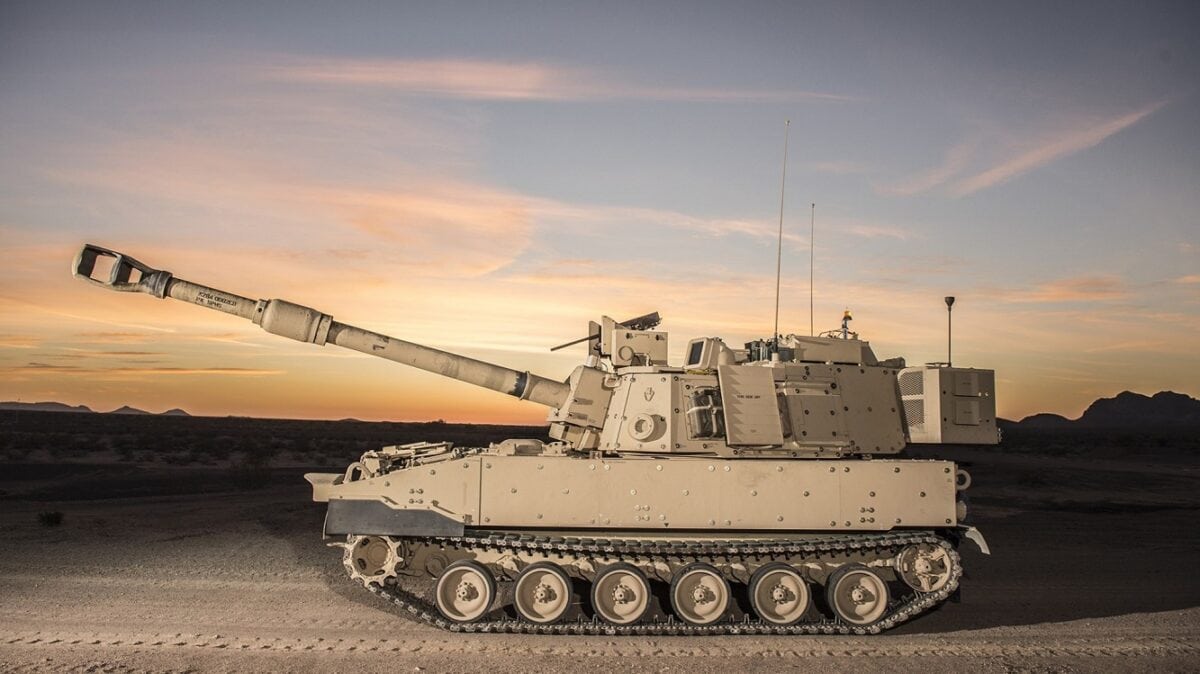 The D-20 has a proven combat record, first seeing service in the Vietnam War, while it was later employed by Syrian forces in the Six-Day War and later in the Yom Kippur War. However, it wasn't until the Soviet-Afghan War that Kremlin forces first fired the D-20 in anger.
It is now being used by both Russian and Ukrainian forces.
In addition, the Ukrainian Army has begun to receive a number of M1981 artillery pieces, a derivative of the Soviet D-20. Both are manually loaded howitzers. The M1981 was designed by the Romanian Arsenalul Armatei (Army Arsenal) and was first manufactured under license at the Romanian Reșita plant. It weighs 5.7 tons, features a longer rifled barrel (34 calibers long), but can use the same ordnance as the Soviet-developed weapon.
#Ukraine: A Russian D-20 152mm towed howitzer was destroyed by the Ukrainian army with a direct M982 Excalibur hit on the left bank of the Dnipro River, #Kherson Oblast. pic.twitter.com/ecIDxIzEli

— ???????? Ukraine Weapons Tracker (@UAWeapons) May 27, 2023
Author Experience and Expertise
A Senior Editor for 19FortyFive, Peter Suciu is a Michigan-based writer. He has contributed to more than four dozen magazines, newspapers, and websites with over 3,200 published pieces over a twenty-year career in journalism. He regularly writes about military hardware, firearms history, cybersecurity, politics, and international affairs. Peter is also a Contributing Writer for Forbes and Clearance Jobs. You can follow him on Twitter: @PeterSuciu.