Dramatic video footage shared on Twitter back in December of last year shows Russian soldiers in a T-80BV tank in eastern Ukraine being destroyed by Ukraine's Special Forces.
The video, which was shared by the official Security Service of Ukraine Twitter account, shows a Russian tank firing at Ukrainian positions.
The video, recorded by a rotary-blade drone, then shows the tank fleeing as Ukrainian forces return fire.
The tank is narrowly missed by one projectile, which landed directly behind the tank as it fled down a road until eventually the Russian soldiers get out of the vehicle and make a run for it.
As the soldiers flee, the rear of the tank ignites. The soldiers are then seen taking cover in a residential building as the tank continues to burn.
In the original post, the Ukrainian Security Service describes how the tank was proving to be a "nightmare" for Ukrainian fighters in the region, deploying rapid shelling.
"For some time, the enemy gave our advanced positions a 'nightmare' using the tactics of rapid shelling from tanks," the post reads.
"But it did not last long – one of them was exposed and destroyed by a tactical group of fighters of the Special Operations Center 'A' of the SBU."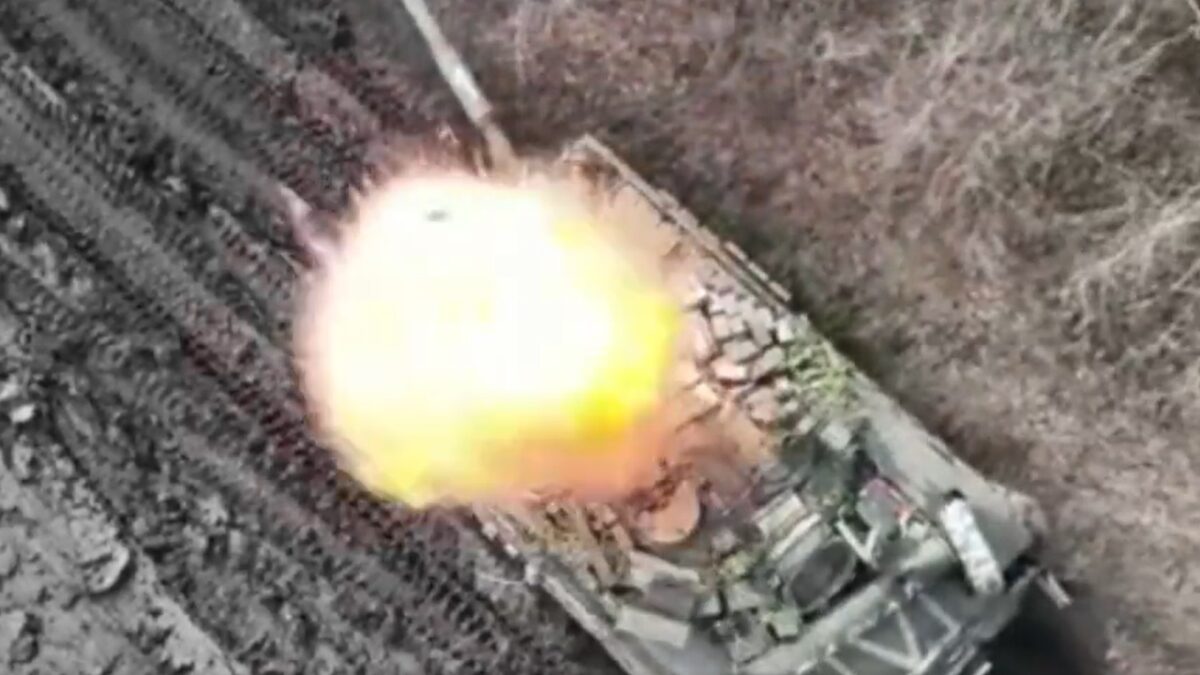 While the tank did not explode, as some Russian models often do, the fuel tank did appear to catch fire.
T-80 Tanks Keep Dying in Ukraine 
T-80 tanks have been known to be vulnerable to these kinds of fires when ammunition penetrates the vehicles and sets the diesel fuel on fire – a fuel that is less combustible but which will burn slowly.
Спецпризначенці ЦСО «А» знищили російський Т-80 ????

Ворог деякий час «кошмарив» наші передові позиції, використовуючи тактику швидких обстрілів з танків. Але це тривало не довго – один із них викрила та знищила тактична група бійців Центру спеціальних операцій «А» СБУ. pic.twitter.com/kYdWrHjoBK

— СБ України (@ServiceSsu) December 6, 2022
Jack Buckby is 19FortyFive's Breaking News Editor.