The war in Ukraine has been a nightmare for Russian President Putin as his forces have been crushed in countless battles.
Much of that is due to the bravery of Kyiv's forces and billions of dollars in Western military aid.
And, of course, that means Ukraine has been very innovative and making sure it can steal any Russian military equipment it can and reuse.
Time to Steal the Tanks with Tractors 
Back during one terrible week for Putin in March, Ukraine's armed forces claimed that Russia had lost 21 tanks in a single day.
In addition to the armored vehicles, Russian Forces reportedly lost nearly two dozen personnel carriers and eight artillery systems during one brutal day in March as well. 
In fact, it is widely believed that Moscow has lost more than 2,000 main battle tanks since the onset of its invasion of Ukraine last February.
The London-based think tank the International Institute for Strategic Studies estimates that Russian Forces may have lost half of its fleet of modern tanks including the T-72B and T-72B3M and that "its inventory of T-80 tanks has been depleted by two-thirds."
While many of these armored vehicles were destroyed by weapons in combat, some were "stolen" by Ukrainian forces in an unexpected way – capture by a tractor. 
Videos of Ukrainian Farmers Stealing Russian Tanks Have Gone Viral
One interesting aspect of the ongoing invasion of Ukraine has been the role social media has played.
Since Russia first violated its neighbor's sovereignty last year, videos shared on Twitter and Telegram showcasing Ukraine's unique defensive efforts have spread like wildfire, including a particularly entertaining thread of footage depicting farmers capturing Russia's premier main battle tanks using tractors.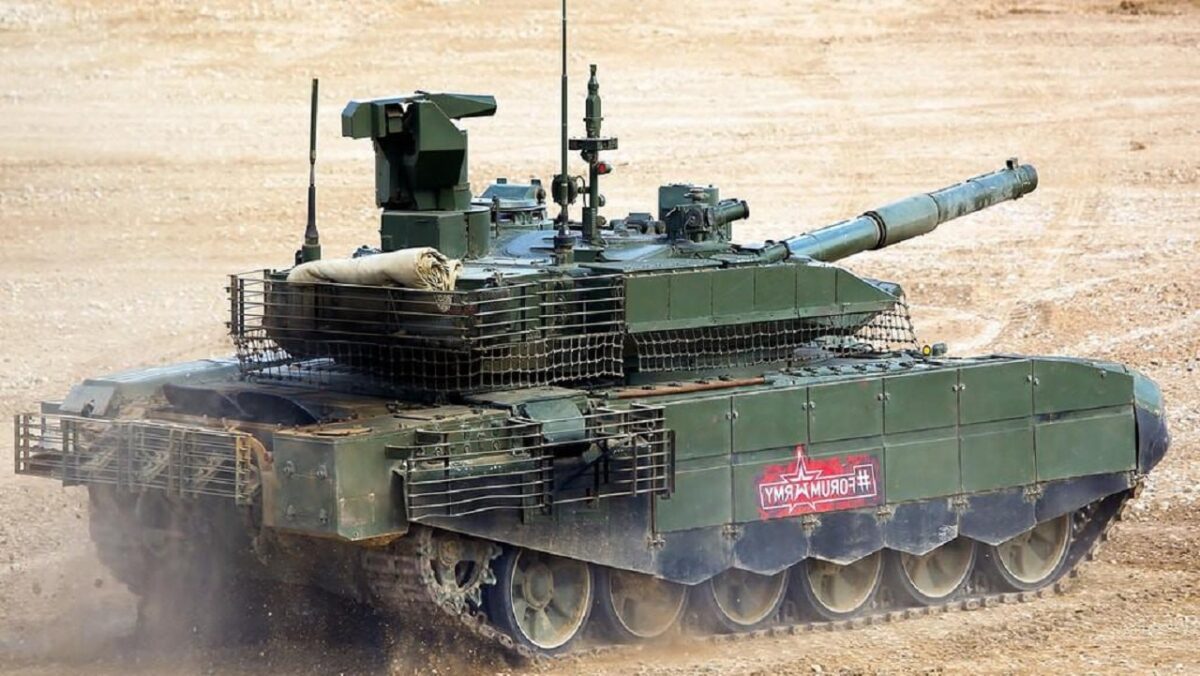 Days after the conflict erupted, a British Member of Parliament tweeted a link to a video showing just this scenario. The politician noted "No expert, but the invasion doesn't seem to be going particularly well. Ukrainian tractor steals Russian APC today." Shortly after, another video purporting to show a farmer tow away a Russian MB TB amphibious auxiliary armored tracked vehicle that was apparently left behind by its crew also became an important propaganda tool for the country. Additional videos have circulated over the last twelve months depicting similar situations. 
While the number of Russian tanks actually stolen by Ukrainian tractors is likely very low, the scenario was significant enough that Ukraine's National Agency for the Protection Against Corruption (NAPC) issued a declaration supporting the tactic.
"Have you captured a Russian tank or armored personnel carrier and are worried about how to declare it? Keep calm and continue to defend the Motherland! There is no need to declare the captured Russian tanks and other equipment, because the cost of this … does not exceed 100 living wages (UAH 248,100)," NAPC's press service said, adding that "Thanks to the courage and victory of the defenders of the Ukrainian state, enemy military equipment usually comes to you already destroyed and disabled, which makes it impossible to evaluate it in accordance with the law On the valuation of property, property rights and professional valuation activities in Ukraine. Therefore, it is also impossible to find out how much such property costs."
If true, it's probably the first tank ever stolen by a farmer… ))
Ukrainians are tough cookies indeed. #StandWithUkraine #russiagohome pic.twitter.com/TY0sigffaM

— olexander scherba???????? (@olex_scherba) February 27, 2022
Ukraine also issued a postage stamp commemorating the actions of farmers and countrymen using tractors to haul away and claim Russian tanks.
Ukrainian Civilians Have Played a Big Role in the Country's Defensive Efforts
Ukrainian civilians have fought back against Russian troops since the invasion first began.
Last year, a Ukrainian citizen was awarded a medal of honor for reportedly taking down a Russian Su-34 fighter jet with a rifle. One month earlier, a 64-year old was also applauded for destroying a Russian gas tank with a grenade launcher, according to Newsweek.
As the war wages on, more footage depicting heroic and unique defense efforts taken by Ukrainian civilians will hopefully surface. 
Maya Carlin is a Senior Editor with 19FortyFive. She is also an analyst with the Center for Security Policy and a former Anna Sobol Levy Fellow at IDC Herzliya in Israel. She has by-lines in many publications, including The National Interest, Jerusalem Post, and Times of Israel.