When 19FortryFive's Editor asked me to write an article on the Five Best Guns, period, that I've personally fired, as much as I looked forward to writing it, I must also admit I found the prospect a bit daunting.
When the category is limited to, say, Five Best 9mm Pistols, Five Best Glocks, or Five Best Self-Defense Handguns, that's one thing, but when it's the Five Best Guns of any kind, that makes it a good bit more challenging to narrow down.
But hell, what fun is life without the occasional challenge, eh? 
5 Best Guns I Have Ever Fired  – Browning M2 .50 Caliber
Well, since I'm not limited to just handguns this time, I might as well start right off the bat with the biggest and baddest of the bunch.
Arguably one of the late great John Moses Browning's top two most enduring inventions of all time, the "Ma Deuce" machine gun was initially designed in 1918 and has remained in continuous service with the U.S. military since 1933 and is thus battle-proven in many wars, especially as America's primary fighter and bomber aircraft armament of WWII. And while a heavy machine gun isn't typically thought of as a sniper rifle, the legendary U.S. Marine Corps sniper Gunnery Sergeant Carlos Hathcock used one in Vietnam back in 1967 to take out an individual Viet Cong soldier at 2,500 yards; for 35 years, this record stood as the longest sniper kill in history. 
Though I haven't had the honor and privilege of shooting a full-auto Ma Deuce, I did at least get to shoot a semiauto-only M2 on a couple of occasions, thanks to my USC buddy Pulgas, a USMC veteran who somehow managed to legally purchase one of these and a Barrett .50 cal rifle in spite of living in the People's Republic of Kaliforniastan (PRK). I only fired a few rounds, as ammo was 7 bucks a pop, and mind you, this was back in 2011, long before the current inflation-driven ammo price nightmare. But man oh man, what an unforgettable shooting experience. 
5 Best Guns I Have Ever Fired  – Colt M1911 .45 ACP
The other one of John Moses Browning's top two most enduring inventions. Passed a 6,000-round torture test in order to become the U.S. Armed Forces' first-ever semiautomatic pistol as well as the most powerful-ever handgun adopted for general military personnel issue, serving faithfully in that role for 75 years. The M1911 pistol is still incredibly popular with shooters around the world to this day, though Colt's days of dominating the market share are long gone and many modern features have been added since the two World Wars.
I've fired many a variant of this classic autopistol in 32 years, some of them great, some of them outright turds, But the one that really won me over is my original WWI-era – the manufacturer's papers indicate a production date of 5 November 1918 – Colt M1911. In spite of her vestigial front sight and centenarian age, the old girl is so incredibly pleasing in terms of accuracy, reliability, and old-school craftsmanship. 
5 Best Guns I Have Ever Fired  – Beretta 92FS/M9
As I've previously mentioned ad nauseam, this was the very first pistol I fell in love with back in 1989 at the tender age of 14. An amazingly smooth and sweet-shooting pistol, she is made by the world's oldest industrial firm of any kind – Beretta has been around since 1526 – and served the U.S. Armed Forces for 33 years as the worthy successor to the M1911, as well as many domestic police forces such as LAPD and L.A. Sheriff's Department. And even many hardcore M1911 buffs like Bill Wilson and Ken Hackathorn have praised the Beretta as the most reliable handgun they've ever worked with. 
I'm a proud owner of three M9s; one standard edition and two collectibles.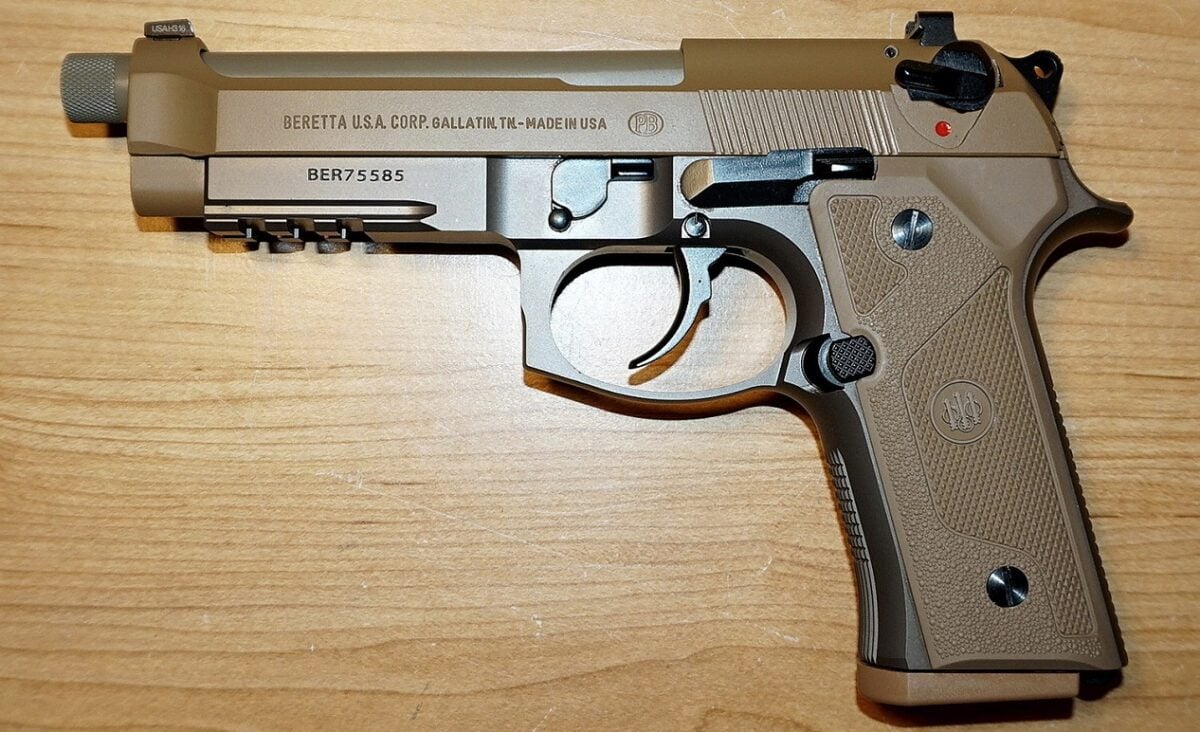 5 Best Guns I Have Ever Fired  – Glock 17 9mm
This was the first Glock pistol, dating back to 1982 when it was introduced in the United States, and while they've added many fine handguns to their product line in the 40 years since then, none of them have matched the G17's mind-boggling reputation for extreme reliability and Timex-like durability: the Austrian Army froze the gun in a solid block of ice and then subjected the gat to opposite extreme temperatures over 212 degrees Fahrenheit (100 degrees Celsius); Miami PD Armorer Sgt. Paul Palank dropped the gun from a helicopter at an altitude of 400 feet; famed firearms instructor Chuck Taylor put 10,000 rounds through the pistol and left it at the bottom of the ocean for 6 months. And the G17 took all of the punishments in stride and kept on perking right along. 
My own G17 hasn't been through those sorts of torture tests. But I've used her for CCW ('tis a pleasant surprise to see how discreetly and comfortably she can be concealed) and competitive shooting alike, particularly in Glock Sporting Shooting Foundation (GSSF) and Nevada Police & Fire Games (NPAF) matches; at the latter venue, the G17 enabled me to win multiple gold and silver medals.
5 Best Guns I Have Ever Fired  – AK-47
What can be said about the AK that hasn't already been said? It is to rifles what the Glock 17 is to pistols in terms of reliability, ruggedness, and simplicity. Its designer, the late Mikhail Kalashnikov, is referred to by Indiana University Professor Richard Gunderman as the "World's deadliest inventor."
I carried a Yugoslav-built AK during one of my Iraq contracts and personally own a Romanian-made WASR-10 variant. Neither one was/is top-notch in terms of accuracy or fun factor, but for dependability and ease of maintenance, they couldn't/can't be beat.  
Agree or Disagree?
I had to exclude quite a few other excellent firearms from this list; it was tough to snub my beloved CZ-75 9mm, Glock 21SF .45 ACP, Glock 26 9mmn and 9x18mm Makarov, as I'm quite fond of all of these pieces.
Many of you dear readers will undoubtedly non-concur with my list, so which firearms make your personal Top 5 Lists instead? Let us know in the comments.
Christian D. Orr has 33 years of shooting experience, starting at the tender age of 14. His marksmanship accomplishments include: the Air Force Small Arms Ribbon w/one device (for M16A2 rifle and M9 pistol); Pistol Expert Ratings from U.S. Customs & Border Protection (CBP), Immigration & Customs Enforcement (ICE), and the Federal Law Enforcement Training Center (FLETC) Criminal Investigator Training Program (CITP); multiple medals and trophies via the Glock Sport Shooting Foundation (GSSF) and the Nevada Police & Fires Games (NPAF). Chris has been an NRA Certified Basic Pistol Instructor since 2011.  In his spare time, he enjoys (besides shooting, obviously) dining out, cigars, Irish and British pubs, travel, USC Trojans college football, and Washington DC professional sports.
From the Vault
The Second American Civil War Has Begun