Meet the 5 Worst .38 Special Guns on Planet Earth: After a seemingly endless series of 5 Worst Handguns in autopistol calibers, now it's time to do a revolver caliber for good measure.
This round-up includes one derringer on the list as well. All of the revolvers on this list are double-actions (DAs), i.e., no single-actions (SAs) wheelguns made this dubious list.
After posting a few "worst" handgun round-ups, one of my gun enthusiast buddies jokingly asked me on my Facebook page if I "hate the firearms industry" and "What is next? The worst K-frame S&W revolvers? ALL OF THEM? [laugh emojis]?"
To which this reporter replied, "Not quite, but I will be doing 'Worst .38 Special Handguns' (NOT brand-specific) next … [devil emojis]."
Smith & Wesson Model 36 "Chief's Special"
Before I pick on a Smith K-frame "wheelie," I'm gonna go after the J-frame "snubby," which is very much in line with my general dislike for snubnose revolvers. Yes, snubnose revolvers in general, and Smith J-frames, in particular, are very utilitarian and can be used quite effectively in self-defensive applications, but they are absolutely miserable to shoot!! This is especially true of the Chief's Special, with its hand-stinging factory wood grips.
Don't want to take my word for it? Fine, let's instead turn to one of my all-time favorite gun writers and fellow law enforcement veterans, Massad F. "Mas" Ayoob:
"Smith & Wesson Chief's Special is the most popular .38 snubby. This is because most buyers hardly shoot these guns at all, and buy strictly on the basis of eye appeal. Those who use short .38's regularly in combat competition have found serious shortcomings in the little Smith. The sights are much too small. The ejector rod is too short to clear empties completely out of the chambers, a failing that can cause a fatal delay while reloading during a drawn-out gun battle. The sharply-squared cylinder release latch is so placed that, with a heavy-kicking Super Vel round, it can rip open the shooter's thumb." 
C.O.P. Derringer
In truthfulness, this four-barrel derringer is actually chambered for the .357 Magnum, but as is true of .357 Mag revolvers, derringers in that caliber can also safely chamber and fire .38 Specials. 
I first learned of the C.O.P. via the aforementioned Mas Ayoob, when he mentioned it in a summer 1990 issue of American Handgunner Magazine, wherein he did an article on the worst handgun developments of the 1980s. Alas, I don't have that issue of AH handy, either in print or online form, and am therefore unable to quote Ayoob's exact unflattering words on the gun, so I shall instead go with this July 2018 write-up by "DrewR" for The Truth About Guns:
"Designed in 1983 by Robert Hillberg, the Compact Off-Duty Police or COP pistol is my favorite 'solution in search of a problem' … So, does the COP pistol deserve the hate it gets? Yes and no. The two most often derided characteristics, recoil and trigger pull, are nowhere near as bad as people claim. However, accuracy is abysmal and reliability is more dependent on ammo selection than any auto-loader I have ever owned."
Rossi (1980s/1990s Models)
In fairness, I never fired any of the Rossi guns. But the general impression I got from 'round the proverbial campfire is that they tried to outdo Taurus in the late 1980s and early 1990s in the arena of budget-minded revolvers, and came up short. Gun Tests Magazine, which has always been known for its no-BS, no-fluff editorial policy, was particularly unflattering in its reviews of the brand. The Rossi wheelguns have evidently improved in recent years, but are still somewhat known to be underwhelming. 
Smith & Wesson Model 10 AKA Military & Police (M&P)
This pick may go against the grain of popular opinion, and marks the second S&W appearance on the list. Yes, I've previously acknowledged the Smith M10 as an accurate and reliable wheelgun that's been combat proven in the hands of cops – especially NYPD – and armed private citizens alike since its inception in 1899.
Why then include this piece on this "Worst" list, you ask? Three words: dull and boring, i.e. S&W = D&B. Even one of the Model 10's biggest fans, Petersen's Handguns Magazine founding editor Jan Libourel, described the gun as "pedestrian" and "Sexy, it ain't." 
What's more, to me the S&W M10 represents the dark ages of police handgunning, back when the NYPD higher-ups still refused to let its officers – with the exceptions of certain detective units and the Emergency Services Unit (ESU, i.e. SWAT) – carry either autopistols or hollowpoint ammo. 
Ruger SP-101
Having picked on Smith & Wesson so mercilessly in this article (and, for that matter, in my articles on Worst .40 S&Ws and Worst 10mms alike), for the sake of being fair and balanced, time to pick on my favorite revolver maker, Sturm, Ruger & Co., Inc. 
As my regular readers know, I'm a huge fan of Ruger's GP-100 .357 Magnum and Redhawk .44 Magnum DA revolvers. Once again channeling and paraphrasing Charles Dickens – "It was the best of guns, it was the worst of guns" – yes, I consider the SP-101 to be THE best centerfire-caliber snubnose revolver I've ever fired, and it's more comfortable than the Smith J-frames, comparatively speaking, thanks to the factory rubber grips.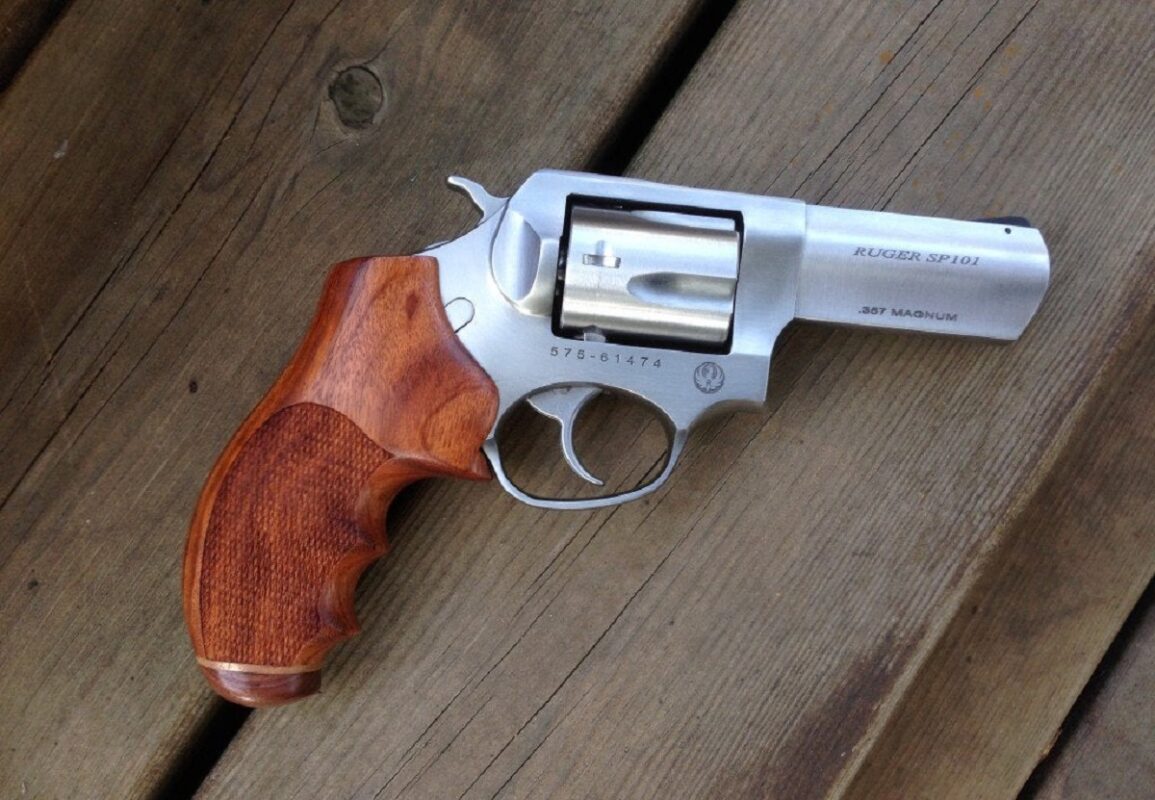 But it's still no fun to shoot, and the one I owned back in 2002-2003 gave me a blood blister on my trigger finger!
Christian D. Orr is a Senior Defense Editor for 19FortyFive. He has 34 years of shooting experience, starting at the tender age of 14. His marksmanship accomplishments include: the Air Force Small Arms Ribbon w/one device (for M16A2 rifle and M9 pistol); Pistol Expert Ratings from U.S. Customs & Border Protection (CBP), Immigration & Customs Enforcement (ICE), and the Federal Law Enforcement Training Center (FLETC) Criminal Investigator Training Program (CITP); multiple medals and trophies via the Glock Sport Shooting Foundation (GSSF) and the Nevada Police & Fires Games (NPAF).