How many more hundreds – if not thousands – of Russian tanks will have to die before Putin gets the hint? 
Case in point: Yet another T-72A proved to be no match for the Lockheed Martin-produced FGM-148 Javelin anti-tank guided-missile (ATGM).
Hundreds or more of the Soviet-designed main battle tanks (MBTs) have fallen victim to the American man-portable ATGMs since the Kremlin launched its unprovoked invasion of Ukraine.
In a posted video from the summer, a modified T-72A equipped with a KMT-6 mine plow was seen taking a direct hit from the Javelin.
At the end of the nearly 30-second clip, the Russian MBT was seen burning.
The video, which was shared on social media by Ukraine Weapons Tracker (@UAWeapons), was recorded by the Ukrainian Armed Forces 59th Mechanized Brigade.
The unit continues to tout its exploits in such videos, which are often recorded by multiple drones and heavily edited – complete with a tech soundtrack.
Anti-Mine Tank
The loss of this particular T-72A MBT could be even more significant, as it was noted it was fitted with the KMT-6 mine plow to clear anti-tank minefields. In general, only a single KMT (koleinyi minnyi tral or rut mine sweep) is deployed per tank platoon. It is mounted to the front of the tank tracks and rolls mines to the side.
The KMT-6 was first employed in combat operations during the Yom Kippur War in October 1973.
Russian Tanks Are No Match for a Javelin
The U.S. FGM-148 Javelin has proved to be a serious game-changer in Ukraine where it has been employed successfully against a variety of Russian MBTs, including the most modern T-72M and even T-90M models.
By this time last year, at least 5,000 Javelins had already been sent to Ukraine, and as a result, Lockheed Martin announced that it would nearly double the production to 4,000 a year to ensure that American stockpiles are maintained.
While a variety of anti-tank weapons have been employed by the Ukrainian military to great effect, the Javelin has been among the most successful. This is due to its ability to destroy Russian tanks from range, without exposing the operator to counter-fire. It has an effective range of about 1.5 miles, and as it is a passive weapon, tank crews largely can't even detect a Javelin in the area until it's fired.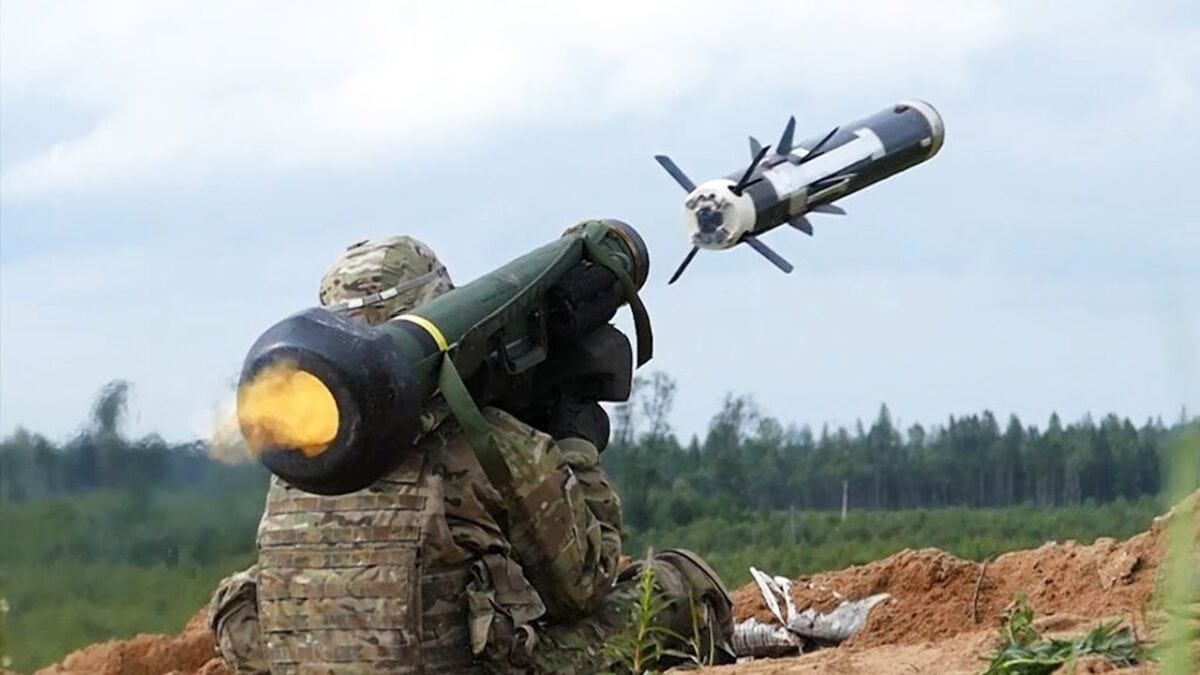 As the ATGM produces very little backblast, Russian tanks often don't even know that a missile was fired their way. Moreover, the FGM-148 is a fire-and-forget platform that utilizes an automatic infrared guidance system. That allows the user to take cover and avoid counter-fire immediately after launch.
The biggest downside of the Javelin has been its cost. While it is one of the most capable anti-tank platforms in the world today, it is also one of the most expensive. Each Launch Tube Assembly and CLU cost around $120,000, while the missiles are around $78,000 according to a Pentagon Fiscal Year 2021 (FY21) budget report. But it seems like more than a fair tradeoff. A missile valued at less than $80,000 had destroyed a tank that cost millions of dollars to build.
#Ukraine: The Ukrainian 59th Mechanised Brigade used a FGM-148 Javelin ATGM to destroy a Russian T-72A tank equipped with a KMT-6 mine plow in #Donetsk Oblast. pic.twitter.com/DLVv7wqDQT

— ???????? Ukraine Weapons Tracker (@UAWeapons) July 12, 2023
Author Experience and Expertise
A Senior Editor for 19FortyFive, Peter Suciu is a Michigan-based writer. He has contributed to more than four dozen magazines, newspapers, and websites with over 3,200 published pieces over a twenty-year career in journalism. He regularly writes about military hardware, firearms history, cybersecurity, politics, and international affairs. Peter is also a Contributing Writer for Forbes and Clearance Jobs. You can follow him on Twitter: @PeterSuciu.