J-20 Has the Numbers Edge over F-22: Though the Lockheed Martin F-22 Raptor is arguably the world's most "superior" air superiority fighter, by the end of this year China will likely have more of its Chengdu J-20 Mighty Dragons in service.
Beijing has ramped up production of its domestically-built fifth-generation fighter, and the inventory of the J-20A will overtake the United States Air Force's F-22, according to a report from the London-based International Institute for Strategic Studies (IISS) launched a few months ago.
John Chipman, director-general and chief executive of IISS, told reporters via an online launch event back in February for The Military Balance 2023 that China's combat aircraft inventory has dramatically increased over just the past five years.
"China's military modernisation remains the principal area of concern for Washington. China's defence spending increase of 7.0% in the 2022 budget, over 2021 figures, is its largest in absolute terms. While the new aircraft carrier attracted headlines, its investments in additional and more complex naval vessels continues apace while its air force is also improving its capabilities: numbers of J-20A combat aircraft have increased further and China has begun to field advanced military aircraft with domestically produced jet-engines," IISS announced in advance of its report.
"In Asia, as in Europe, China's military modernisation and concern over security policy is hastening military modernisation plans by regional states," IISS added.
More J-20 Fighters Coming
The Military Balance database currently shows that the People's Liberation Army (PLA) across all branches has 150 J-20A fighters in service.
"If deliveries continue at the same speed, in 2023 the number of J-20As will eclipse the inventory of the U.S. Air Force's other fifth-generation combat aircraft, the F-22," Chipman explained.
Of course, it is worth noting that the production of the F-22 Raptor – the world's first fifth-generation fighter – was scaled back due to its high cost. A total of 195, including eight test and 187 operational aircraft, were produced but significantly fewer than the 750 that the U.S. Air Force had originally planned to acquire.
Shift to F-35
The United States shifted its resources to the Lockheed Martin F-35 Lightning II, which is considered more affordable but also far more versatile. Though the Air Force has begun to retire some of the oldest F-22s, the platform is still expected to remain in service into the 2030s.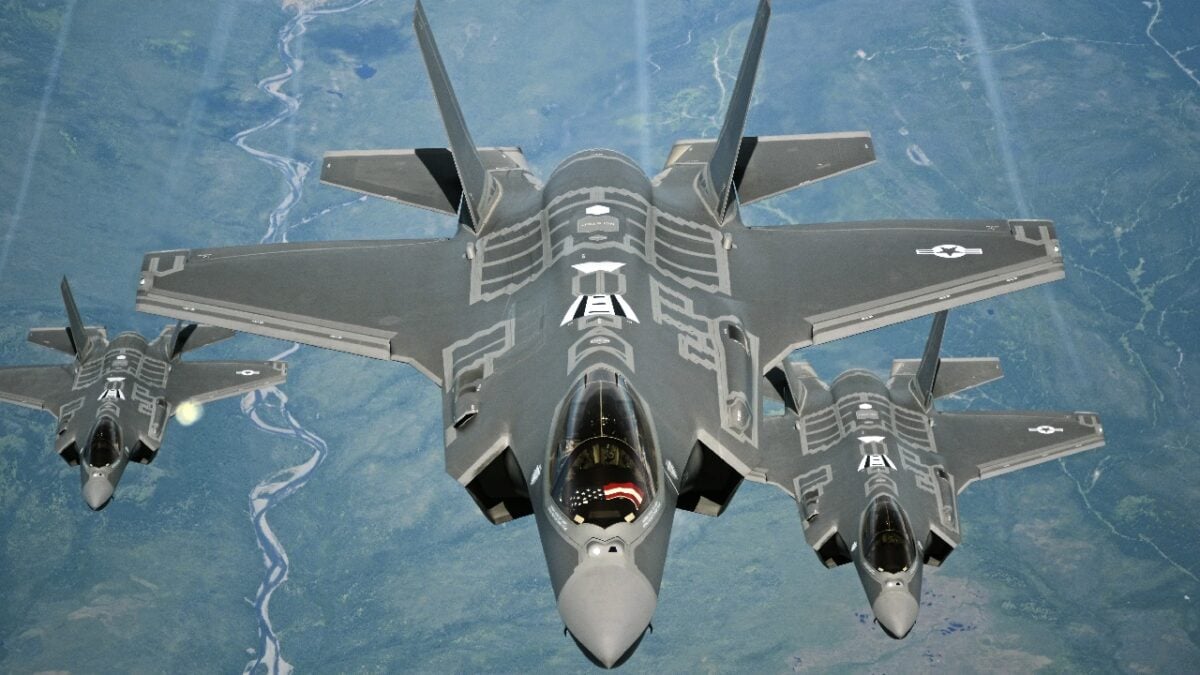 The U.S. has been increasing the number of F-35s being produced, but Chipman warned, "The pace of China's defense industrial output means it is catching up."
J-20 to 6th Gen
To date, only the United States, China, and Russia have developed "fifth-generation" fighters. In addition to America's F-22 and F-35 aircraft, and China's J-20, Russia has also produced the Sukhoi Su-57 (NATO reporting name "Felon"). 
However, as previously reported, some military aviation experts have questioned whether either the J-20 or Su-57 can truly be considered fifth-generation – and neither is considered as capable as the Raptor and Lightning II.
Several nations – including the United States and China – are now developing sixth-generation aircraft.
Author Experience and Expertise:
A Senior Editor for 19FortyFive, Peter Suciu is a Michigan-based writer. He has contributed to more than four dozen magazines, newspapers, and websites with over 3,200 published pieces over a twenty-year career in journalism. He regularly writes about military hardware, firearms history, cybersecurity, politics, and international affairs. Peter is also a Contributing Writer for Forbes and Clearance Jobs. You can follow him on Twitter: @PeterSuciu.
From the Vault