Donald Trump Wants to Defund the DOJ and FBI: One of the more unfortunate movements in modern American politics was the liberal push to "Defund the Police," which surfaced intensely in the summer following George Floyd's murder.
What Defund the Police meant exactly depended upon who you asked; to some, it meant de-militarizing the police; to others, it meant reducing police forces significantly and instead opting to fund mental health and substance abuse resources; and to others, it meant straight-up abolishing the police. 
But across the board, the movement took on a distinctly anti-cop tone and operated under the premise that modern police forces were implicitly biased or openly racist – and did more harm than good.
Republicans and Defund the Police
Fortunately, the Defund the Police movement has fizzled out. Turns out, that despite areas for improvement, and despite the too-frequently-occurring foul-up, police serve an invaluable public service upon which our society depends. Go figure. 
Republicans, despite holding so many irksome policy positions, came out on the right side of the Defund the Police conversation. Granted, Republicans were stubbornly ignorant to the idea that police forces would benefit from insightful criticism and concerted reform efforts – but when boiled down to a simple, 'do we need police or do we not need police,' Republicans picked correctly. 
Curiously enough, the head of the Republican Party at the peak of the Defund the Police conversation, then-President Donald Trump, is now calling for Congress to defund the Department of Justice and the Federal Bureau of Investigation. At least, that was his wild idea back in a few months ago. 
At first glance, Trump's calls to defund the DOJ and FBI back in April may seem like an ideological inconsistency – an anti-law enforcement stance from historically pro-law enforcement politicians. But really what's going on here makes perfect sense. Trump is about Trump. And guarding Trump's own interests is going to outweigh any possible ideology, including those relating to law enforcement. 
Donald Trump is About Trump
It shouldn't come as a surprise either; Trump has always been about Trump – it's the basis of his political identity, not some passionate policy position. Trump didn't get into politics to advance some Trumpian foreign policy brand or an economic agenda. The guy was hanging with the Clintons and pushing pro-choice views as recently as the aughts.
No, Donald Trump got into politics to give his ego a big stroke. Trump wanted to prove that he could do it; he probably decided sometime shortly after being mocked (by then-Commander-in-Chief Barack Obama) at the White House Correspondent's Dinner for having a career that lacked substance.
So, now that the FBI has raided Mar-a-Lago, and now that the DOJ seems to want to put him behind bars, it should come as no surprise that Donald Trump is calling for the two law enforcement agencies to be defunded.
Trump views the two agencies as posing existential threats to his political career; hence the agencies are mortal enemies. That calling to defund the agencies would violate the pro-law enforcement views Trump espoused to counter the Defund the Police movement, means nothing relative to the base instinct to guard his own interests.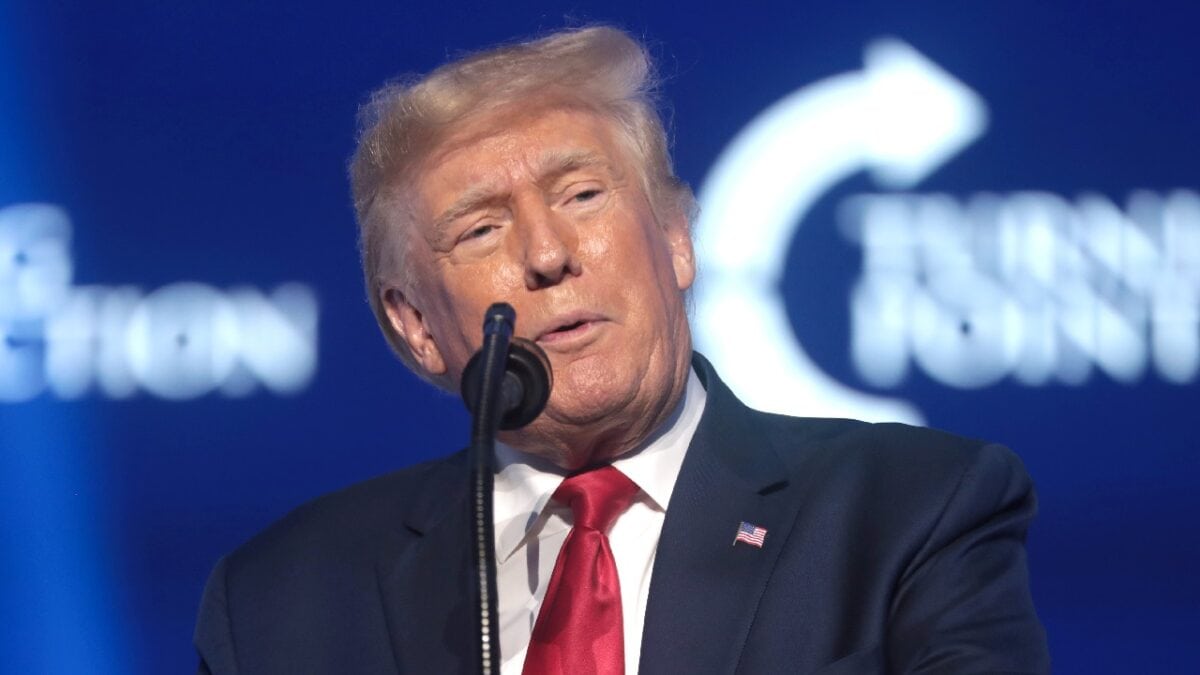 Now, does Trump actually guard his own interests when he calls to defund the DOJ and FBI? Certainly not. Staying silent on the matter would have probably been in Trump's best interests (lashing out isn't a good look) – but staying silent isn't in Trump's nature. 
Harrison Kass is the Senior Editor at 19FortyFive. An attorney, pilot, guitarist, and minor pro hockey player, Harrison joined the US Air Force as a Pilot Trainee but was medically discharged. Harrison holds a BA from Lake Forest College, a JD from the University of Oregon, and an MA from New York University. Harrison listens to Dokken.   
From the Vault
Donald Trump Just Got Caught in a Big Lie