Meet the 5 Top .45 ACP Guns on Earth: I have always loved the M1911A1 .45 ACP, and it served the nation well for over 100 years, as it still serves in some law enforcement agencies today.
The M1911A1 semiautomatic pistol was designed by John Moses Browning, one of the most legendary firearms inventors of all time. Some of Browning's incredible firearms were the 1911 pistol, the Browning Hi-Power pistol, and the M2 Browning heavy machine gun.
First introduced in 1921, the M2 still serves as the standard heavy machine gun of the U.S. armed forces.
The 1911A1 fired the new .45 ACP round, which stood for Automatic Colt Pistol after the Army's Colt M1892 revolver which fired the .38 Long Colt Cartridge was found to be too light to stop charging Moro tribesman in the Philippines. The .45 ACP round quickly became beloved by both the U.S. military as well as with law enforcement professionals.
The .45 ACP round lives on today for one very good reason, it is a man-stopper, and is much more powerful than the 9mm which is used everywhere today.
It is tough trying to narrow down the best pistols in .45 ACP, but here are my choices of the five best pistols in no particular order in .45 ACP, but there are many more that are worthy.
5 Top .45 ACP Guns on Earth, Glock 21 Gen 4: 
The Glock is one of the top names in reliability and capacity when it comes to .45 ACP pistols or just about any caliber. The Glock 21 has long been thought of as a .45 Auto standard in terms of speed and performance. With a total capacity of 14 shots (13 +1), this is an excellent pistol that is modestly priced.
The boxy design is loved by some and hated by others, but with the polymer frame, it weighs in at just 29 ounces, which is light for a .45 ACP and with a length of 8 inches it is a full-sized pistol so carrying it concealed is a bit of a chore, in which case, you might look elsewhere.
But it handles the recoil very well and shoots…like a Glock. The only drawback to this pistol is the stock trigger, which I personally disliked, but that isn't a hard fix. Glocks never seem to jam, just like the next one on the list.
5 Top .45 ACP Guns on Earth, Sig Sauer P220:
The Sig Sauer P220 Combat is a pistol with a super-light aluminum frame, which is quite different from other .45 ACPs and is very customizable. The first thing that jumps out is the two-tone look is the result of combining an anodized barrel, action, and slide combined with a Flat Dark Earth alloy frame and stock. Flat Dark Earth is another one of those ridiculous military terms for what most of us would call "booger colored".
The Sig P220 is a tried and true pistol, but by modifying it a bit, they turned the Combat model into an even better pistol. The sights on the P220 Combat are excellent. They are placed high and include tritium inserts for low-light visibility. There is a three-lug Picatinny rail for placing attachments. The pistol fires both dual and single action and the trigger pull is crisp and can easily be accessed when using gloves.
The standard magazine is 8 +1 but a 10+1 magazine is also available and doesn't add too much length to the pistol. Like all Sigs, it feels perfect in your hand and shoots like a dream. The overall length is 8 inches and weighs in at 31 ounces with a magazine.
5 Top .45 ACP Guns on Earth, Walther PPQ:
The Walther PPQ is another fine firearm from the company that has been producing them for many generations. The overall length is 7.1 inches, with a height of 5.3 inches and a width of 1.3 inches with the standard 4-inch barrel. It also comes with a longer 4.6-inch threaded barrel that can be ordered from the factory.
It weighs in at 24 ounces empty. And with capacity, the magazine for .45 ACP ammunition holds 12 + 1 rounds.  The pistol features swappable backstraps which allows for a better fit for the shooter. The grip has very slight finger grooves and cross-directional stippling for a grippy surface that is very comfortable.
The magazine release is ambidextrous, and the trigger is excellent with a 5.6-pound pull. It is full-sized but the recoil is a bit on the stout side. But it is an accurate, fun pistol to shoot.
5 Top .45 ACP Guns on Earth, Kimber Pro Covert II:
Last year, when visiting relatives back in the Northeast, my nephew was showing me his newest pistol, the Kimber Pro Covert II and I was immediately impressed. Kimber has a well-deserved reputation for manufacturing extremely high-quality pistols and many of the SWAT teams of large metropolitan police forces rely on the 1911A1 style and Kimber is the weapon of choice when selecting a backup weapon for their officers.
Most 1911A1 type pistols come standard with a 5-inch barrel, but the Kimber Pro Covert II has a 4-inch barrel which makes it a bit shorter and thus a bit more concealable. Its length is 7.7 inches, with a height of 5.25 inches and a weight of 28 ounces empty. The magazine has a 7 + 1 capacity.
The aluminum frame is charcoal gray with Marine Corps desert camouflage grips which makes it a very attractive 1911A1. But it is on the range where the Kimber is most at home. The full-sized grips are very comfortable and it is very accurate and reliable. We shot it at the standard 7-meter range and it was dead on. The shorter barrel gives it slightly more recoil but was almost unnoticeable to a standard 1911A1.
5 Top .45 ACP Guns on Earth, Heckler & Koch Universal Self-Loading Pistol (HK USP) Tactical:
Back in the early 1990s, I really wanted an H&K USP, which the Navy procured for the SEALs through its 1991 entry into the Special Operations Offensive Handgun Weapons System (OHWS) program. The Special Operations Command (SOCOM) called it the DA/SA MK23, and shortly thereafter Heckler and Koch began producing the USP.
What they put that pistol through was the stuff of legend, it was frozen to more than -40 degrees Fahrenheit. Heated to more than 150 degrees, submerged in saltwater, covered in sand. They even lodged a bullet in the barrel and shot it again. It cleared the obstructed round with only a slight bulge in the barrel. Then they fired an entire magazine through the bulged barrel and the accuracy was still good…Jeez.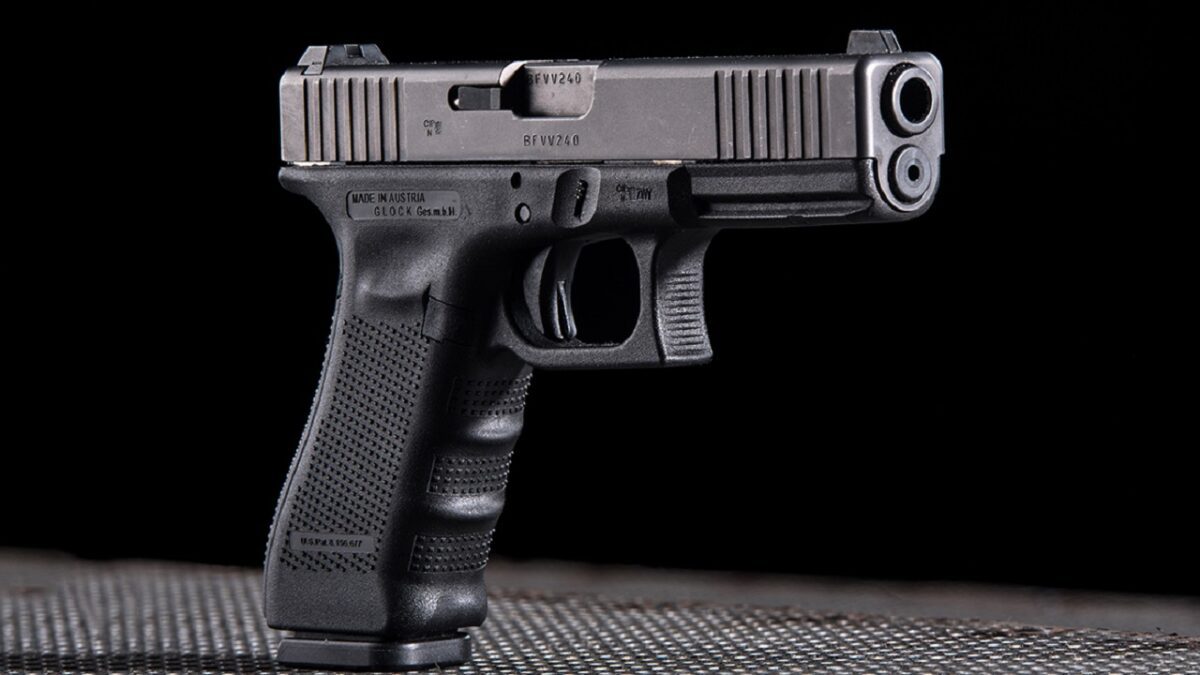 The weapon is 8.64 inches long and 5.9 inches high, with a width of 1.26 inches. It weighs in at a robust 2.05 lbs. The double-stacked magazine holds 12 + 1 although H&K sells 10-rounders for those who live in those states… the trigger pull is very smooth, about 11 pounds in DA and 4.5 pounds in SA. It is tough, reliable, and extremely accurate. It is set up for a suppressor, but the sights still work just fine.
Steve Balestrieri is a 1945 National Security Columnist. He has served as a US Army Special Forces NCO and Warrant Officer before injuries forced his early separation. In addition to writing for 19fortyfive.com, he has covered the NFL for PatsFans.com for more than 10 years and his work was regularly featured in the Millbury-Sutton Chronicle and Grafton News newspapers in Massachusetts.
From the Vault