The war in Ukraine has been renamed the Drone War for a very simple reason: drones are everywhere doing what seems like everything. 
From intel gathering to launching attacks, drone warfare is now a major part of combat operations in the Ukraine conflict.
And it seems like daily more and more videos show how drones can be used for not only finding targets but destroying them. 
Drones are Quite Sneaky in Ukraine 
Back in early April, Rob Lee of the Foreign Policy Research Institute shared a video on social media highlighting how Ukrainian forces were utilizing unmanned aerial vehicles (UAVs) to aid in artillery strikes near the besieged city of Bakhmut.
The small drones have proved to be a game changer for targeting enemy positions.
"Video from Ukraine's TERRA unit showing UAV-corrected artillery strikes on a Russian observation post and bunker near Bakhmut. It takes several rounds until they achieve a direct hit on the bunker," Lee (@RALee85) wrote in his social media post.
The video has also been shared on the TERRA Unit's YouTube Channel, where it has already been seen countless times. 
Forward Observation
The Ukraine military has been increasingly forced to conserve ordnance after months of seemingly endless artillery duels with the Russian Army. Both sides have expended the most rounds in a conflict in Europe since the Second World War.
As of last fall, the Ukrainian military was firing 2,000 to 4,000 artillery shells a day – a number that was frequently outmatched by the Russians. It has caused barrels in the guns to wear out faster than expected, but the bigger issue is that Kyiv has begun to run low on ordnance.
Typically artillery barrages have attempted to blanket an area with a large number of shells in the hopes that an enemy position would be hit. The logic is that if you fire enough shells you're bound to hit something. However, Kyiv simply doesn't have the ordnance to continue with such operations – and instead may be seeking to hold more shells in reserve for a planned counteroffensive.
The drones could offer a solution that allows Ukraine to quickly correct its targeting and to hit Russian positions while expending fewer rounds.
Drone Warfare
In addition, drones can be used to drop ordnance – including small grenades and bombs – directly on enemy positions, as well as tanks and other vehicles. Along with loitering munitions, the drones can provide pinpoint accuracy that doesn't result in a large and protracted artillery barrage.
It can also allow for a quicker reaction by supporting forces. Even before the First World War, the standard doctrine had been for a lengthy artillery barrage to "soften up" an enemy position, followed by a mass attack of ground forces. Now a drone can target the key enemy positions, while armor and supporting infantry can press on a location even quicker. As Lee noted in a follow-up post, after the Ukrainians launched their drone-corrected artillery strike on the forward Russian observation post and bunker, a pair of Russian tanks then engaged the enemy's positions.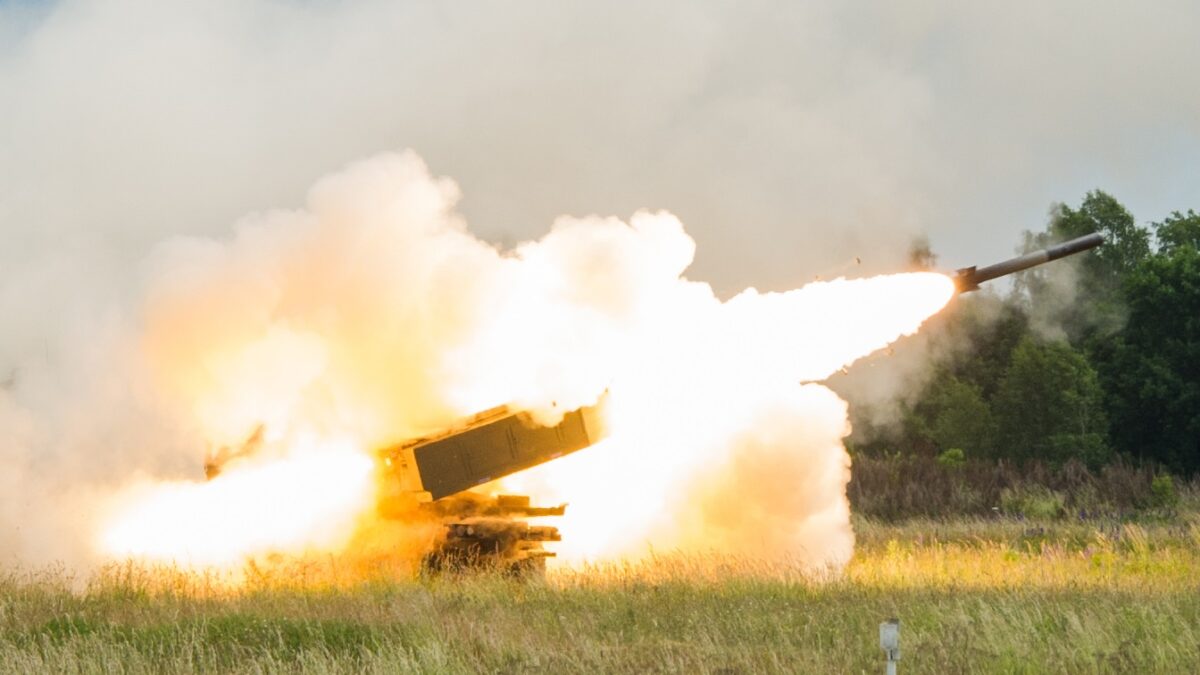 The drones served as forward observers for the artillery and then continued to scan the horizon for threats to the Ukrainian tanks. Just as balloons and then aircraft put eyes in the sky, drones are now serving to provide a view from above to aid those on the ground.
Video from Ukraine's TERRA unit showing UAV-corrected artillery strikes on a Russian observation post and bunker near Bakhmut. It takes several rounds until they achieve a direct hit on the bunker.https://t.co/lVMnyn668D pic.twitter.com/W6SUHUZPnh

— Rob Lee (@RALee85) April 4, 2023
Author Experience and Expertise:
A Senior Editor for 19FortyFive, Peter Suciu is a Michigan-based writer. He has contributed to more than four dozen magazines, newspapers, and websites with over 3,200 published pieces over a twenty-year career in journalism. He regularly writes about military hardware, firearms history, cybersecurity, politics, and international affairs. Peter is also a Contributing Writer for Forbes and Clearance Jobs. You can follow him on Twitter: @PeterSuciu.