Here we go again with another one of my Top 5 Firearms lists.
Having published one article on the all-encompassing general category of concealed carry handguns, and with a CCW revolver-focused article that was just published as I type these words, it's now time to a write-up focused on Best Semiautomatic Pistols for Concealed Carry. 
Glock 26 9mm
This "baby Glock" (subcompact) is my go-to choice when carrying a 9mm Parabellum for CCW purposes.
The 10+1 ammo capacity gives you double the firepower of a similarly-sized 5-shot J-frame Smith & Wesson snubby revolver, whilst also being flatter (thus aiding concealability) and far more comfortable to shoot than the wheelgun, and the gun has both the practical and intrinsic accuracy to go with the creature comfort.
And of course, there's the reliability factor that the Glock brand is known for. As I previously noted in my standalone 19FortyFive article on the G26: "My personal Generation 3 ("Gen3") G26 was purchased back in August 2010 as (1) a 35th birthday present to myself (yes, I just gave away my age), and (2) an authorized backup piece to the SIG P229 DAK .40 caliber, which was my standard-issue full-size pistol as an Immigration & Customs Enforcement (ICE) Special Agent…In the 12 years I've owned my "baby Glock," I would guesstimate that I've put close to 10,000 rounds through her, and the old girl has stayed accurate and reliable."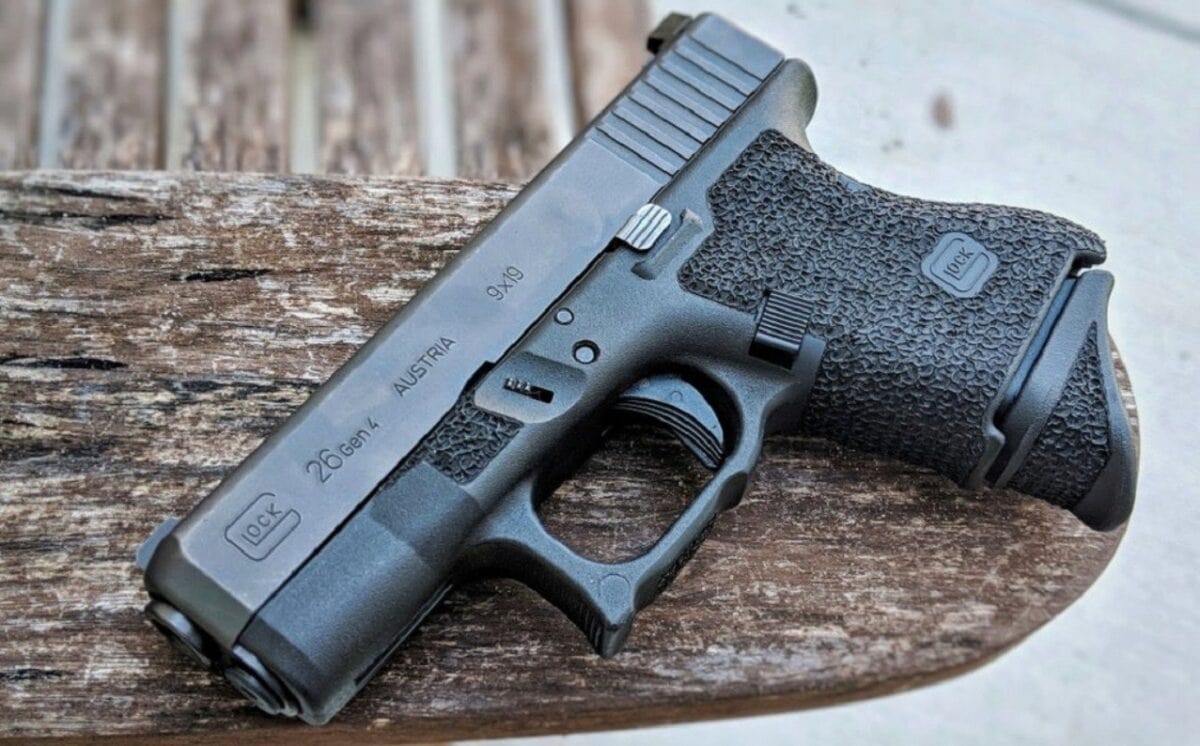 Glock 36 .45 ACP 
What's that y'all say, all you old-school big-bore aficionados out there? Don't like the "wussy" medium-caliber 9mm? Fret thee not, Glock has y'all covered as well! Say hello to the Glock 36, a subcompact "baby Glock" that punches well above her weight thanks to the 6+1 rounds of .45 ACP, whilst maintaining the accuracy, reliability, durability, simplicity, and ease of maintenance of the bigger Glocks.
I owned a Gen3 G36 from 2002 to 2005, and though the recoil and muzzle flip made for quite a pocket rocket, these factors weren't quite as bad as one might expect from a subcompact large-bore, thanks partially to the pistol's double recoil spring and the flexion of the polymer frame during firing that helps partially dissipate the recoil before it impacts the shooter's hand. I eventually traded it for the purchase of another firearm, this subcompact .45 never let me down during the roughly 4,000 rounds I fired through her.
Walther PPK .32 ACP or .380 ACP
"The Gun James Bond Made Famous." Besides its use by "The World's Most Famous Secret Agent" as well as a slew of other action-adventure films and novels – among them the works of Jack Higgins – the PPK (Polizeipistole Kriminal, literally "police pistol criminal," referring to the Kriminalamt investigation office)  also has an proven track record of real-world performance in the hands of military and police forces, having remained in production since 1931.
It is available in both .32 ACP (7.65mm) and .380 ACP (AKA 9mm Corto, 9mm Kurz, 9mm Short, 9x17mm) calibers. The .380 is the more powerful of the two relatively speaking – though still a pocket pistol caliber and ergo derided by big-bore lovers as a "mouse gun" – and more readily available in U.S. gun shops, whilst the .32 ACP, though less powerful and harder to obtain Stateside, is lauded by semiauto pistol authority J.B. Wood as both more intrinsically accurate and pleasant to shoot than the .380.
Meanwhile, the .32 is more popular in Europe, and accordingly that's what Agent 007 carries in both the films and the majority of the original Ian Fleming novels alike. Being the lifelong James Bond fan that I am, naturally I bought the .32 ACP version – more specifically, the joint Walther-Smith & Wesson version – back in 2011. It's a fun gun to shoot, though personally I don't like it as much as the next gun on the list.
Makarov 9x18mm
The Pistolet Makarovka is a sentimental favorite of mine, as it was my very first CCW piece for my very first CCW permit, both obtained in Florida back in 2001. Robust, reliable, and surprisingly accurate for a pocket pistol – it easily enables me to nail head shots at 25 yards and center-torso hits at 50 yards – its 9x18mm cartridge – purposely designed back in 1951 by the eponymous Nikolay Fyodorovich Makarov to not be compatible with the NATO 9mm Parabellum pistol round – is the most powerful cartridge that can be fired from a direct blowback autopistol.
Though a Soviet design, the current version of the "Mak" I own is actually a Bulgarian-made version, imported by Century Arms and purchased back in 2003 from Belleville Shooting Range (known nowadays as Metro Shooting Supplies) in Belleville, Illinois, for the dirt cheap price of $160.00 USD. Lately I've been using it more often than my Glock 26 for everyday carry (EDC) purposes, in homage to the Ukrainian Armed Forces who are still using the pistol in their fight against the Russian interlopers.
Though I have yet to fire a Seecamp – they're almost as hard to find as Unobtainium and the Holy Grail command thanks to the small production numbers and resultant backorders – they have such a superb reputation within the CCW community —  even amongst those aforementioned old-school big-bore fanatics who typically look down their noses at any handgun whose caliber doesn't start with a ".4" – that I just had to include it here. Plus, a good friend of mine does own one – lucky gal(!) – and under condition of anonymity agreed to provide me this quoteworthy statement about the gun:
"It's a mouse gun that kicks like a mule, and it's definitely not fun to shoot. However, it's the best thing ever for concealed carry. I've carried it wearing a swimsuit and sarong."
Agree or Disagree?
Why or why not? What did we oh-so-egregiously omit? Should we have included the KelTec P32, perhaps? Please let us know below in the comments section!
Christian D. Orr has 33 years of shooting experience, starting at the tender age of 14. His marksmanship accomplishments include: the Air Force Small Arms Ribbon w/one device (for M16A2 rifle and M9 pistol); Pistol Expert Ratings from U.S. Customs & Border Protection (CBP), Immigration & Customs Enforcement (ICE), and the Federal Law Enforcement Training Center (FLETC) Criminal Investigator Training Program (CITP); multiple medals and trophies via the Glock Sport Shooting Foundation (GSSF) and the Nevada Police & Fires Games (NPAF). Chris has been an NRA Certified Basic Pistol Instructor since 2011.