HIMARS artillery systems are powerful weapons of war and, when sent to Ukraine, were considered a game changer on the battlefield. 
Since being introduced, social media lights up anytime we get footage of these systems being used in action.
We know one thing: Putin might want to shut off his smartphone if he comes across any of these videos. 
HIMARS Time! Footage Shows Rockets Hitting Russian Military
Back in April, the Ukrainian Ministry of Defense showed that it had a true sense of humor when it posted a short video clip to social media.
In the 34-second-long video, three U.S.-made High Mobility Artillery Rocket Systems (HIMARS) launchers could be seen firing multiple rounds toward Russian positions.
"Stop, HIMARS time!," @DefenceU captioned the post to Twitter – a reference to the 1990 song "U Can't Touch This" by rapper MC Hammer, which had the line "Stop, Hammer Time!"
That riff has become a popular meme on social media, and while still considered somewhat of a "novelty song," the track has been seen millions of times since it was first posted to the video-sharing service 14 years ago.
The Flag of Ukraine
Some commentators on social media also noted, perhaps intentionally, the HIMARS video featured a background of a clear blue sky. At the same time, the launchers were positioned on a yellow field that comes into focus as the rocket lit up the early morning sky. It briefly appears reminiscent of the Ukrainian flag.
Ukraine's Col. Gen. Oleksandr Syrskyi also shared the footage to his Telegram channel and wrote "Ukrainian artillery proves its effectiveness. It destroys thousands of units of soldiers and enemy equipment. Along with foreign weapons, Ukrainian soldiers skillfully combine domestic artillery systems that affect hostile objects on the battlefield. The 27th, 43rd and 107, jet and artillery brigades have repeatedly proved their productivity. They provide powerful fire support during various military operations."
Syrskyi added, "I am proud of our artillery! Glory to Ukraine and our heroes!"
The lightweight rocket launchers have been seen as a potential game changer for Kyiv, as they have a range of 50 miles, and have already been used with great success to strike Russian ammunition depots, bridges, and other high-value targets.
More HIMARS Ordnance On the Way
The video was shared on social media back in April just days after the United States Department of Defense (DoD) announced at the time that it would provide a $2.6 billion security aid package that included additional ammunition for the HIMARS. Joe Biden also this week approved cluster munitions for Ukraine. Of course, much more aid has been approved since then.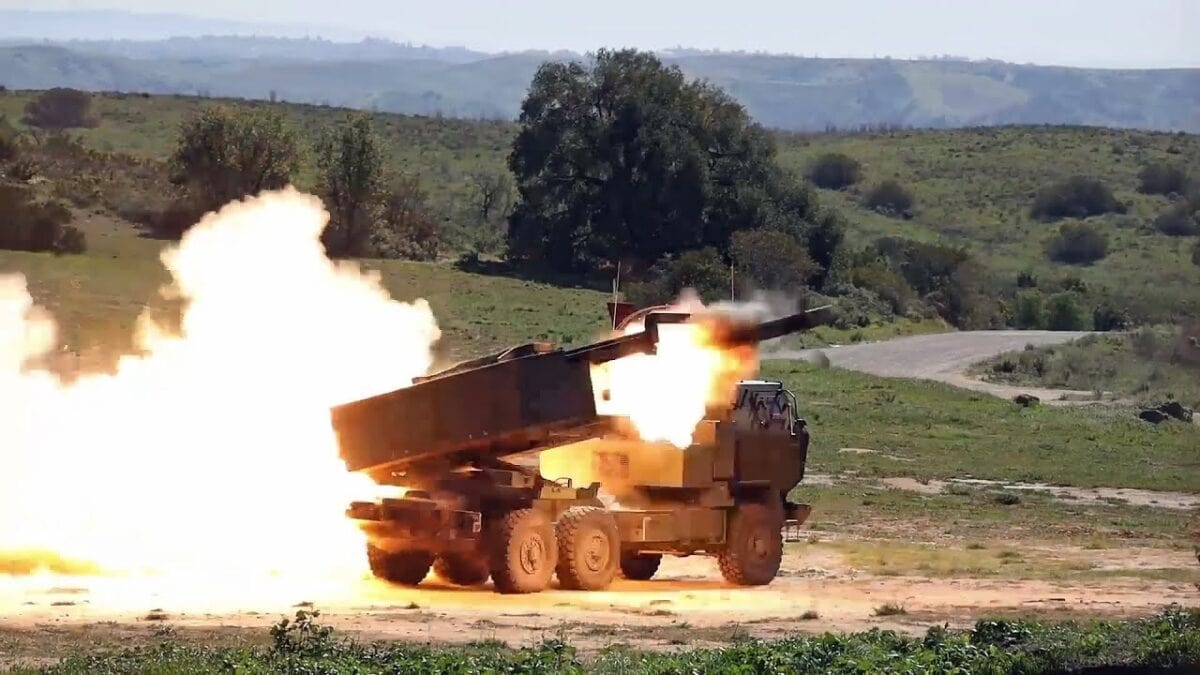 Announced in April, the package will include ammunition for the 20 HIMARS that have already been deployed to Ukraine, as well as additional ordnance for the Patriot air defense system. The aid will be provided under the Ukraine Security Assistance Initiative (USAI), and will be spent on procuring capabilities from U.S. industry rather than delivering equipment drawn down from the Pentagon's stocks.
"The announcement of this USAI package represents the beginning of a contracting process to provide additional capabilities to Ukraine's Armed Forces," the DoD said in a statement.
Stop, HIMARS time!

???? Ukrainian Land Forces pic.twitter.com/Kimu4edhjh

— Defense of Ukraine (@DefenceU) April 9, 2023
The Pentagon will also provide in that April military package additional 155mm and 105mm artillery rounds; 120mm mortar rounds, 120mm, and 105mm tank ammunition; 25mm ammunition; Tube-Launched, Optically-Tracked, Wire-Guided (TOW) missiles; approximately 400 grenade launchers and 200,000 rounds of ammunition; 11 tactical vehicles to recover equipment; 61 heavy fuel tankers; 10 trucks and 10 trailers to transport heavy equipment; and testing and diagnostic equipment to support vehicle maintenance and repair.
"The United States will continue to work with its Allies and partners to provide Ukraine with capabilities to meet its immediate battlefield needs and longer-term security assistance requirements," the DoD added.
Author Experience and Expertise:
A Senior Editor for 19FortyFive, Peter Suciu is a Michigan-based writer. He has contributed to more than four dozen magazines, newspapers, and websites with over 3,200 published pieces over a twenty-year career in journalism. He regularly writes about military hardware, firearms history, cybersecurity, politics, and international affairs. Peter is also a Contributing Writer for Forbes and Clearance Jobs. You can follow him on Twitter: @PeterSuciu.