Would China's new aircraft carrier fleet survive in a war against the U.S. military?
Most research suggests Chinese aircraft carriers would be highly vulnerable in an engagement with the U.S. Navy for several reasons.
Here is a quick survey of all of the ways China's carriers could be placed in danger by the U.S. Navy: 
Weapons and Tactics
There are near-term or immediate U.S. Navy threats Chinese carriers would face as well as mounting threats in coming years. 
For instance, should the U.S. Navy succeed in arming its Zumwalt-class destroyers with hypersonic missiles by 2025 and continue rapid progress to mature and operationalize warship-fired laser weapons, its ability to destroy Chinese carriers will expand immeasurably in coming years.  
Air Power
In a more immediate sense, three specific things come to mind as current or pressing US Navy weapons and tactics likely capable of destroying Chinese carriers. 
Perhaps most of all, the U.S. Navy can massively project forward-positioned, 5th-generation maritime air power in a manner likely to overwhelm Chinese carrier defenses.
U.S. America-class amphibious assault ships can deploy with as many as 13 to 15 F-35Bs, and its Carrier Air Wings can launch F-35C formations.
Also, should an engagement happen in the Pacific, land-based US F-22s and F-35As might be within striking distance from Guam, Japan, or other forward locations.
Added to this threat equation is the fact that Japan recently made a massive multi-billion F-35 buy and will soon be in a position itself to project large 5th-generation attack formations. 
But couldn't Beijing counter such a threat? Chinese air power might not have the numbers and skill sets to help against any attacks on Beijing's carriers.
While China is developing a 5th-generation carrier-launched J-31, it is unclear how far along this is, and it certainly may not soon present a credible maritime-launched Chinese 5th-generation threat or counter to the US and Japan.
Also, while China does have hundreds of 4th-generation, upgraded J-10s, the PLA Air Force does not appear to have a sizable or impactful J-20 stealth fighter 5th-generation fleet.
Numerous estimates and open-source publications place China's J-20 fleet as around 120 or so, yet the aircraft is land launched and cannot project power from the sea, and there is no clear indication as to the extent to which it can rival an F-35.
China Must Worry About Missiles
Yet another near-term or immediate threat to Chinese carriers would come from new variants of  US Navy destroyer and cruiser-launched Tomahawk missiles able to travel as far as 900 miles beneath the curve or aperture of most ship-based radar.
The most recent Tomahawk, the Tactical or Maritime Tomahawk, is engineered with a high-tech ability to adapt to moving targets and destroy ships on the move.
Guided Tomahawk missiles launched from Vertical Launch Systems in large numbers from US Navy destroyers and cruisers would be well positioned to destroy Chinese carriers. 
Submarines
Finally, the largest and perhaps least recognized threat to Chinese carriers would come from undersea drones and US Navy attack submarines.
Block III and Block V Virginia-class attack submarines, in particular, are increasingly being thought of for clandestine ISR (intelligence, surveillance and reconnaissance) missions because they can operate closer to high-threat areas due to new quieting technologies, advanced sonar and the ability to launch and recover undersea surveillance drones. 
Attack submarines would likely be much less detectable than easily observable surface warships and most aircraft, so they could potentially locate and attack Chinese surface ships with torpedoes and a large salvo of undersea-launched Tomahawk missiles.
While details or specifics related to enhanced technologies for US Navy attack submarines are likely not available for security reasons, senior service leaders have said that Block III and forward Virginia-class attack submarines are engineered with new quieting applications to lower the boat's acoustic signature as well as coating materials and antennas for sensing.
Block III Virginia boats also operate with a much larger and more effective Large Aperture Bow sonar system capable of finding and attacking surface ships. Block III Virginia submarines are also more survivable due to the growing inclusion of undersea, missile-tube-launched undersea drones able to find, track and potentially even explode enemy targets at standoff ranges where manned submarines are less vulnerable. This also provides a critical forward operating and less detectable undersea "sensor" node capable of finding enemy surface warships.  Virginia submarines are also now getting upgraded heavyweight torpedoes and Very Lightweight Torpedoes able to fire from undersea boats to intercept incoming threats.
The Bottomline 
Of course, Beijing has a vote in all of this. US Navy lethality against Chinese carriers would pertain heavily to the potentially lesser-known extent of China's layered ship defenses.
Do Carrier Strike Group destroyers defend Chinese carriers with advanced sonar and interceptor weapons to counter US Navy submarines and warship-fired Tomahawk missiles?
The true extent of vulnerability with Chinese carriers likely relates to critical questions such as whether China has electronic warfare defenses able to jam electronic guidance systems of incoming weapons. One would also need to consider the effectiveness of interceptor missiles or laser weapons to incinerate or disable attacking drones, planes, and surface ships.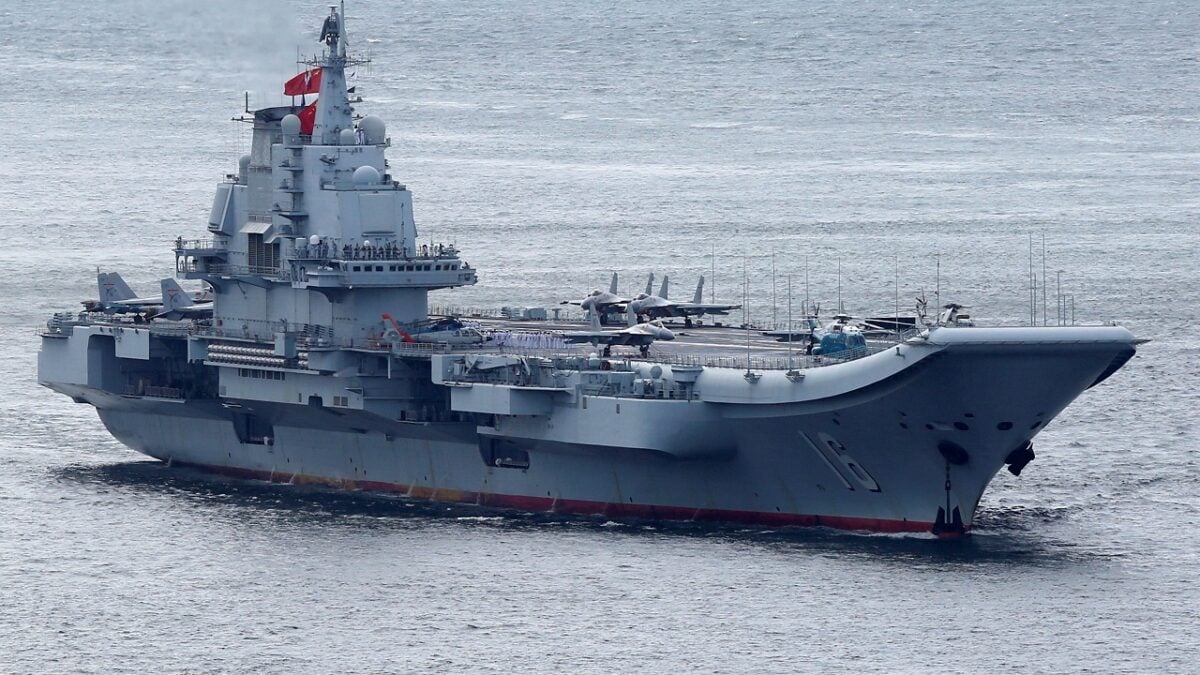 Kris Osborn is the Military Affairs Editor of 19FortyFive and President of Warrior Maven – Center for Military Modernization. Osborn previously served at the Pentagon as a Highly Qualified Expert with the Office of the Assistant Secretary of the Army—Acquisition, Logistics & Technology. Osborn has also worked as an anchor and on-air military specialist at national TV networks. He has appeared as a guest military expert on Fox News, MSNBC, The Military Channel, and The History Channel. He also has a Masters Degree in Comparative Literature from Columbia University.
From the Vault
Donald Trump Just Got Caught in a Big Lie