Yes, Canada did try and build its very own jet fighter to ensure it had its very own planes in the sky if a war with Russia ever broke out.
That can only mean we are talking about the much loved and respected Avro CF-105. What was her fate? 
After the Second World War, at a time when the British Royal Air Force was still recovering and had no money to think about a new interceptor, Avro Canada developed the CF-100, often dubbed the "Canuck."
As the first combat aircraft of all-Canadian design, it proved to be an excellent long-range, all-weather fighter. More importantly, it highlighted that the newly formed Avro Canada – an offshoot of the British-based aircraft manufacturer – showed brilliance in completing a challenging project quickly.
From that success, in the mid-1950s, work progressed on the Avro Canada CF-105 Arrow, a giant, delta-winged interceptor. It offered a bright hope for the future of the Canadian aircraft industry, and had the potential of providing the Royal Canadian Air Force (RCAF) with the capability to meet Soviet bombers  – and possibly destroy them in a war – as far away as the North Pole. After earning the right to develop and build the aircraft, Avro Canada grew significantly, and by 1957, employed more than 20,000 people – making it one of the largest companies in the nation. It drew major investment from the government as well at its own employees.
Confidence in the company, and in Canada's aerospace industry, was soaring high. But like Icarus, it soon came crashing down.
Avro CF-105 Arrow – The Details 
Development of the Arrow progressed quickly, and it has largely been remembered as being one of the most advanced aircraft of its era, while it was also widely praised for its power and beauty. It also helped to establish Canada as a world leader in scientific research and development.
To say that everything about the Arrow was massive is an understatement. It was an immense project in size, scale and ambition. The aircraft itself was enormous as well. Weighing about 20,000 kg (44,000 pounds) empty, with a 15.2 m wingspan, it was a huge aircraft for an interceptor.
It was also a highly advanced aircraft that required many of its components to be specially developed. It boasted the world's first computerized flight control and weapon system, while it was faster than any jet in its class. The Arrow was designed to travel at nearly twice the speed of sound at an altitude of 53,000 feet. Developed without the aid of computers or simulation tools, the designers relied on scale models for wind-tunnel testing.
Avro CF-105 Arrow – Why It Failed 
The first CF-105 Arrow prototype was rolled out on October 4, 1957 – and more than 12,000 people arrived to see the advanced-looking aircraft. However, that event was largely overshadowed by the USSR's launch of Sputnik 1 into orbit on that same day – and which heralded the dawn of the space age and potentially the end of the Arrow's main target, the long-range bomber.
A total of five Arrows took part in flight tests in a program that began in 1958, but the project was doomed due to political and technical woes. The high cost of the program
The Arrow was canceled in February 1959 by the government of the newly elected Canadian Prime Minister John Diefenbaker, who sought to cut federal spending. It likely didn't help that Diefenbaker, a Progressive Conservative and teetotaler, had a poor relationship with Avro Canada's President Crawford Gordon, Jr., who was known for his love of smoke and drink.
The Avro Canada CF-105 never entered production, and the RCAF eventually acquired the American-built CF-101B Voodoo instead.  Avro Canada never recovered from the program's cancellation and ceased operations in 1962.
Nearly three decades after the program was shuttered, a four-hour TV miniseries about the Arrow program was produced for CBC Television. Tilted simply The Arrow, it starred notable Canadian actors including Dan Aykroyd, Michael Ironside, and Sara Botsford and offered a dramatized look at the attempt to produce the supersonic jet. It went on to have the highest viewership to that point for a CBC program – perhaps highlighting just how much this jet meant to the Canadian people.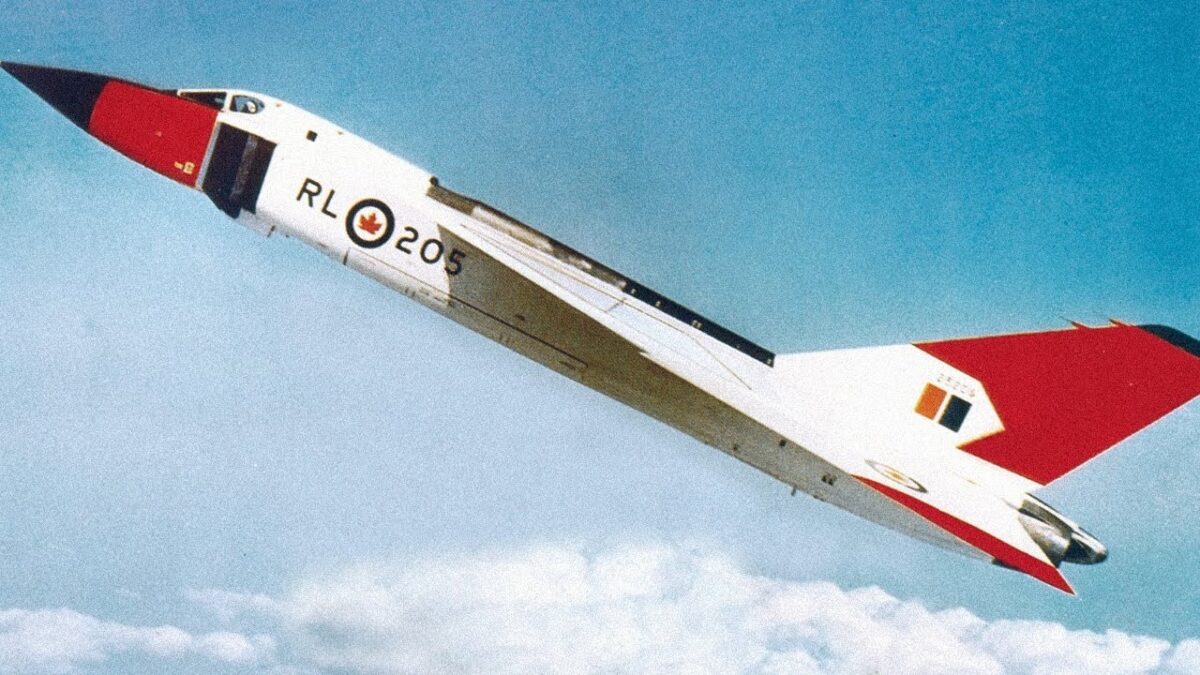 Expert Biography: Now a Senior Editor for 1945, Peter Suciu is a Michigan-based writer who has contributed to more than four dozen magazines, newspapers and websites. He regularly writes about military hardware, and is the author of several books on military headgear including A Gallery of Military Headdress, which is available on Amazon.com. Peter is also a Contributing Writer for Forbes.