The AK-47 (Автомат Калашникова; Avtomat Kalashnikova) is arguably the most widely produced firearm in the world, with a mind-numbing 100 million produced around the world. 
Not surprisingly, as is the case with quite a few other wildly successful and popular gun designs – the M1911 and Browning Hi-Power pistols come immediately to mind – it has spawned its fair share of copies and clones around the world. What's equally unsurprising is that many of these copies have been made in either current Communist countries like the Chinese Norinco or former Communist countries like the Romanian WASR-10. Also in consideration are AKs made in the former Yugoslavia.
What is surprising is that the AK variant that quite a few experts consider to be the best version of the ubiquitous rifle was made by a company that is (1) Western European, (2) mainly known for producing handguns, and (3) in Western calibers to boot. The company in question is SIG (Schweizerische Industrie-Gesellschaft) Sauer, a German-Swiss firm tracing its roots back to 1853, and the specific AK variant in question is the SIG 556R.
SIG 556R Early History and Specifications
That "556R" part of the gun's alphanumeric nomenclature can be a tad confusing, as it creates the initial impression that the weapon is chambered for the same 5.56x45mm caliber as the AR-15/M16/M4 as opposed to the 7.62x39mm AK round, but that's not actually the case. Well, first there was the just plain SIG 556 – a semiauto-only, partially American-made version of the SIG SG ("Sturmgewehr;" literally, "assault rifle) 550 – which was indeed a 5.56mm rifle, so then for the 7.62x39mm edition, SIG tacked on the letter "R" to distinguish it as a Russian caliber. 
The SIG 556R made its debut circa 2012. Just like the smaller caliber SIG 556, it uses a rotary bolt, two-position adjustable-gas piston valve system that allows the rifle to be adjusted to continue running when dirty or being used in adverse conditions. As an additional benefit, this system allows the stock to be folded toward the ejection port, without blocking the port during firing, to provide a more compact rifle platform for use in close-quarter battle (CQB) situations, whilst also offering a full-length stock that can be quickly flipped into place when the situation warrants it. 
Perhaps not surprisingly for a savvy, high-tech manufacturer like SIG, the 556R doesn't look much like a traditional AK from a cosmetic standpoint: the butt stock, foregrip, and pistol grip are composed of black polymer – dare I say "the Glock of the AK world(?)" – whilst the metal components are covered in a matte-black finish that is evenly applied, therefore a huge plus from a standpoint of protection against rust, wear, and corrosion. Other praiseworthy features include an ambidextrous safety, a spring-loaded trigger guard for accommodating gloved fingers – a definite plus in extreme winter environments – and storage in the pistol grip.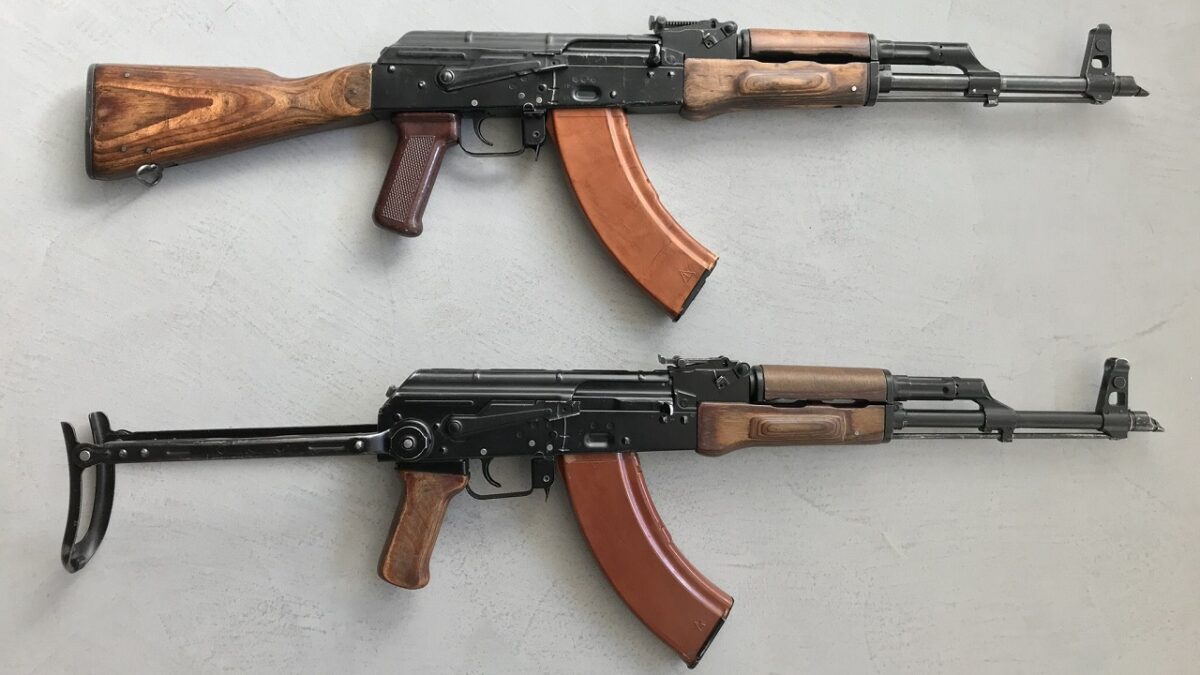 Technical specs include a barrel length of 16 inches, an overall length of 35.875 inches (26 inches with the stock folded), an empty weight of 7 pounds, a trigger pull weight of 7.15 pounds, and a standard magazine capacity of 30 rounds. Rifling is a 1:9.5" RH (right-hand) twist.
Alas, the entire 556 series, the R and non-R alike, were eventually discontinued due to poor sales; they just didn't quite catch on with the American gun-buying public.
Fellow Gun Writers'/Experts' Impressions
I myself first learned of the SIG 556R via the writings of Gabe Suarez of Suarez Tactical; to paraphrase Gabe, he essentially described it as "the ultimate refinement of the AK system" or words to that effect. (Eventually, Gabe lost his enthusiasm for the AK platform, but that's a whole separate story in and of itself.)
Meanwhile, an unnamed author writing for NRA American Rifleman in a June 2013 article provided this assessment:
"Accuracy was decent, but not spectacular in five-shot groups with the Winchester 123-grain soft point loads averaging 2.34 inches and the Winchester 123-grain FMJ averaging 2.5 inches … The Tula 122-grain FMJ load fared similarly with multiple three-shot groups measuring just a little over an inch, while five-shot groups spread out into the 2 and 3-inch ranges. The Winchester soft points had multiple, three-shot groups that measured under an inch, and was determined as the best load … Overall, the SIG Sauer 556R performed admirably, and is excellent for what it is intended—a better-made rifle for firing the 7.62×39 mm caliber round. It is a fighting and self-defense rifle, not a sub-m.o.a. precision rifle. It is fun to shoot, and would work well on large targets out to a few hundred yards, while excelling on fast-action, close-range targets, with what could arguably be the most plentiful round in the world."
Someday Yours Truly hopes to get ahold of a SIG 556R to see how it compares to (1) my personally-owned WASR-10 and (2) the rust-pitted Chinese-made (ugh) AK I was issued toward the end of my last Iraq contract stint (Balad Airbase, 2015-2018). 
Christian D. Orr is a Senior Defense Editor for 19FortyFive. He has 34 years of shooting experience, starting at the tender age of 14. His marksmanship accomplishments include: the Air Force Small Arms Ribbon w/one device (for M16A2 rifle and M9 pistol); Pistol Expert Ratings from U.S. Customs & Border Protection (CBP), Immigration & Customs Enforcement (ICE), and the Federal Law Enforcement Training Center (FLETC) Criminal Investigator Training Program (CITP); multiple medals and trophies via the Glock Sport Shooting Foundation (GSSF) and the Nevada Police & Fires Games (NPAF). Chris has been an NRA Certified Basic Pistol Instructor since 2011.
Note: Image is of a standard AK-47.