Despite corrosion, mechanical difficulties and challenges with upgrades, Russia's lone aircraft carrier, the Admiral Kuznetsov, may wind up returning to service after all – or not. However, following many problems and malfunctions, the platform has been drydocked since 2018 for refitting. 
The carrier first emerged in 1985 and proved to be a key part of what was a Soviet ambition to build a two-carrier fleet, yet the collapse of the Soviet Union in the early 1990s complicated and ultimately derailed plans to build a second carrier. Instead, Russia's would-be Varyag carrier was sold to China and became the PLA-Navy's first carrier. 
A return to the fleet for the Admiral Kuznetsov would be extremely surprising and quite an accomplishment, given that multiple news reports, say the damage and corrosion to the boat causes substantial erosion of its metal structures. 
For example, a previous essay in Pravda.com from as recently as January 2023 reports that Russia's only carrier will not be in a condition where it can return to deployment.
"Ship repairmen warned the military that the condition of Admiral Kuznetsov does not allow it to be deployed due to the high probability that it would sink or capsize. During the examination, it was revealed that the metal structures below the third deck of the ship were significantly corroded. The holds are filled with muddy water, which makes it impossible to examine the ship in detail from the inside," the Pravda paper states.
The Pravda essay also cites indications that the efforts of Russian weapons developers working on the Admiral Kznetsov have been compromised by disagreements among workers.  The repair process has also already been slowed down and damaged by accidents, as there was a 2019 engine-room fire on the carrier which has created a need for additional adjustments. 
Russia plans to deploy and sail the ship for another 15 years after its service return. However, that seems to very much be in question.
Problems with Russia's carrier seem to align with other significant tactical and strategic nuances.
To what extent does Russia truly wish to deploy a Navy that is substantial and lethal enough to project power beyond its borders? It seems extremely unlikely that the Russian Navy can position itself to be a large, influential global Naval power. That requires more of a U.S.-like fleet of multiple carriers. It might not seem realistic for Russia to seek to rival the US in terms of Naval power in any way
Perhaps not, however, there are clear reasons why Russia would want a carrier, if even for regional or limited purposes. Should the carrier return to service with any carrier air wing, it might position Russia to hold NATO allies along the Black Sea at risk of attack and also defend its airspace from the ocean. Russia clearly appears to have regional ambitions in the Black Sea,  which includes coastal borders from Bulgaria, Romania, and Turkey, among others.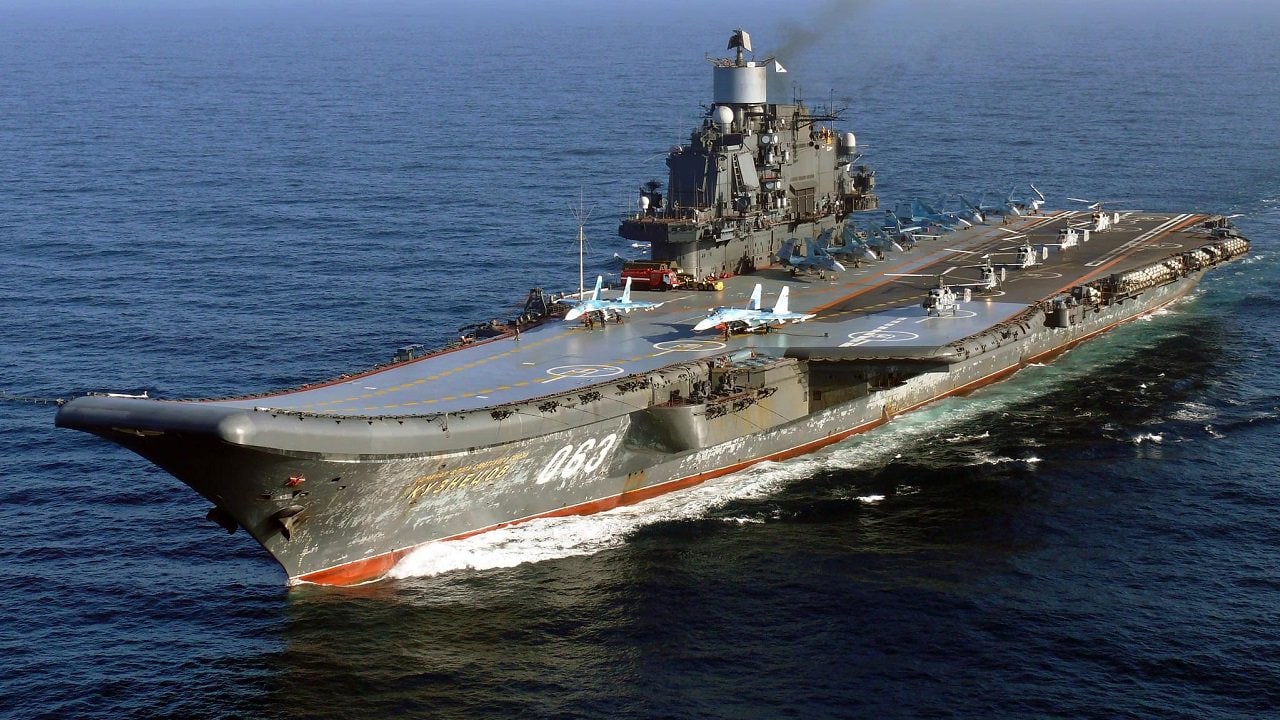 Of course, Russia and Ukraine border the Black Sea as well, and the U.S. is known to at times operate warships in international waters in the area. An ability to launch cruise missiles or fighter jets from offshore does present a credible threat to Ukraine and other NATO allies, something which likely explains why Ukraine has had some success destroying Russian warships with land-fired missiles.
Kris Osborn is the Military Affairs Editor of 19FortyFive and President of Warrior Maven – Center for Military Modernization. Osborn previously served at the Pentagon as a Highly Qualified Expert with the Office of the Assistant Secretary of the Army—Acquisition, Logistics & Technology. Osborn has also worked as an anchor and on-air military specialist at national TV networks. He has appeared as a guest military expert on Fox News, MSNBC, The Military Channel, and The History Channel. He also has a Masters Degree in Comparative Literature from Columbia University.