Russia's main battle tanks and tracked vehicles continue to perform abysmally in Ukraine. 
In fact, there are reports that claim Moscow has lost 2,000 tanks in Ukraine – far more than many countries have in their entire tank arsenal for sure. 
With Kyiv's counteroffensive in full swing, Moscow's already dwindling military equipment stockpiles will diminish even further.
'Annihilated Artillery': Video from Ukraine Shows Putin's Big Guns Destroyed
Back in July, open-source intelligence monitor Ukraine Weapons Tracker released a video showing the destruction by Ukrainian forces of a Russian 2S3 Akatsiya 152mm self-propelled howitzer near Staromlynivka, Donetsk oblast.
The 30-second video begins when the howitzer is targeted in an apparent artillery strike.
Within a few seconds, fumes engulf the target and billows of gray smoke emerge. 
The destruction of the self-propelled howitzer is just the latest demonstration of how Moscow's tracked vehicles are being wiped out. 
Introducing the 2S3 Akatsiya
Initially developed by the Soviet Union in the late 1960s, the self-propelled gun was designed to counter the American 155mm M109 howitzer.
By 1971, the Akatisiya officially entered service with the Soviet army and continued in production until the USSR collapsed.
Today, Russia's design bureau No. 9 of Sverdlovsk develops the self-propelled artillery. According to Military Today, the howitzer can fire 30 rounds in 10 minutes and is compatible with HE-FRAG, HEAT, and AP-tracer munitions. The Akatsiya is powered by a V-59U engine, enabling the tracked vehicle to move rapidly on- or off-road. 
Specs and Capabilities
Subsequent Akatsiya variants were produced in the 1970s and 1980s, known as the 2C3M and 2C3M1 models.
These newer versions increased ammunition storage capacities. Russian state media outlets claim the Akatsiya is developed to withstand the effects of chemical, biological, and nuclear weapons via ventilation filters and cabin-sealing technology. 
As detailed by one Russian outlet, "The 2S3 self-propelled howitzer is equipped with a filter-ventilation unit, an automatic fire-fighting system that turns on when the temperature rises in the combat or power compartments, and a sealing system for habitable compartments to protect the crew from the damaging factors of chemical, bacteriological and nuclear weapons. In the latter case, it is triggered automatically when gamma-ray fluxes appear that occur during a nuclear explosion."
The Akatsiya in Ukraine
The Akatsiya has seen heavy use since the very beginning of Russia's 2022 invasion. Russian forces also used this self-propelled howitzer in its 2014 invasion of the Donbas. Similar to other Russian tracked vehicles and MBTs, the Akatsiya has been targeted by Ukraine.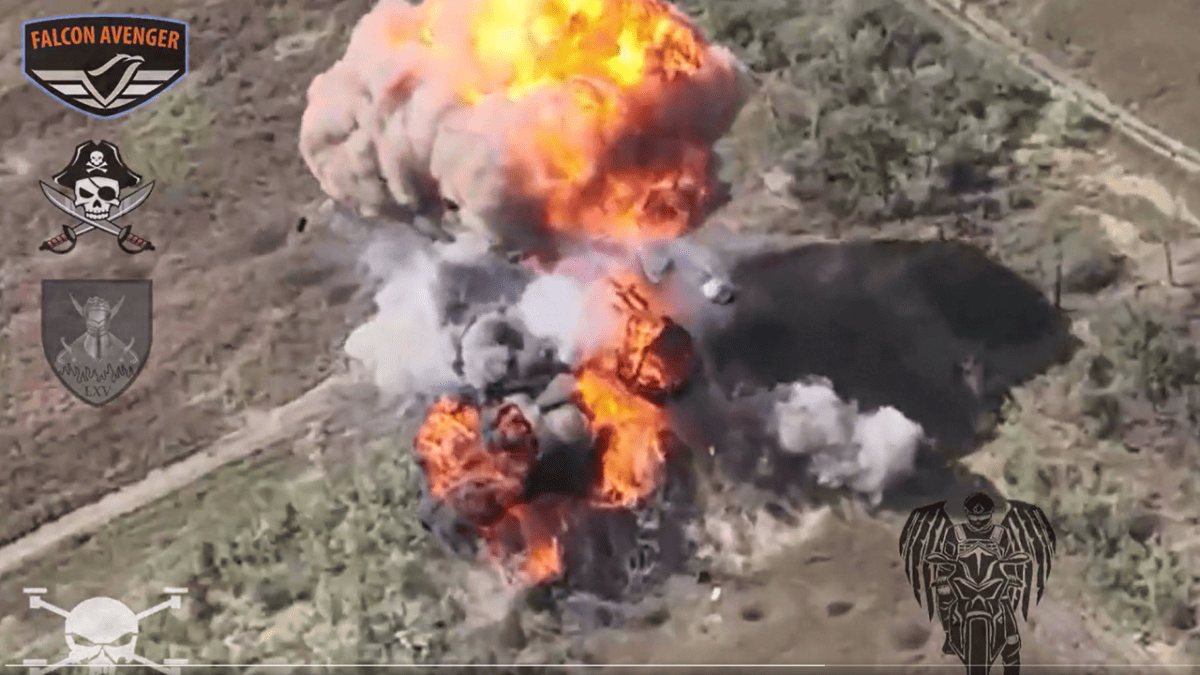 Over the last 18 months, Moscow has seen its heavy weaponry and machinery stockpiles take a heavy hit. Back in February, analysts concluded that Moscow had probably lost more than half of its advanced tank fleet. While Ukrainian strikes are behind the dwindling numbers, tracked vehicles and MBTs have also been lost to capture and abandonment.
As a result, tanks and other tracked vehicles have been pulled out of storage to shore up Russia's losses. These antiquated weapons will not hold up well against the Western-supplied tanks, howitzers, and other weapons that Ukraine continues to receive.
#Ukraine: Near Staromlynivka, #Donetsk Oblast, a Russian 2S3 Akatsiya 152mm self-propelled howitzer was struck by Ukrainian forces with a precision artillery strike, leading to the catastrophic detonation of the ammunition onboard. pic.twitter.com/WwNjRyyh6x

— ???????? Ukraine Weapons Tracker (@UAWeapons) July 15, 2023
Maya Carlin, a Senior Editor for 19FortyFive, is an analyst with the Center for Security Policy and a former Anna Sobol Levy Fellow at IDC Herzliya in Israel. She has by-lines in many publications, including The National Interest, Jerusalem Post, and Times of Israel. You can follow her on Twitter: @MayaCarlin.