5 Worst 10mm Handguns: Here we go again!  
Having just written a draft of the 5 Worst .40 S&W Handguns, now it's time do a 5 Worst Guns listing in another .40 caliber cartridge, that being the .40 Smitty's more powerful immediate ancestor, the 10mm Auto. 
Bren Ten 
You know the sports term "Worst-to-First?" Well, the very first 10mm pistol, the Bren Ten – which was named for Brno, the center of the Czech gun industry, not the British Bren light machine gun  — was arguably one of the worst guns EVER, not in terms of functionality, but rather in terms of godawful marketing, logistics, and wasted potential.  
Among other things, the manufacturer, Dornaus & Dixon, failed to provide a sufficient supply for magazines for the guns! "In the long run," wrote highly respected gun writer Wiley Clapp, "the design failed because it was a big, heavy, complicated and expensive service pistol in a market full of small, light, simple and cheap ones." 
Even Miami Vice's Sonny Crockett couldn't save it.  
Colt Delta Elite 
Sentimentally speaking, this one hurts a bit. The Delta Elite was both the first large-bore (defined as any caliber starting a ".4" inches in measurement) firearm of any kind as well as the first 1911 platform pistol I ever fired, doing so in July 1990 (one month shy of my 15th birthday). I enjoyed it very much. Indeed, I included it in my article titled "BANG! Meet The 5 Best 10mm Handguns On Planet Earth," and it eventually became the only 10mm Auto I've ever owned.  
So then, how can I now include that very same gun on my Worst 10mms list, like a double-talking politician? Naahh, it's more akin to channeling and paraphrasing Charles Dickens: "It was the best of guns, it was the worst of guns." Some experts, like John Taffin, spoke highly of it. Others had less-than-stellar reports about the gun, especially in terms of durability; indeed, the original manager of Los Angeles Gun Club told me he had multiple friends who owned Delta Elites that completely fell apart after 500 rounds! 
At some point, Colt evidently resolved the durability issues, and the gun remains in production today. That said, my personal experience owning a Delta Elite was a mixed bag. For the 500 or so rounds, she shot like a dream, accuracy- and reliability-wise. Then the proverbial turds hit the fan, as I noted in my previous writeup on the gun: 
"Jamming problems started to arise, and in addition, the fact that the pistol had a full-length guide rod as opposed to the old-school recoil spring plug and guide of the old-school 1911s necessitated the use of a barrel bushing wrench for a basic field-strip, which I found to be extremely awkward. I am not keen on the idea of having to use tools as opposed to bare hands to disassemble a defensive weapon." 
Glock 20 
Oh, the irony of seeing Glocks on this list.
Irony, that is, in light of the original 9mm G17's legendary near-indestructability. To reiterate what I'd said in my review of the G22 .40 S&W, "(T)he infamous 'Glock Kaboom' incidents that have cropped up in the last couple of decades seem to transpire more with the .40 [S&W, that is] and 10mm models than with the lower-pressure calibers, so buyer beware."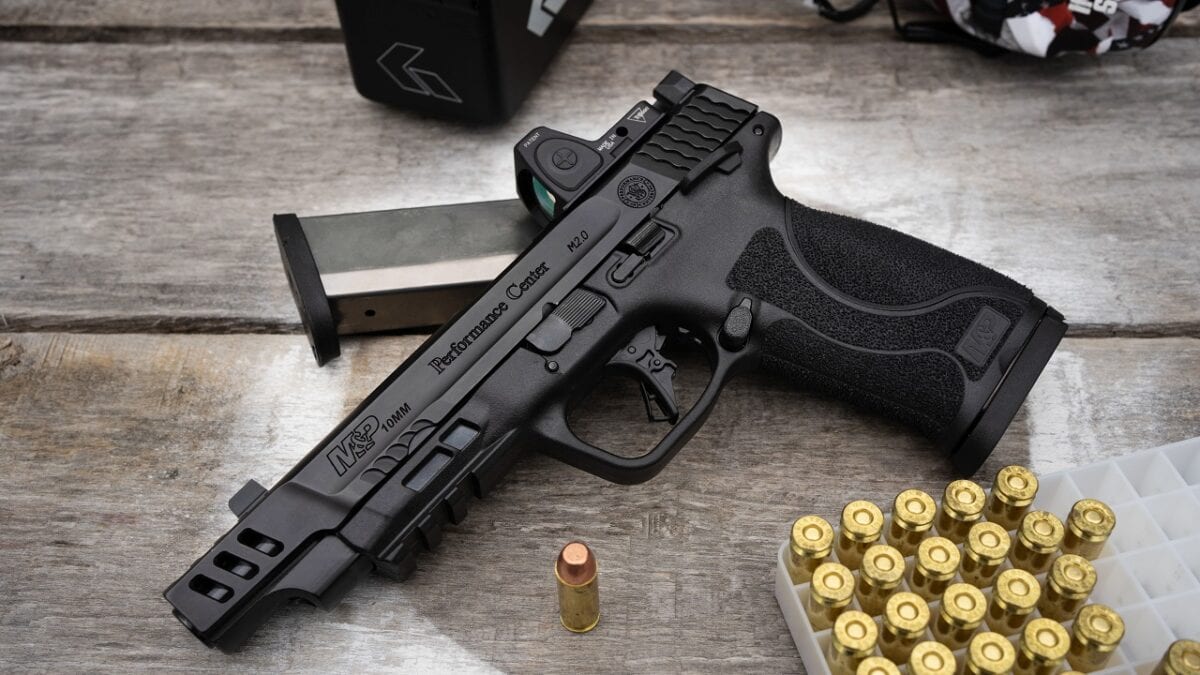 Indeed, the author of that article that I hyperlinked in the previously quoted sentence was using a Glock 20 (which is the company's full-sized offering in the calibre). Yeah, as far as full-sized double-stack magazine large-bore Glocks go, methinks I'll stick with my Glock 21SF, thank you very much.  
Smith & Wesson Model 1076 
When this particular gun was adopted by the FBI in 1990 to finally replace revolvers as standard-issue to the Bureau's field agents – yes, the 9mm S&W Model 459 was issued to a few specialized teams in the agency back in the 1980s – many gun writers thought that would result in the 10mm Auto cartridge becoming The Next Big Thing in law enforcement and armed citizen self-defense. Indeed, Shooting Times Magazine even went on to (prematurely) proclaim "Forget the .45 ACP – The 10mm Takes Over!" 
However, as the Phil Collins song goes, "Something Happened On the Way to Heaven." My friend Edmundo "Ed" Mireles, retired FBI Special Agent extraordinaire and hero of the infamous 1986 FBI Miami Firefight – though he's way too modest to admit to the "hero" designation – told me during a face-to-face conversation earlier this year that the 1076 was beset by a slew of issues, including a single qual course wherein he was beset by "Eight malfunctions!" What's more, instead of sticking with full-powered 10mm ballistics, the Bureau instead went with the so-called "10mm Lite," which was rendered moot by the .40 S&W that offered the same ballistics in more ergonomically-friendly guns. To quote Ed Mireles again, "the Bureau wasted a lot of time and money  on a parallel track looking for a better caliber/weapon than the 9mm." He likes the 10mm caliber, just not this particular gun. 
Glock 29 
One not-so-good Glock deserves another, eh. This time a "baby" (subcompact) Glock. Lessee, it takes all of the undesirable features of the .40 cal. Baby Glock, i.e. the G27 – you know; the gun that stung the unholy Hades out of my firing hand pinky and made me unintentionally bleed myself concurrently – and carries them over to an ever-higher pressure round that causes even rapider wear & tear on guns, with the end result being the G29. To quote those two cartoon characters from the early 2000s Guinness TV adverts, "BRIL-liant!"  
Um, no thank you. 
Lest any haters out there start leveling accusations that I'm some just recoil-averse wuss, fie on thee, wretched knaves! I can handle the recoil of a full-sized 10mm such as the aforementioned Colt Delta Elite as well as the S&W M1006 just fine, thanks. (NOTE: Not to be confused with the M1076, the 1006 was actually reasonably successful)  
And don't forget what I just wrote about Glock "kabooms" in 10mm. 
Christian D. Orr is a Senior Defense Editor for 19FortyFive. He has 34 years of shooting experience, starting at the tender age of 14. His marksmanship accomplishments include: the Air Force Small Arms Ribbon w/one device (for M16A2 rifle and M9 pistol); Pistol Expert Ratings from U.S. Customs & Border Protection (CBP), Immigration & Customs Enforcement (ICE), and the Federal Law Enforcement Training Center (FLETC) Criminal Investigator Training Program (CITP); multiple medals and trophies via the Glock Sport Shooting Foundation (GSSF) and the Nevada Police & Fires Games (NPAF). Chris has been an NRA Certified Basic Pistol Instructor since 2011.  
From the Vault