After talking about my 5 least favorite rifles yesterday (admittedly a VERY subjective list, as quite a few fellow shooters hold my selections in high regard), now it's time to go back to handguns. Let's say a dubious hello to the worst 9mm handguns in the world.
Rogak P18
If the writings of highly respected self-defense expert and law enforcement veteran Massad F. Ayoob are any indication, this pistol died a particularly well-deserved death. In a summer 1990 issue of American Handgunner Magazine, "Mas" (as many of his friends and professional acquaintances call him) wrote a twin set of articles on what he considered the best and worst handgun developments of the 1980s. The Rogak made his "worst" list, stating that "Even most gun writers admit they jam epidemically and frequently break."
So, exactly what was wrong with it? Ian McCollum explains in a June 2017 article for the Forgotten Weapons website:
"The Rogak P18 was a copy of the Steyr GB service pistol, with some disagreement over whether it was unlicensed or just unfortunately made…On paper, the gun seemed quite impressive – a stainless steel 18-shot gas-delayed military pistol in the late 1970s was something on the forefront of handgun development…Unfortunately, Rogak's manufacturing left a lot to be desired…Numerous burrs, casting defects, and fit problems plagued the guns, to the extent that Steyr actually filed a legal suit to stop their manufacture."
Heckler & Koch (HK) VP70Z
This is a pistol made by the highly reputable HK, who has churned out a bunch of truly outstanding autopistols, from the P9S – by some accounts the world's most accurate 9mm pistol – to the squeeze-cocking P7 to the USP/SOCOM Mk 23 to the P2000. A pistol carried by none other than James Bond in the bestselling novel "For Special Services" (penned by John Gardner, the successor to Ian Fleming; may they both R.I.P.). What could possibly go wrong?
Well, plenty, apparently. In the blunt words of the ever-savvy Travis Pike, in an article titled "James Bond's Sidearms (Besides the PPK)," puts it quite bluntly: "The VP70 was short-lived as one of Bond's sidearms and honestly wasn't a great gun. It used a blowback operation that created excessive recoil, and the double-action-only trigger sucked…It was a modern but crappy gun."
Colt All-American 2000
Colt's long-delayed and much-anticipated entry into the "Wonder Nine" market turned out to be a sick, abortive joke that was truly much ado about nothing. To quote Mr. Pike again, "Colt All American pistols were notoriously unreliable and often failed to make it through an entire magazine without a malfunction…Accuracy was a major issue as well. Its long double-action trigger combined with a kooky front sight design did nothing to help in that department."
Hi-Point
Okay, those of you readers who are at least somewhat knowledgeable about handguns shouldn't be the least bit surprised to see the Hi-Point on the list. But is it really as bad as its cheap reputation and sneering jokes make it out to be? According to another highly savvy gun writer, Mr. Alex Hollings, yes indeed it is (and he speaks from personal experience, with a deliciously witty writing style):
"Maybe Theresa Hi-Point, the evil heir to the Hi-Point fortune, forced me to buy it at gunpoint (using a much more reliable gun than her company offers)? Sadly, no. I bought it because I was poor…and an idiot…If you can make it through the short mag without having to stop to take immediate action, it might as well be your birthday, because today's a special day that you and the gun will remember for a long time…(I)n the range the Hi-Point is accurate, I may actually be better off leaving it on my belt and relying on Siskel and Ebert (that's what I named my fists) to handle business…So, does the Hi-Point live up to its reputation as a terrible gun? Absolutely. Should you buy one? Absolutely not…Should you forgive me for owning one myself? Well…that's up to you."  
SIG P250
Okay, now time for a firsthand personal testimonial. I won a SIG P250 during a raffle at the Nevada Police & Fire Games back in 2008. Naturally I was quite stoked to have a free gun from a company with SIG's superb reputation, my status as a fanboy of the Glock 17 and Beretta 92FS notwithstanding. Even more naturally, I was quite un-stoked when my P250 blew out its extractor after a measly 750 rounds of standard-pressure factory ammo! Thankfully, it was still under warranty at the time, but still, Jeez-Louise!
As noted in my standalone article on the P250, I wasn't the only Joe Schmoe who had problems with the P250, and evidently the manufacturer took that to heart, seeing how they eventually discontinued the gun for the sake of the P320 AKA M17/M18.
(Dis)Honorable Mention: Smith & Wesson Model 39 and Late 1980s/Early 1990s Edition Beretta 92F/M9
These will both be a surprise to my regular readers, as (1) my love for the Beretta is well-established, and (2) my own experience as the owner of a Smith M39 has been a good one.
But, objectively speaking, Beretta 92s back in the late 80s and early 90s had major problems with locking block breakages and slide failures; I witnessed it with my own eyes twice (once as a civilian and once in my Air Force Security Forces days).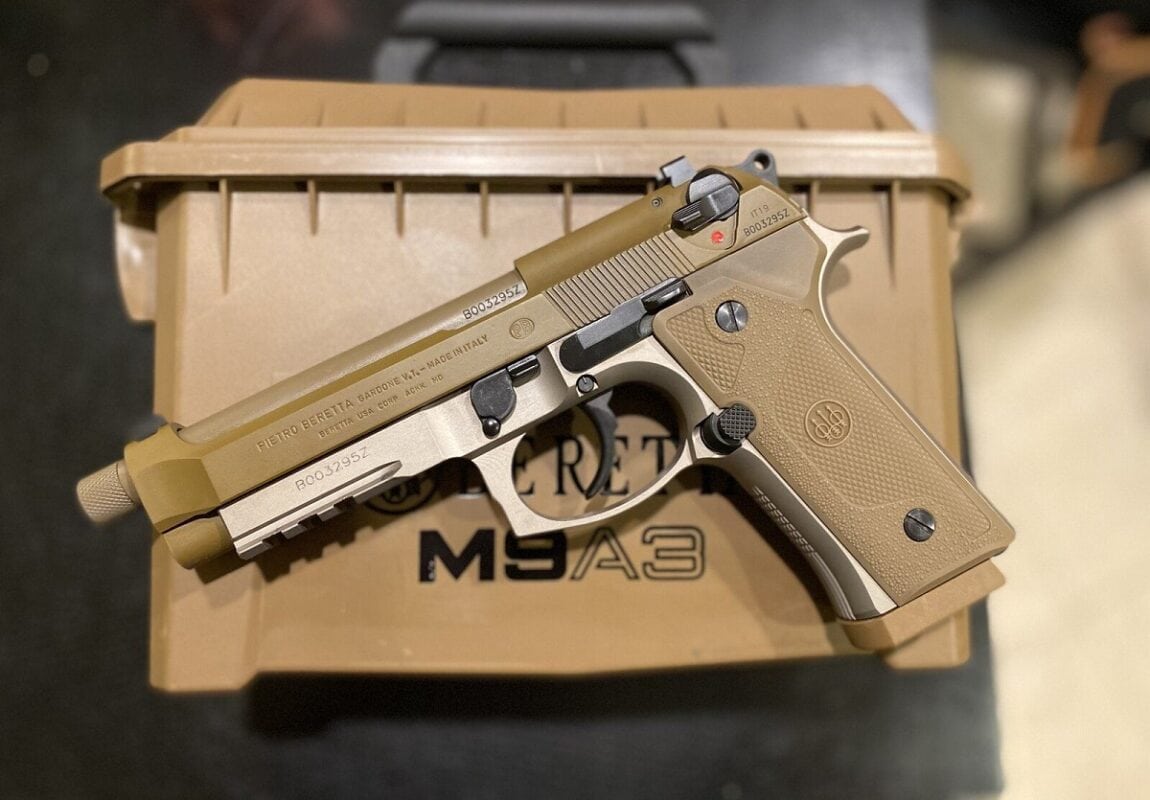 Fortunately, Beretta eventually fixed the problem – it was a metallurgy issue – but the reputation hit stung for a while. As for the S&W M39, the aforementioned Mas Ayoob noted in one of his books that the gun had issues with reliability, durability, and mediocre accuracy.  
Christian D. Orr is a Senior Defense Editor for 19FortyFive. He has 34 years of shooting experience, starting at the tender age of 14. His marksmanship accomplishments include: the Air Force Small Arms Ribbon w/one device (for M16A2 rifle and M9 pistol); Pistol Expert Ratings from U.S. Customs & Border Protection (CBP), Immigration & Customs Enforcement (ICE), and the Federal Law Enforcement Training Center (FLETC) Criminal Investigator Training Program (CITP); multiple medals and trophies via the Glock Sport Shooting Foundation (GSSF) and the Nevada Police & Fires Games (NPAF). Chris has been an NRA Certified Basic Pistol Instructor since 2011.  In his spare time, he enjoys (besides shooting, obviously) dining out, cigars, Irish and British pubs, travel, USC Trojans college football, and Washington DC professional sports. 
From 19FortyFive
Total Massacre': Ukraine Footage Shows Russian Cruise Missile Shipment Attacked