The Lockheed Martin F-22 Raptor is respected for its dogfighting ability as much as its air-to-air maneuverability attributes, especially when compared with any other potential rival.
Solely operated by the United States Air Force, the Raptor was developed as part of the service's Advanced Tactical Fighter (ATF) program two decades ago. The aircraft was developed as an air superiority fighter that could also be capable of ground attack, electronic warfare, and signals intelligence.
Powered by two Pratt & Whitney turbofan engines, it is capable of reaching speeds of Mach 2 (1,534 mph/2,469 kph). The F-22 has a ceiling of 50,000 feet (15 kilometers) and a range of 1,841 miles (2,962 km) without refueling.
While speedy, the F-22 can't outrun a hypersonic missile of course – and there are now reports that China could be considering how to employ such technology to target America's best combat aircraft. Back in December 2021, a Chinese scientist even made a bold (even dubious) claim that a "ground-to-air hypersonic missile could catch up and destroy an F-22 (Raptor) in seconds if it fired a missile or dropped a bomb from short range."
Such missiles, equipped with "heat-seeking" capabilities, could home in on "practically any target with remarkable accuracy and speed." Targets could include stealth aircraft, ships and even moving vehicles on the street, researchers claimed.
While most military ground vehicles move at speeds no greater than 60 mph, and ships slowly trudge across the open water – both on what is essentially a flat plane for the most part – military aircraft are far faster and more importantly, maneuverable.
F-22 and Seeking Heat
Chinese media also highlighted the fact that U.S. Air Force data showed that heat-seeking missiles accounted for 90 percent of all aircraft lost in the 1980s, yet, failed to address the fact that it was the United States that scored the lion's share of those kills. All heat-seeking missiles can easily target an aircraft by pursuing the heat signature.
Heat-seeking, also called infrared homing, is a passive missile guiding technique – where it detects and locks on to the target from the emitting electromagnetic radiation in the infrared section of the spectrum.
The key to the Chinese claim is that a hypersonic weapon would still need to be fired from a "small distance" and when the aircraft is relatively low to the ground. That would suggest that a high-flying F-22 at range would still have time to maneuver.
The goal of the F-22 Raptor, and the newer Lockheed Martin F-35 Lightning, is to evade an enemy's air defenses and strike targets at distance. If the enemy doesn't know the aircraft is there, it won't fire a missile – hypersonic or otherwise.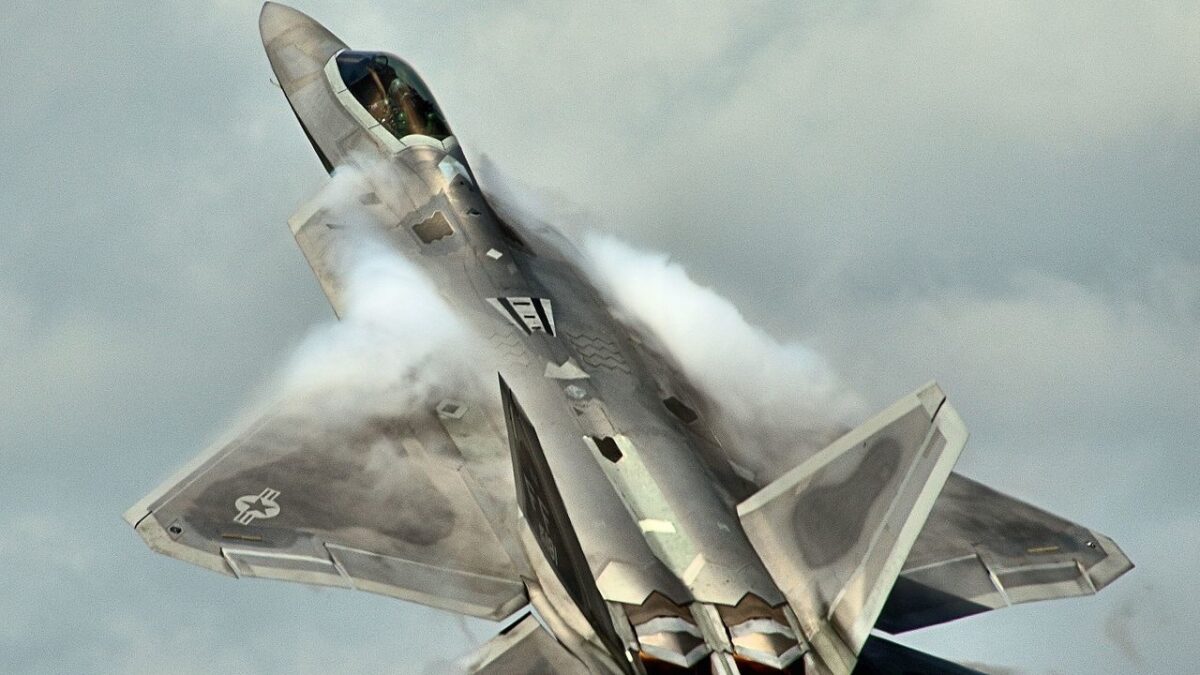 Finally, today's fifth-generation aircraft – including the F-22, which was designed as an air superiority fighter – can target an enemy from well-beyond visual range.
A hypersonic heat-seeking missile is certainly a threat, but likely not nearly as much as the Chinese researchers would like to suggest.
Expert Biography
A Senior Editor for 1945, Peter Suciu is a Michigan-based writer who has contributed to more than four dozen magazines, newspapers, and websites with over 3,000 published pieces over a twenty-year career in journalism. He regularly writes about military hardware, firearms history, cybersecurity, and international affairs. Peter is also a Contributing Writer for Forbes. You can follow him on Twitter: @PeterSuciu.
From the Vault