Melania Trump has stayed out of the public spotlight since leaving the White House.
Which is no surprise.
Relative to other first ladies, Melania was always more reserved, more private.
Consider Melania's peers. Hillary Clinton was often referred to as a co-president; while Bill was in office, Hillary spearheaded important policy initiatives, like healthcare, which of course, led to her tenure as a Senator, Secretary of State, and Democratic presidential nominee.
Michelle Obama was highly visible within her husband's administration, which was intentional given her immense popularity. She didn't wade into the policy realm, although she was a licensed attorney, and clearly capable. She did spearhead the Let's Move stuff, centered around getting kids healthier.
Laura Bush had the No Child Left Behind bit. Eleanor Roosevelt was a progressive force. You get the idea.
Melania was just kind of there. Yeah, she had her initiative, too, the Be Best campaign about cyberbullying, but that didn't have the footprint of some of her predecessors, did it? Really, Melania's biggest impact (visibility wise) may have been the time she wore that 'I Really Don't Care' jacket.
So, what's Melania doing now?
"Since leaving the White House, Melania Trump's world has got smaller," The Irish Times reported months back. "Just how she likes it."
"Cloistered behind the gates of her three homes, she sticks to a small circle – her son, her elderly parents and a handful of old friends. She visits her hairdressers, consults with Herve Pierre, her long-time stylist, and sometimes meets her husband for Friday night dinner at their clubs. But her most ardent pursuit is a personal campaign: helping her son, Barron (17), with his college search."
Standard mom stuff.
But what's odd is that Melania isn't just the wife of a former president – she's she wife of the leading GOP candidate – yet she hasn't lifted a finger in support of her husband's 2024 bid.
Melania hasn't made a campaign trail appearance alongside her husband. Nor has Melania shown up to any of her husband's court appearances. She did endorse her husband, however. "He has my support, and we look forward to restoring hope for the future and leading America with love and strength," she said.
Pretty tepid.
Especially considering that in 2015 Melania was right there with her husband as he descended that golden escalator.
"People close to the family say Ms. Trump's lack of public support should not be confused with disapproval or indifference. She remains defensive of her husband, sharing his belief that their family has been unfairly attacked. Deeply distrustful of the mainstream media, she is an avid reader of the Daily Mail online, tracking Mr. Trump's coverage in the conservative British tabloid," The Irish Times reported a few months ago.
When will Melania Trump appear on the campaign trail?
Stephanie Grisham, a former Trump aide is skeptical that Melania will play much of a role in the upcoming campaign. "I don't think it's going to be anything like what we've seen with Casey DeSantis," Grisham said. "She's not going to be throwing on jeans and walking in parades."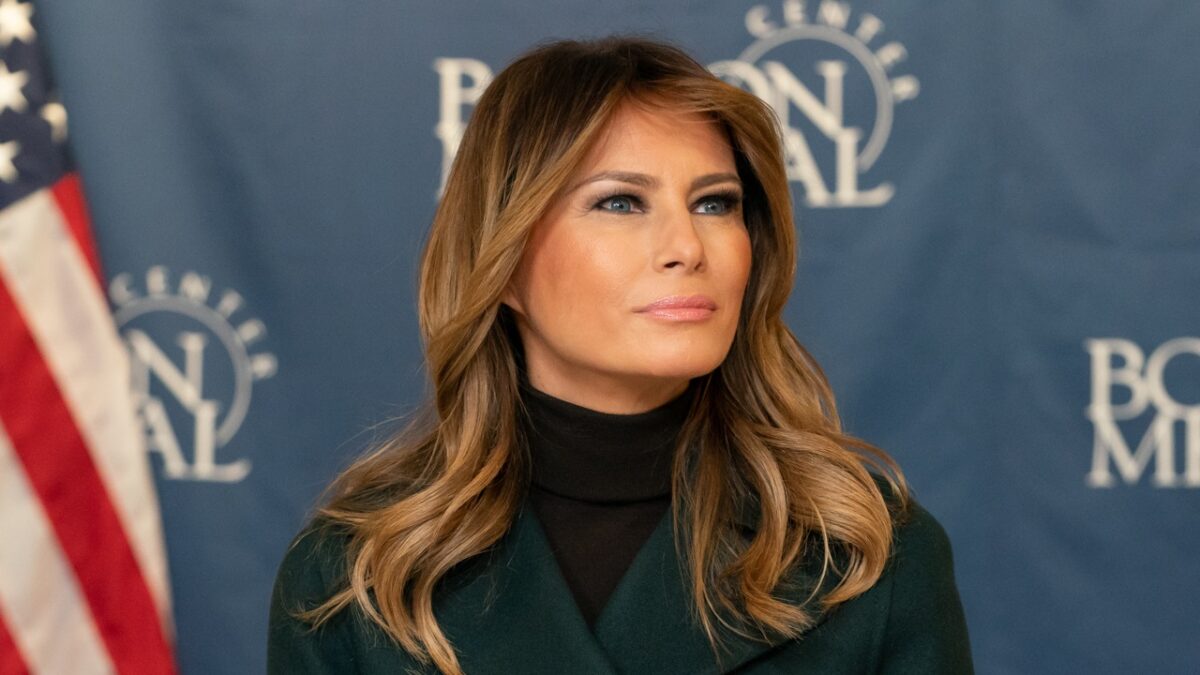 Regardless of whether Melania shows up, her husband is likely going to secure his third consecutive GOP nomination. Will Trump win the general election? That's much harder to predict.
It's certainly possible, which would vindicate Melania in her belief that her husband was wronged – while also putting her back where she doesn't want to be, in the White House.   
Harrison Kass is the Senior Editor and opinion writer at 19FortyFive. An attorney, pilot, guitarist, and minor pro hockey player, Harrison joined the US Air Force as a Pilot Trainee but was medically discharged. Harrison holds a BA from Lake Forest College, a JD from the University of Oregon, and an MA from New York University. Harrison listens to Dokken.
From the Vault
The Second American Civil War Has Begun