As this writer has stated many times before, the late great John Moses Browning is undoubtedly the greatest firearms maker of all-time. One need only take a cursory look at his inventions and designs for the living proof of this assertion. 
In handguns, you have, of course, the M1911 .45 ACP and P-35 Hi-Power 9mm, the most popular centerfire caliber semiautomatic pistols of all-time (yes, even more popular than Glocks or Berettas). In the arena of long guns, you have the Browning Automatic Rifle (BAR) and the Auto 5 (A5) shotgun; the latter was the first successful semi-automatic shotgun design. 
And then, to get really hot 'n' heavy (so to speak), you had Mr. Browning's full-sized machine gun offerings. Most legendary of these, of course, is "Ma Deuce," the M2 .50 caliber machine gun. But there was another machine gun design from Mr. Browning that, though not as well-known as Ma Deuce, still earned more than its fair share of battlefield laurels: the Browning M1919 .30 caliber machine gun.  
Browning M1919 Early History and Specifications
The Browning was initially designed by "JMB" (as some weapons historians affectionately refer to him for brevity) in September 1918 and entered into operational service with the U.S. Army the following year. As noted by the American Rifleman Staff as part of their "This Old Gun" series of articles, it was an air-cooled, upgraded version of the water-cooled M1917 – itself yet another JMB invention – that had served American "doughboys" fighting in the trenches of the First World War. Besides using a different cooling system of its 1917 predecessor, the proverbial then-new kid on the block differed from contemporary machine guns that made use of Hiram Maxim's toggle-lock design, instead a sliding-block mechanism that eliminated weight and complexity while retaining robustness and reliability. 
Just how robust and reliable are we talking here? According to that same American Rifleman article: "A May 1917 test at Springfield Armory arranged by John Browning saw an example of his M1917 design fire 39,500 rounds before experiencing any parts breakage. A later production model underwent another rigorous test, firing more than 21,000 rounds in a continuous burst that lasted 48 minutes and 12 seconds." 
Wow!
Specifications included a barrel length of 24 inches, an overall length of 37.94 inches, and an empty weight of 31 pounds. Cyclic rate of fire was 400 to 600 rounds per minute, with an effective firing range of 600 yards and a max firing range of 1,500 yards. Though ultimately chambered in ten different calibers, the primary ones were the 30-06 Springfield (this was the original offering) and 7.62x51mm NATO. 
Real-World Combat Performance
Unlike its more famous and more powerful.50 caliber sister gun, the M1919 is no longer in active service with the U.S. Armed Forces, nor is it still in production, having halted in 1945 (the actual calendar year that is, not this esteemed publication) after 438,971 were built. But she became the prime machine gun in use by all U.S. military forces during World War II. From there, she went on to provide faithful battlefield service to American GIs well beyond WWII, doing so during the Korean War and Vietnam War alike. It started off as a coaxial tank gun and from there also ended up being used as a light-infantry, aircraft-mounted, and antiaircraft gun alike. Even after Vietnam, the gun continued to see action in non-U.S. conflicts such as the Rhodesian Bush War, the 1982 Lebanon War, and South African Border War (AKA the Namibian War of Independence).  
Just how well did the gun perform in battle? Let's ask historian Evan Kolinsky, who dedicated a full page to it on his Discovering 1919/Discovering Digital History website: 
"The 1919 series machine guns maintained a reputation of being one of the few most reliable weapons in the United States arsenal. With its air-cooled barrel design, it allowed the weapon to be fired even in the coldest of conditions as machine gunner reported the M1919A4 being able to fire ice coated belts from its belt [sic; I presume he means to say "bullets from its belt"]…The M1919 has became [sic] the most ironic [sic; I presume he actually meant "iconic"] and used weapon throughout American history."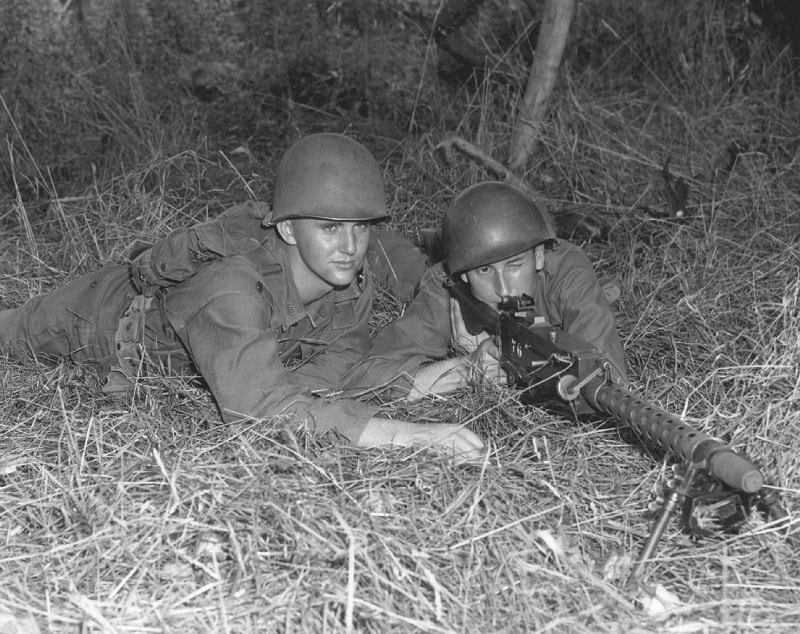 Christian D. Orr is a Senior Defense Editor for 19FortyFive. He has 34 years of shooting experience, starting at the tender age of 14. His marksmanship accomplishments include: the Air Force Small Arms Ribbon w/one device (for M16A2 rifle and M9 pistol); Pistol Expert Ratings from U.S. Customs & Border Protection (CBP), Immigration & Customs Enforcement (ICE), and the Federal Law Enforcement Training Center (FLETC) Criminal Investigator Training Program (CITP); multiple medals and trophies via the Glock Sport Shooting Foundation (GSSF) and the Nevada Police & Fires Games (NPAF). Chris has been an NRA Certified Basic Pistol Instructor since 2011.