Top 5 Glock Guns: Subsequent to three separate articles in the past couple months on individual Glock semiautomatic pistols — namely the Glock 17 9mm, Glock 26 9mm, and Glock 21SF .45 ACP — my editor asked me to rate what I consider the top five Glock Pistols, which certainly struck me as a very reasonable request and logical progression … not to mention just plain fun to write about! 
Glock: Best of the Best
As with any top five list, this selection will be somewhat subjective and at least a tad bit controversial, along the lines of "Hey, why did you include such-and-such" or "Why didn't you include so-and-so?" Oh well, them's the breaks, and considering the brand loyalty that Glock commands amongst its legions of fans regardless of the specific model and/or caliber, I reckon this particular list problem won't tick off quite as many people as broader topics as such as Top 5 Home Defense Handguns or Top 5 CCW Guns. So then, without further ado, and in no particular rank order (though I am listing them sequentially by model number) …
Top 5 Glock Guns: Glock 17 – The Original
The G17 was where it began. (And unlike Neil Diamond, I can "begin to knowin'.") Though it was Austrian inventor Gaston Glock's 17th patent – hence the numerical designator; the 17-round standard magazine capacity is merely a pleasing coincidence – involving Polymer 2, it was his first firearm. Surviving both (1) famously brutal physical torture tests by the likes of the Austrian Army and Miami PD and (2) vicious verbal smear campaigns by political mouthpieces like Chuck Schumer, the G17 developed an unparalleled reputation for reliability and long-term durability with cops, military types, and private citizen gun enthusiasts alike. For example, the late great Chuck Taylor subjected his G17 to 10,000 rounds without a cleaning, yet the gun still wouldn't jam … and 250,000 rounds later, the pistol was still functioning reliably and delivering its shots accurately. 
In other words, if the Ruger GP-100 .357 Magnum is the Timex of double-action revolvers, then the Glock 17 could be considered the Timex of autopistols. You know, "Takes a Licking and Keeps On Ticking." 
My own Glock 17 — a surplus Generation 2 ("Gen2") that I bought for $400 back in 2003 — hasn't been subjected to anywhere near the abuses or round counts of the aforementioned organization and individuals. But 19 years and roughly 20,000 rounds later, I'm more than favorably impressed with her accuracy, reliability, and all-around user-friendliness.
Top 5 Glock Guns: Glock 21SF – Sweet-Shootin' Big-Bore
In a demonstration of Glock's willingness and ability to listen to the feedback, needs, and concerns of its customers, this short frame (not slim frame, as some erroneously interpreted the abbreviation) was released in 2007 after quite a few shooters expressed appreciation for the .45 caliber big-bore offering of the original Glock 21 back in 1990, but complained about the original's massive bulk. 
Whilst still a large pistol, my Gen3 G21SF is an absolute joy to shoot; I daresay it's the most accurate handgun in my entire so-called "Orr-senal of Democracy," and it helped me win (1) multiple gold and silver medals at the Nevada Police & Fire Games (NPAF) between 2008 and 2010, and (2) First Prize at the Glock Sport Shooting Foundation (GSSF) Indoor Pistol Match at LAX Firing Range in Inglewood, California back in 2009. To quote my friend Lou Chiodo, former USMC officer, retired California Highway Patrol (CHP) officer, and current President of Gunfighters Ltd.  in Chula Vista, Calif, "The 21 is a tack driver if we do our part." 
As with my Glock 17, I would guesstimate the round count on my Glock 21SF to be somewhere in the neighborhood of 20,000 rounds.
Top 5 Glock Guns: Glock 26 – Birth of the Baby Glocks
The G26 was the first of the "baby" Glocks, i.e. the subcompact Glocks that went even further down in size than the already delightfully compact G19 and G23 in 9mm and .40 S&W respectively. This gun debuted in 1995 and made an instant splash. 
Don't get me wrong: the G19 is an excellent handgun and I plan to buy one eventually, but the extra discreetness factor of the G26 enables it to just barely edge out its "middle brother" for my Top 5 List. I bought mine — a Gen3 specimen — back in August 2010 as a backup to my agency-issue SIG P229 DAK .40 S&W when I was an Immigration & Customs Enforcement (ICE) Special Agent. In spite of its small size, which would theoretically be a hindrance to practical accuracy and shooting comfort, the gun is amazingly accurate, fun to shoot, perfectly reliable, and is very discreet for the CCW mission. The round count on this baby is approximately 10,000 rounds.
Top 5 Glock Guns: Glock 36 – Big-Bore Baby Badass
Not content to rest on the laurels of the Glock 26's success, Glock also decided to apply the "baby Glock" concept to the .45 ACP chambering, hence the Glock 36. The handgun only holds a 6 + 1 standard capacity, which is still better than a 5-shot J-frame Smith & Wesson snubnose revolver. The Glock 36 is much more comfortable to shoot and easier to fire accurately than a snobby revolver, along with the benefit of having a flatter profile that doesn't dig into the hip bone like the cylinders on the little wheelguns. It also offers faster reloads. I owned a Gen3 G 36 from 2002 to 2005 and eventually traded it for the purchase of the next pistol on my list. This subcompact .45 never let me down in terms of accuracy or reliability. Estimated round count before I sold her: 4,000 rounds.
Top 5 Glock Guns: Glock 38 – The Oddball Choice
Hey, c'mon, I had to select at least one outside-the-box "black sheep of the family," didn't I? The G 38 is most definitely not a .38 Super or even a .38 Special, but rather the second gun to be released in the.45 GAP (Glock Automatic Pistol) caliber, roughly sitting at the midpoint in size between the full-size G 37 and subcompact "baby" G 39 in the same caliber – somewhat analogous to how the G 19 splits the difference between the G 17 and G 26 in the 9mm offerings. 
The .45 GAP was intended to give the best of both worlds, i.e. the big bore of the .45 ACP cartridge combined with the slimmer ergonomics of a 9mm, thanks to the smaller cartridge case length. As elaborated upon by the Ammo.Com website: "The main difference between the .45 GAP and the .45 ACP is the size of the casing. The Glock casing is over one-eighth inch shorter than the Auto, but thicker so it can handle the increased load. The smaller cartridge is loaded to a higher pressure, which allows it to reach, and sometimes exceed the .45 ACP's ballistic performance." 
The cartridge debuted in 2003, and whilst five different state enforcement agencies adopted the caliber, and ammo in the caliber is still being produced, it never truly caught on with the private civilian market to a high enough degree to be considered "mainstream," which in turn means that the ammo is pretty dadgum expensive. Too goshdarn bad, in my humble opinion, as the G38 in particular — which has a standard capacity of 8 rounds — is a pleasure to carry and shoot. I purchased my Gen3 Glock 38 in 2005 and used it for home defense, CCW purposes, and a few IDPA-style matches for a couple of years; more than sufficiently comfortable, discreet, reliable, and accurate for all three purposes, the extra pep from those higher operating pressures notwithstanding. 
Estimated round count: 5, 000 rounds.
Agree/Disagree? Love/Hate?
So then, why did I leave out the various single-stack Glocks like the Glock 42 in .380 ACP or the G43 9mm, I haven't yet fired 'em, so I'm presently unable to give a thorough and honest assessment of them. In the future, I'll have to try 'em out at a rental range sometime soon, right? 
As for the .40 S&W caliber Glocks like the G 22 and G 23, though they're fine weapons, I've heard too many horror stories about these particular models having a greater tendency toward the infamous "Kabooms" than Glocks in other calibers. A stark contrast to the aforementioned legendary durability and longevity of the G 17. Yet in spite of the higher wear and tear-inducing operating pressures of the .40 S&W round — with higher recoil, muzzle flip, and muzzle blast to boot — you get no significant increase in real-world combat terminal ballistic performance compared to the 9mm and .45 ACP, both of which also have higher intrinsic accuracy than the so-called "Forty Short & Weak."
Okay then, fellow Glock fans out there, agree or disagree with my choices? Let us know why in the comments section. As for you Glock-haters out there, well, y'all are obviously free to comment as well, but eh, "Haters Gonna Hate."
Bonus: Glock Photo Essay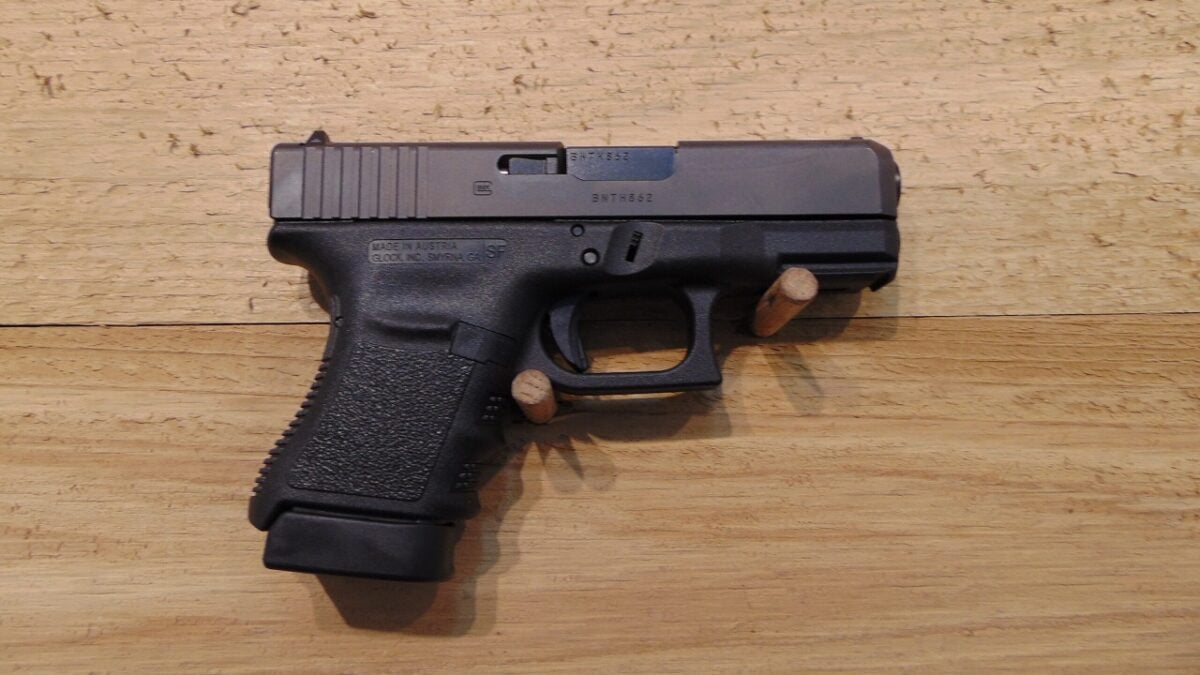 MORE: World War III – Where Could It Start?
MORE: A U.S.-China War Over Taiwan Would Be Bloody
Christian D. Orr has 33 years of shooting experience, starting at the tender age of 14. His marksmanship accomplishments include: the Air Force Small Arms Ribbon w/one device (for M16A2 rifle and M9 pistol); Pistol Expert Ratings from U.S. Customs & Border Protection (CBP), Immigration & Customs Enforcement (ICE), and the Federal Law Enforcement Training Center (FLETC) Criminal Investigator Training Program (CITP); multiple medals and trophies via the Glock Sport Shooting Foundation (GSSF) and the Nevada Police & Fires Games (NPAF). Chris has been an NRA Certified Basic Pistol Instructor since 2011.