The world of firearms has a diversity of firepower that is truly amazing. But what are the most powerful handguns on Earth?
While opinions can diverge among firearms experts, here is my take on what I would consider the five most powerful handguns on Earth today based on 34 years of experience. 
Smith & Wesson SW500 .500 S&W Magnum  
Developed in 2003, Smith & Wesson chambered the round in their S&W500 double-action (DA) revolver – part of that company's extra-large "X-Frame" series – which for quite a while held the title of world's most powerful factory-made revolver.
To be more specific, Cor-Bon produced a 440-grain hard cast lead flat point (LFP) that generates a mind-numbing muzzle velocity of 1625 feet per second combined with 2,580 foot-pounds. of muzzle energy—more than the 147-gr. 7.62x51mm NATO rifle round.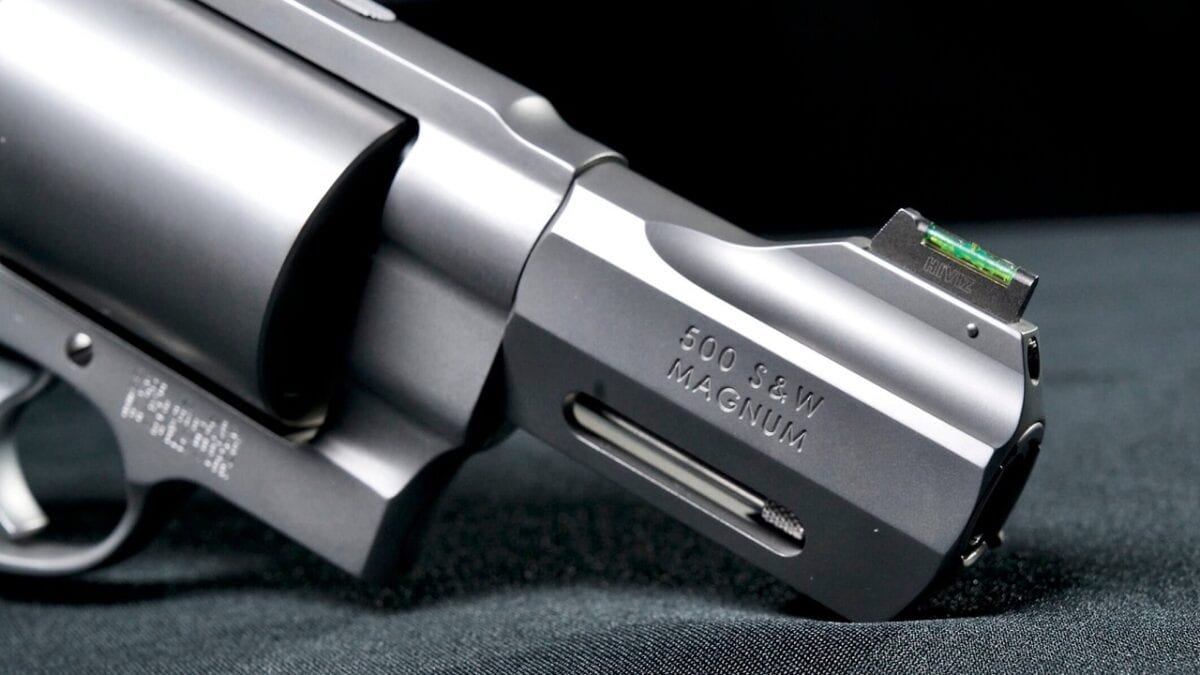 Magnum Research Desert Eagle .50 AE (Action Express) 
Building on their 1980s successes with the .357 and .44 Magnum chambering of their Desert Eagle, the fine folks at Magnum Research decided in 1991 to further beef up this cinematically popularized product line with the .50 AE cartridge, which had been invented three years prior by Evan Whildin of Action Arms.
From a 6-inch barrel, the .50 caliber Desert Eagle pushes 325-grain jacketed bullet at a muzzle velocity of 1,400 fps and a muzzle energy of 1,414 ft.-lbs. 
Magnum Research BFR .45-70 Government and .500 Bushwhacker 
Count on those same Magnum Research folks to come up with this one, the lone present-day production revolver I somehow previously overlooked (mea culpa, mea culpa, mea maxima culpa). 
In military slang, "BFR" is an acronym for "Big ******* Rock." In the Magnum Research handgun context, "BFR" originally stood for "Brainerd's First Revolver," in homage to Brainerd, Minnesota, from whence the earliest such guns – debuting in January 2001 – were produced.
Kahr Arms briefly rebranded it the "Big Frame Revolver" after they bought out Magnum Research in 2010, but the current online catalogue now officially lists it as "Biggest, Finest Revolver, and piggybacks onto that moniker with the following proud boast: 
"[D]esigned as a magnum from the ground up. The BFR is all stainless steel, with a precision grade barrel that delivers unmatched accuracy using lead or jacketed bullets. The BFR is the most powerful production single action handgun made, with numerous calibers and two frame sizes to choose from. Engineered for the hunt, the BFR can take everything from grouse to grizzly." 
Just how "big" are we talking about in terms of power? Well, the .45-70 chambering is a freakin' RIFLE round, which according to "Nick" of USA Gun Shop, generates a muzzle velocity of 2,050 fps and a muzzle energy of 2,930 ft. lbs. of a 10-inch barrel!  
And then there's the .500 Bushwhacker, which some argue is actually THE most powerful handgun cartridge in the world; yes, Virginia, even more so than the .500 S&W. With stats consisting of a 620 Grain Bengal WFNGC Bullet at 1,895 feet per second and a wrecking ball-like 5,300 ft. lbs. of energy, I have no reason to doubt that claim to fame!  
Just how big in terms of size of the actual gun? Overall length including the 10" bbl. comes to 17.5 inches, with a weight of 4.7 pounds. The BFR is a single-action (SA) revolver with a 5-round cylinder.  
.577 Victorian-Era British Army Revolvers 
Okay, so these mid-19th century British Empire sidearms may not have the truly Magnum-level muzzle energy as the preceding guns on the list.
But for sheer bore size – and the corresponding size of the hole they can blow in the target – I can't think of anything that can top them, so I'm going to exercise my creative-licensed prerogative and include them here. They were made by four different manufacturers, namely Webley, Braendelin, Tipping & Lawden, and William Tranter; Tranter was a particularly well-respected gunmaker amongst his contemporaries.  
Out of a 4.375" bbl., the guns hurled a 400-gr. bullet at a muzzle velocity of 725 fps; 'twas by all accounts an effective manstopper. 
American Civil War Era LeMat Revolver with 20-Gauge Shotgun Bore 
Generally, when one thinks of shotgun revolvers, one thinks of the present-day Taurus Judge (blecchh!) and S&W Governor with their .410 shotshell bores. Well, to paraphrase Tony Soprano, "FUHGEDDABOUTEM!"
We're talking instead about an oldie-but-goodie that puts those .410 wheelies to shame: the Civil War-era LeMat, with a 20-gauge (.615 caliber/15.6mm) shotgun bore to back up its primary loadout of nine .42 caliber cap & ball pistol cartridges.
Designed in 1855 by Dr. Jean Alexandre LeMat (1821-1895) – a Frenchman and eventual emigrant to the U.S. – and patented the following year, the gun weighed in at 80 ounces (5 lbs.) fully loaded, which was quite handy for absorbing the recoil of those 20-gauge shells! The gun found its way into the hands of Confederate Army officers, including General Pierre Gustave Toutant (P.G.T.) Beauregard.  
My fellow fans of the late great Clive Cussler and his bestselling Dirk Pitt adventure novels series will recall the slam-bang scene in the 1984 book "Deep Six," wherein good ol' Dirk ends up enlisting the aid of a group of Civil War re-enactors.
Long story short, Pitt ends up with a LeMat, and proceeds to make judicious use of the vintage revolver against the bad guys.  
Christian D. Orr is a Senior Defense Editor for 19FortyFive. He has 34 years of shooting experience, starting at the tender age of 14. His marksmanship accomplishments include: the Air Force Small Arms Ribbon w/one device (for M16A2 rifle and M9 pistol); Pistol Expert Ratings from U.S. Customs & Border Protection (CBP), Immigration & Customs Enforcement (ICE), and the Federal Law Enforcement Training Center (FLETC) Criminal Investigator Training Program (CITP); multiple medals and trophies via the Glock Sport Shooting Foundation (GSSF) and the Nevada Police & Fires Games (NPAF). Chris has been an NRA Certified Basic Pistol Instructor since 2011.  In his spare time, he enjoys (besides shooting, obviously) dining out, cigars, Irish and British pubs, travel, USC Trojans college football, and Washington DC professional sports.