There are a fair number of Hollywood celebrities who are unashamedly pro-2nd Amendment, but they are outnumbered by their colleagues – many of whom gleefully portray gun-toting heroes and villains on-screen and then hypocritically call for gun bans in their offscreen lives.
That said, pro-gun and anti-gun movie stars alike have combined to make certain handguns famous. But we shouldn't overlook another form of fictitious entertainment that has given its boost of fame to numerous handguns: the bestselling action-adventure book genre, though thrillers often play a role in this boost too.
Perhaps not surprisingly, there has been some degree of overlap between the arenas of cinema and fiction. That said, let's look at the Top 5 Handguns of the literary world. 
James Bond: Walther PPK .32 ACP
Yes, both the late Ian Fleming's literary version of The World's Most Famous Secret Agent and the late Sir Sean Connery-portrayed versions of Commander Bond are issued the PPK in "Dr. No" to replace Agent 007's .25 caliber Beretta 418 for greater stopping power; this is one of the relatively few instances wherein the movies were faithful to the novels. The difference is, "Dr. No" is the first in the canonical film series but actually #6 in the book series. When John Gardner took over writing the series in the early 1980s with "License Renewed," Bond's PPK was replaced by more powerful sidearms, but in the movies, it lasted all the way until the mid-1990s when Pierce Brosnan assumed the role.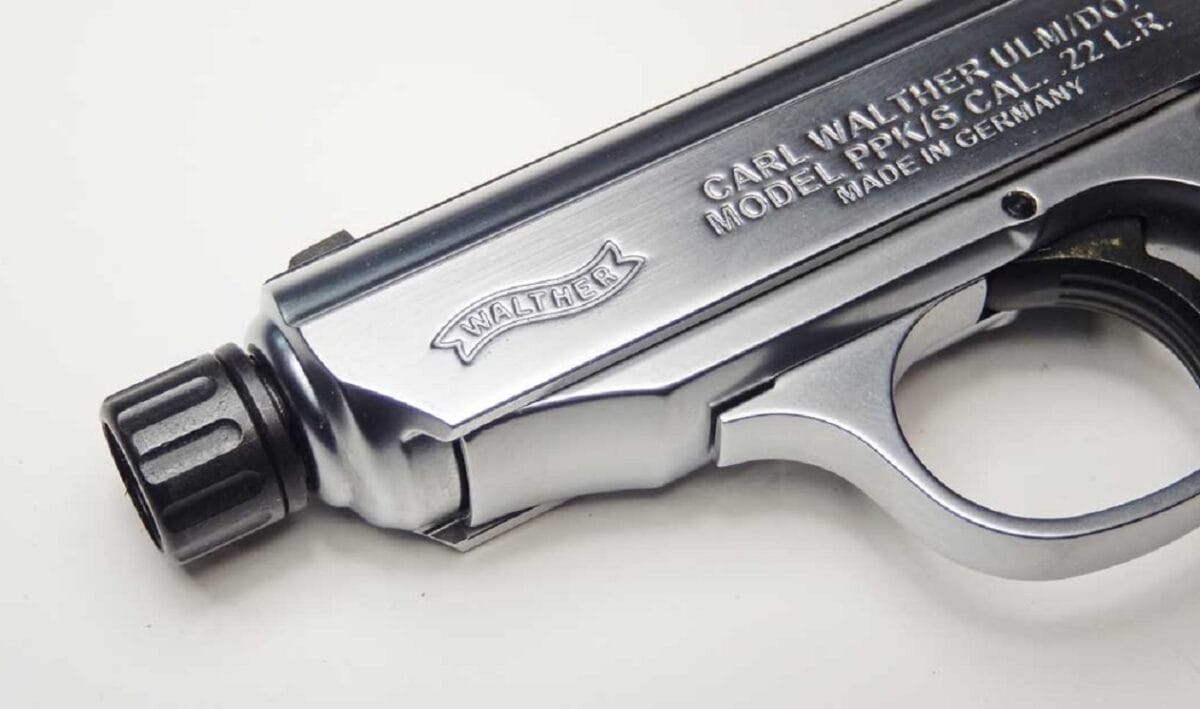 The gun doesn't really deal out "delivery like a brick through a plate-glass window," but it'll get the job done, is superbly compact and concealable, reliable, and reasonably fun to shoot.
Dirk Pitt and Isaac Bell: Colt Government Model M1911 .45 ACP
Might as well follow up James Bond with a character who my fellow Clive Cussler fans and I like to describe as an American James Bond and an American Jacques Cousteau – with a wee bit of modern-day Indiana Jones for good measure – all rolled into one: Dirk Pitt, former U.S. Air Force Major, longtime Special Projects Director and eventual head honcho of the National Underwater Marine Agency (NUMA; in fiction, it's a well-funded Federal agency; in real life, it's a non-profit foundation whose volunteers have discovered many a shipwreck). Pitt inherited his trusty .45 – which is also the most popular pistol series on this list among real-life gun owners around the world – from his father, California Senator George Pitt (sheesh, if only my former home state had George Pitt as a real-life Senator as opposed to the anti-gun likes of Diane Feinstein), who had carried the gun in WWII. Pitt uses his Colt to dispatch many a bad guy in these books, perhaps most dramatically so in 1978's "Vixen 03" and 1988's "Treasure."
Another Cussler character with his own series, early 20th-century detective Isaac Bell, also carries a Colt .45 auto. The difference is that Dirk has the -A1 version with the post-WWI modifications, while Isaac has the original M1911 design that the doughboys used in the WWI trenches. I'm personally quite fond of both editions of the classic pistol. 
Juan Cabrillo – FN Five-SeveN 5.7x28mm
Two Clive Cussler heroes deserve one more. First appearing in the Dirk Pitt novel "Flood Tide," the intrepid Mr. Cabrillo and his hardy crew of the eponymous tramp-steamer-turned-super-spy-ship S.S. Oregon eventually got their own spinoff series, and it's a doozy. Juan's go-to handgun – which he conveniently conceals in his artificial leg – is the Fabrique Nationale Herstal (FN) Five-SeveN in 5.7x28mm. 
Some gun experts, like my former friend S.A. Bailey, absolutely despise this gun and cartridge combo. Others, like my old high school buddy "Misfit," absolutely love it: "[G]un owners of any experience level should own that weapon … I love that gun more and more every time I shoot it," adding that the gun is so accurate that it consistently gets him shot grouping in the targets' left eyes. I myself found it enjoyable to shoot, though it admittedly messed with my head: the round looked like a miniaturized 5.56x45mm rifle round, gave off 5.56-like muzzle flash and report … yet had felt recoil barely above that of a .22 LR. 
Scot Horvath: SIG Sauer Pistol (Possibly a model P226, P228, or P229 9mm)
I've only read one novel in Brad Thor's bestselling series, that being 2008's "The Last Patriot," though I reckon I owe it to my fellow USC Trojan alumnus Mr. Thor to buy and read more of his books. As to what pistol his bad*** hero Scot Horvath carries, there's some degree of ambiguity, according to former Forbes contributor Keith Wood:
"Throughout the book, Harvath carries what is described as a 'Sig Sauer pistol.' Though we don't know the particular model, Thor does give us a few clues … As a former U.S. Navy SEAL, Harvath might show a preference for Sig's P226, the standard-issue sidearm for the SEAL Teams, but his desire to conceal it leans us toward the more compact P228 or P229." 
All three of those SIG pistols are superbly accurate and reliable guns.
Mack Bolan: .44 AutoMag
As with the PPK, this gun was made famous by cinematic and literary action heroes alike: (1) good ol' Clint Eastwood's Inspector "Dirty Harry" Callahan in the 1983 film "Sudden Impact," apropos as this was the same movie character who made the original .44 Magnum famous; (2) Mack Bolan of the late Don Pendleton's (1927-1995) bestselling series "The Executioner," which, just like the James Bond series, has long outlived its creator and original author, with 631 novels published and 200 million copies sold since 1969. 
The gun was designed by Harry Sanford in 1970 and put into production the following year. Alas, in spite of the double dose of box office and bestselling book series publicity, the AutoMag was a financial failure due to poor logistical planning. Fortunately, the pistol has recently been resurrected by Auto Mag Ltd., Co. Here's hoping these guys get it right this time; after all, the AutoMag is the only pistol on this list I haven't gotten to fire yet; to paraphrase Mr. Rogers, "Can you say 'Bucket List," boys and girls?"
About the Author and Firearms Expertise 
Christian D. Orr is a Senior Defense Editor for 19FortyFive. He has 34 years of shooting experience, starting at the tender age of 14. His marksmanship accomplishments include: the Air Force Small Arms Ribbon w/one device (for M16A2 rifle and M9 pistol); Pistol Expert Ratings from U.S. Customs & Border Protection (CBP), Immigration & Customs Enforcement (ICE), and the Federal Law Enforcement Training Center (FLETC) Criminal Investigator Training Program (CITP); multiple medals and trophies via the Glock Sport Shooting Foundation (GSSF) and the Nevada Police & Fires Games (NPAF). Chris has been an NRA Certified Basic Pistol Instructor since 2011.