True story and one that might sound familiar to anyone who has gone to fire off a few rounds: there is a local indoor shooting range near this reporter's home that has a sign at the front counter that reads, "No Wolf Ammunition Allowed."
It wasn't that the gun shop/indoor range was trying to force customers to buy more expensive ammunition or that it was even trying to ban cartridges from Russia (that's apparently President Biden's job).
Rather, it was simply that Wolf's bimetal jacket isn't really safe for indoor shooting.
Like many indoor ranges across the country, this particular range uses a backstop constructed of steel, and like many indoor ranges, Wolf was banned. Now steel would seem to be strong enough to stop most bullets, so why was Wolf a problem?
A common misconception was that the rounds are simply "too powerful" and can penetrate the steel backstop. That's not entirely accurate – while it is true that steel core rounds can damage a backstop, it is actually that bi-metal ammunition, including Wolf, can result in steel-to-steel contact that can cause sparking. That in turn could ignite un-burnt powder residue in the air. Although rare, that wouldn't make for a good experience at the range.
Difference Between Steel Cased and Steel Core
The confusion is that Wolf ammo is steel cased, which is quite different from steel core.
"Case" actually refers to the shell or outer cartridge of the ammunition, not the bullet. The shell is where the firing primer and gun powder is stored, and for the reasons cited above even though it isn't the actual "bullet" that is being fired, the bimetal ammunition can cause issues in indoor ranges with sparking – or even outdoor ranges in dry conditions, where in rare instances it can ignite a fire.
Steel "core" is essentially ammunition that has a chunk of steel located in the core of bullet. This will not help with armor penetration, but it can do damage to steel target hangers and even backstops – which is also why many indoor shops ban it. Steel core shouldn't be confused with full metal jacket (FMJ), which just means the core is encased in a "one piece" metal jacket and it has no designation for the metal material.
In the case of a steel case, these are typically silver in color as one might expect. However, there are different coating options including polymer and lacquer that are both used as lubricants, and as a result many people may not realize it is actually a steel case.
Wolf's Steel Case
The next question is why does Wolf use steel casings if there is an issue? The obvious answer is that it is cheaper, but again that's just part of the story. Steel casings are actually extracted much better than brass with some firearms. However because steel is harder, which can result in jamming, steel casings are typically coated with those lubricants.
Now as for why an indoor range and some outdoor ranges may not allow it – there is also a secondary reason to ban Wolf – and other steel-cased ammunition. That is because steel cases are non-reloadable and are typically just thrown away. Brass on the other hand can be reloaded, and some ranges may collect the brass shells and either use them for reloads or sell the brass to someone who is looking to do reloading.
Not having to sort through to separate steel casings from brass casings saves time for the range.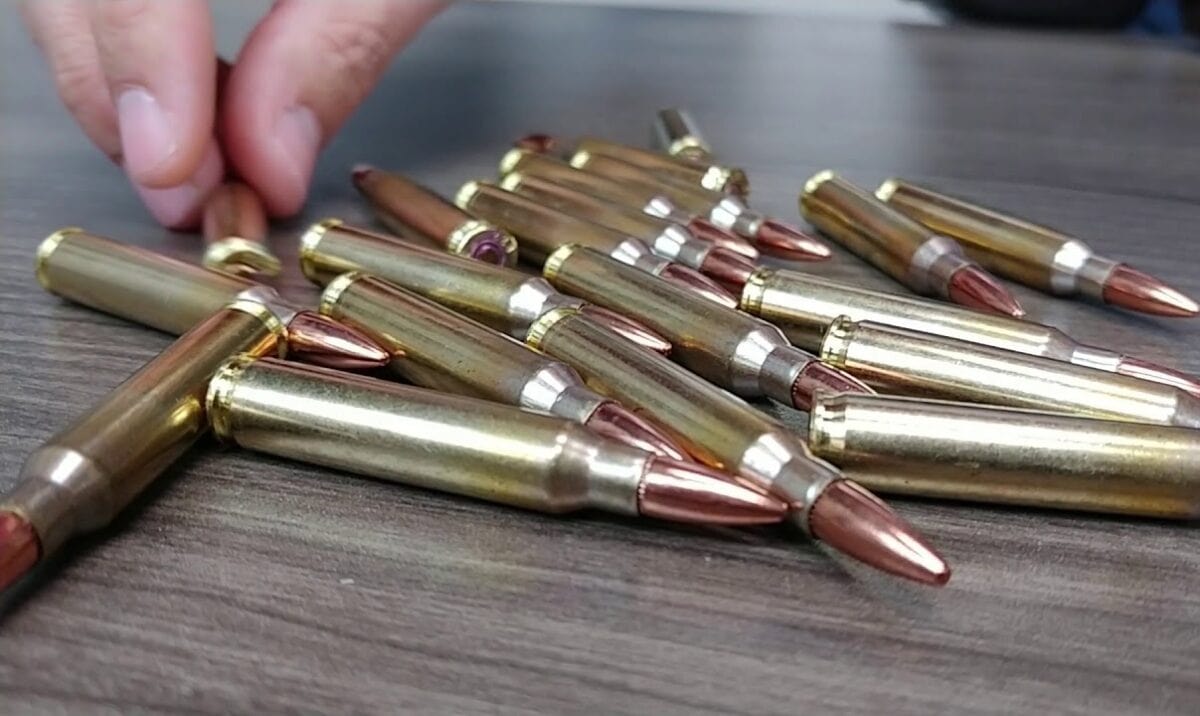 Dirty Wolf
Some shooters complain that Wolf ammunition can result in the accumulation of combustible by-products, notably between the case and the chamber. However, Wolf ammo is actually non-corrosive – unlike some other bargain bin ammunition from Pakistan and other countries. So while there may be an excess of carbon after a day at the range, as long as you're taking the time to clean the gun it shouldn't be a problem. Wolf is well within accordance with all SAAMI standards.
In other words, if you're doing you're shooting mostly at outdoor ranges or in the woods you can't really go wrong with Wolf. The bigger issue may be finding it in stock, now that the Biden Administration has essentially banned it and other ammo from Russia, which could make the great ammo shortage last even longer.
Peter Suciu is a Michigan-based writer who has contributed to more than four dozen magazines, newspapers and websites. He regularly writes about military small arms, and is the author of several books on military headgear including A Gallery of Military Headdress, which is available on Amazon.com.