3 Best Military Rifles on the Battlefield Right Now: It's difficult to whittle down to the three best military rifles around the world for many obvious reasons I am sure you can guess. Operators look for modern appearances and components. Portability and compactness are important for close-quarters combat. Durability in different weather and difficult terrain is paramount. Ease of maintenance is another must-have.
With these requirements in mind, these are the three best military rifles around the globe:
3 Best Military Rifles on the Battlefield Right Now: Heckler and Koch 416 (HK-416)
The Heckler and Koch 416 (HK-416) is the Norwegian military's rifle of choice. It raised some pulses when it was reported that HK-416 was the SEAL Team Six weapon that killed Osama bin Laden in 2011. This could be the best rifle in the world. It looks like an M4, but don't let appearances fool you. The HK-416 can fire 850 rounds a minute due to its short-stroke gas-operated piston action. So, since the 416 uses a piston to cycle the weapon, the result is a rifle that doesn't get overheated and requires less maintenance. It uses 5.56mm ammunition in thirty-round standard-capacity magazines.
The French military will be taking it up as their new assault rifle. It comes in different barrel sizes, from 11-inches to 20-inches, and weighs 7.8-pounds unloaded. It has a rail system for various sights and accessories. The HK416 has a large bolt catch lever and shielding barrier against accidental discharges. It can be fired in semi-automatic or automatic mode. The buttstock is retractable.
3 Best Military Rifles on the Battlefield Right Now: AK-103
The AK-103 is an updated version of the venerable Kalashnikov family of 100-series rifles. First used in 2001, the AK-103 fires a 7.62 x 39 mm round. The AK-103, like the AK-47, is easy to take apart and re-assemble, which aids in maintenance. With a 30-round magazine, it fires great in different environments – from desert and high-altitude – to humid climates. Recoil has been improved and the muzzle flash is reduced. Plastic composites and polymers have helped modernize the AK-103. It's also easy to train new users on its operation. The side-folding buttstock helps soldiers who are looking for something more compact when riding in vehicles or helicopters. It's just under eight pounds when unloaded. The AK-104 is the carbine version.
Sights can be added on the top of the receiver. Users can install flashlights, aiming lasers, or grenade launchers easily. Range for the AK-103 is 500-meters. The rate of fire is around 650-rounds per minute and the muzzle velocity is 2,411-feet per second.
3 Best Military Rifles on the Battlefield Right Now: FN SCAR
The FN SCAR, made by Belgian Fabrique Nationale of Herstal (FN Herstal), is the standard modular rifle for the Belgian and Portuguese militaries. It is also used by operators in the U.S. Special Operations Command. It's an original design. The receiver is made of a sturdy hard-anodized monolithic aluminum. There are accessory rails on the top, bottom, and sides. The barrel is "hammer-forged, chrome-lined, and free-floating," according to the manufacturer. The polymer butt-stock is side-folding, and it can be removed easily. It is chambered in 5.56x45mm NATO or 7.62 X51mm. It can even shoot the Soviet-era 7.62mm round. There are three quick-detachable barrels – standard, close quarters combat, and long barrel. An FN SCAR can also be outfitted with a 40mm grenade launcher. The controls are ambidextrous.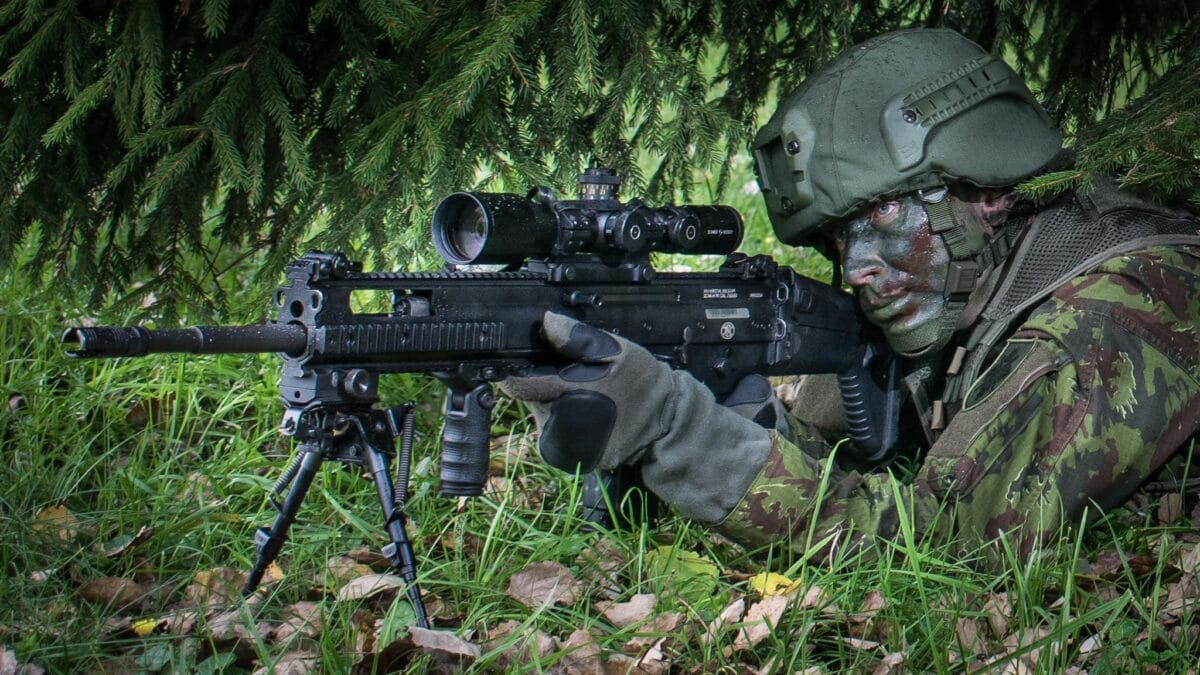 What Would You Take to War? 
Despite the FN SCAR's numerous features, I would take the HK416. I like the familiarity of the design. It already has a history with SEAL Team Six. The AK-103 is a big improvement over the AK-47 and AK-74. The FN SCAR has a lot going for it as well. The best part is that it can be a long rifle and a sub-compact for better close-quarter battle capabilities. All three of these rifles are tough to beat.
Now serving as 1945's Defense and National Security Editor, Brent M. Eastwood, PhD, is the author of Humans, Machines, and Data: Future Trends in Warfare. He is an Emerging Threats expert and former U.S. Army Infantry officer. You can follow him on Twitter @BMEastwood.