What made the F-4 Phantom special?
 In the 1950s, McDonnell Aircraft began the development of what was once described as one of the greatest fighters of the post-World War II era.
Originally developed as an attack aircraft with four 20mm guns, the F-4 Phantom evolved into an advanced – yet gun-less – all-weather interceptor that was equipped with advanced radar and missile armament.
Just thirty-one months after its first flight it was adopted by the United States Navy in 1961 – becoming the service's fastest, highest-flying, and longest range fighter.
Soon after, the aircraft was adopted by the United States Marine Corps and the United States Air Force. The tandem two-seat, twin-engine, all-weather, long-range supersonic jet interceptor and fighter-bomber proved to be ideally suited to the military's needs during the Cold War.
It was well armed, and could carry more than 18,000 pounds (8,400 kg) of weapons on nine external hardpoints, including air-to-air missiles, air-to-ground missiles, and various bombs. Later models also incorporated the M61 Vulcan rotary cannon to give the warbird a bit more firepower. The aircraft was also equipped with Westinghouse APQ-72 radar, IR detector in a small fairing under the nose.
Phantom or Phantom II
The aircraft had numerous colorful nicknames, including the "Spook," "Flying Brick," "Double Ugly," "Rhino" and "Big Iron Sled." However, it was officially named Phantom II on July 3, 1959, during a ceremony held at the McDonnell plant in St. Louis, Mo., to celebrate the company's 20th anniversary
However, over time, the numeral "II" had been discontinued; the F-4 had become the only Phantom.
Speed Demon
Able to travel at twice the speed of sound – Mach 2.2 – the McDonnell Douglas F-4 Phantom II set sixteen records for speed, altitude and time-to-climb; establishing the world altitude record at 98,556 feet in 1959 and the speed record of 1,604 mph on a 15-mile circuit in 1961.
It was the only aircraft used by both U.S. military flight demonstration teams: the Navy Blue Angels and the Air Force Thunderbirds; which flew the Phantom II from 1969 to 1973.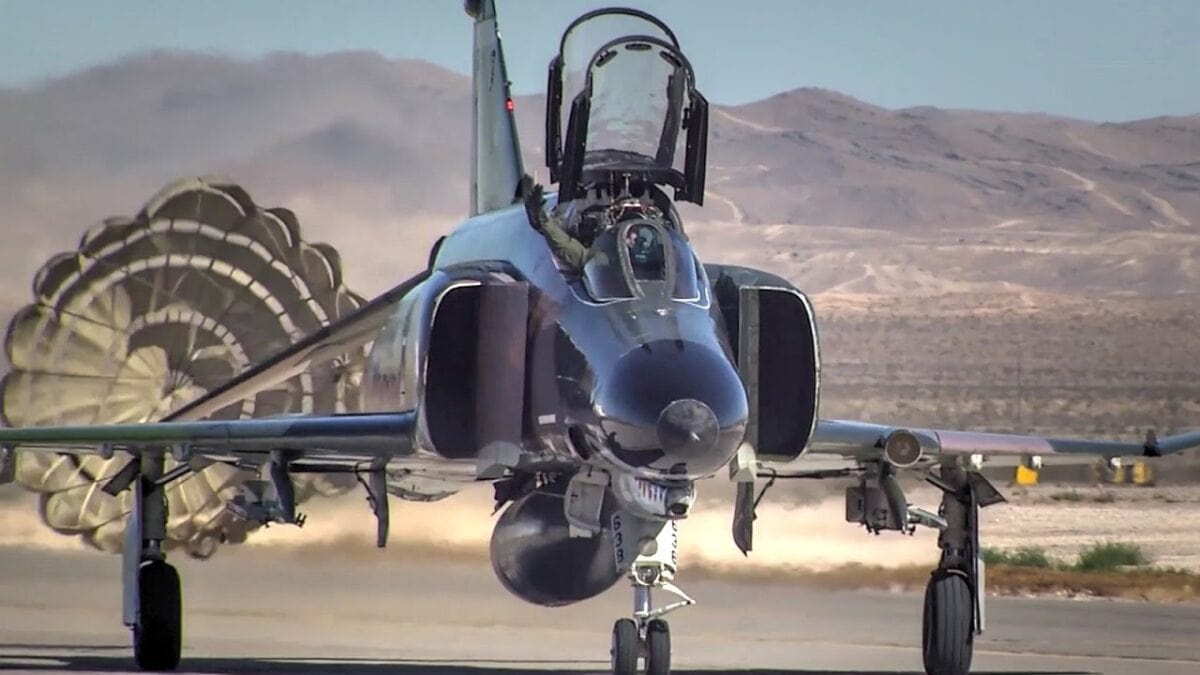 Operational History
It F-4 took part in multiple combat operations during the Vietnam War. The Air Force sent its first F-4Cs to Southeast Asia in 1965, where they conducted air-to-air missions against North Vietnamese fighters as well as attacking ground targets. In its air-to-ground role, the F-4C could carry twice the normal load of a WWII B-17.
The F-4 Phantom II remained in service throughout the Cold War and even took part in Operation Desert Storm in Iraq before being retired by the U.S. military in 1996.
Between 1958 and 1981, a total of 5,068 aircraft were built by McDonnell Douglas – making it the most produced American supersonic military aircraft in history – while another 127 were built by Mitsubishi in Japan.
In addition to service with the U.S. military, the Phantom II was adopted by nearly a dozen other countries including Australia, Egypt, Germany, Greece, Iran, Israel, Japan, South Korea, Spain, Turkey, and the UK.
Some of the aircraft in foreign service were still operational as of last year.
The Phabulous Phantom
Powered by two 17,900-pound-thrust General Electric J79-GE-17 jet engines, the aircraft offered a maximum speed of 1,485mph, and a range of 1,750 miles. The F-4 had an initial climb rate of more than 41,000ft/min, while its service ceiling was 56,100 feet.
The F-4 Phantom II featured nine external hardpoints, which provided a capacity to carry up to 15,983lb (7,250kg) of payload, and the aircraft was equipped to carry air-to-air and air-to-ground missiles, as well as unguided, guided and nuclear bombs. It was also armed with an internal 20mm nose-mounted M-61 'Vulcan' cannon.
During its service career, the F-4 Phantom II was widely employed as an interceptor by the United States Navy, while the Marine Corps utilized the aircraft as a ground support bomber.
Additionally, the F-4 was able to undertake air superiority missions, close air support, interception, air defense suppression, long-range strike, fleet defense and attack and reconnaissance missions.
The all-weather aircraft could also be pressed into service for short training missions or exercises in search of anti-aircraft defense systems.
While the F-4 was retired in 1996, the aircraft has been utilized in a new role – serving as aerial targets for the next generation of U.S. military aviators. According to Boeing (which merged with McDonnell Douglas in 1997) modified Phantoms designated QF-4 were used as remotely controlled aerial targets over the Gulf of Mexico in 2014 to test pilots, and other aircraft such as drones and weapons at Tyndall Air Force Base (AFB) near Panama City, Fla.
MORE: Is Russia's Su-57 Felon Stealth Fighter a Total Bust?
MORE: Merkova: Israel Has A Super Tank
Now a Senior Editor for 1945, Peter Suciu is a Michigan-based writer who has contributed to more than four dozen magazines, newspapers and websites. He regularly writes about military hardware, and is the author of several books on military headgear including A Gallery of Military Headdress, which is available on Amazon.com. Peter is also a Contributing Writer for Forbes.