After Years of Delays, Aircraft Carrier USS Gerald R. Ford Is Ready For Action – After years of setbacks, multiple delays, and most notably cost overruns, the United States Navy's newest and largest aircraft carrier proved that good things come to those who wait.
The $13 billion USS Gerald R. Ford (CVN-78), lead vessel in a new class of ten planned flattops, finally embarked upon her first – albeit abridged – inaugural deployment a few months back – a good sign of things to come and bad news for nations like Russia and China who have no way to match its capabilities. 
Ready For Action
Larger in size than the Nimitz-class carriers, USS Gerald R. Ford can operate with a smaller crew thanks to a greater emphasis on automation.
The warship will also see a reduction in maintenance requirements, as well as a crew workload reduction.
This will allow for improved quality of life for the crew including better berthing compartments, larger gyms and workout facilities, and even more ergonomic workspaces.
The carrier's basic mission will remain largely unchanged. 
Still, Gerald R. Ford will be able to deliver greater lethality, survivability, and joint interoperability, along with unmatched versatility and compatibility with continuing joint-force transformation.
The flattop will be capable of carrying upwards of 90 of the United States Navy's most advanced aircraft, and that will include the F-35C Lightning II Joint Strike Fighter, F/A-18E/F Super Hornet, E-2D Advanced Hawkeye, EA-18G Growler electronic attack aircraft and MH-60R/S helicopter as well as unmanned air and combat vehicles. In addition, Ford will also be able to recover and launch various Short Take-Off and Vertical Landing (STOVL) aircraft flown by the United States Marine Corps including the F-35B Lightning II.
The carrier is also the first to be equipped with the Electromagnetic Launching System (EMALS), which will be utilized with all future U.S. Navy carriers. It replaced the traditional steam catapults for launching aircraft and can provide more accurate end-speed control, with a smoother acceleration at both high and low speeds. 
It can launch a range of aircraft from small unmanned drones to heavy strike fighters. It also allows for a higher sortie rate of upward of 160 sorties a day with surges to a maximum of 220 sorties a day in times of crisis or during intense air warfare activity.
To accommodate the increase, there were design changes to the flight deck, which has a relocated and smaller island. Additionally, there are three rather than four deck-edge elevators, while deck extensions have increased the aircraft parking areas.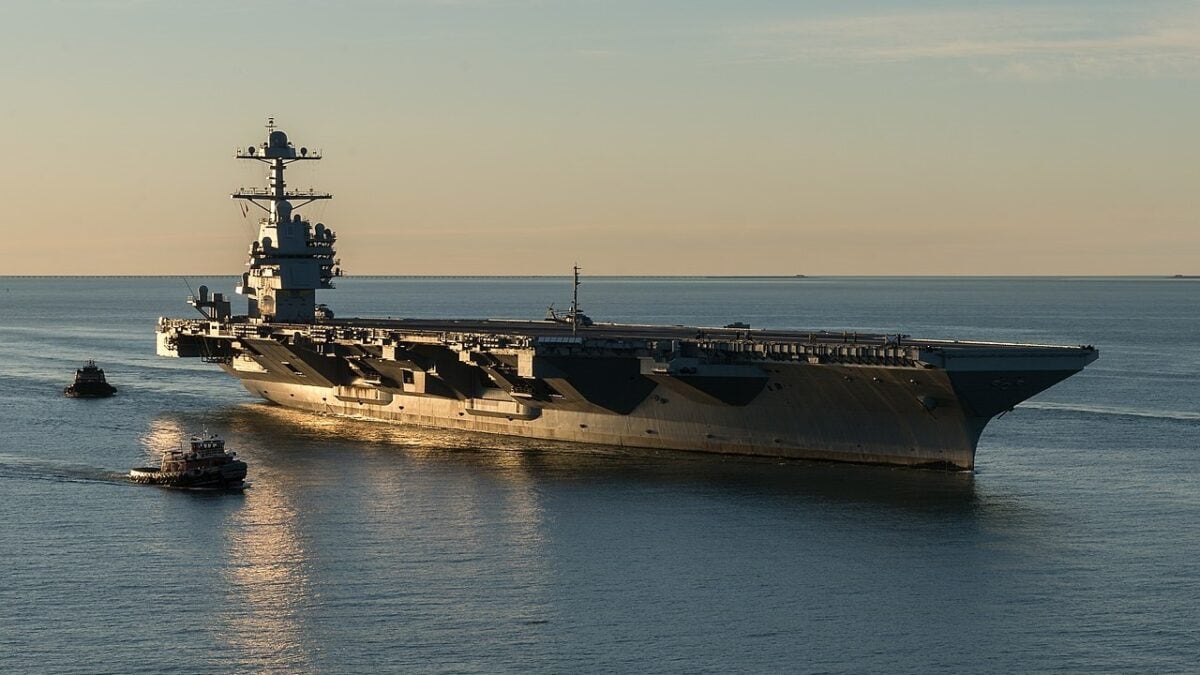 Though CVN-78's maiden deployment was shorter than most, it proved this is a fighting ship that is ready for action – and more importantly ready for a full-length deployment this year.
MORE: Ukraine Needs M1 Abrams Tanks Now (But Will Have to Wait)
MORE: Joe Biden Won't Send F-16 Fighters to Ukraine
Author Experience and Expertise: A Senior Editor for 19FortyFive, Peter Suciu is a Michigan-based writer. He has contributed to more than four dozen magazines, newspapers, and websites with over 3,200 published pieces over a twenty-year career in journalism. He regularly writes about military hardware, firearms history, cybersecurity, politics, and international affairs. Peter is also a Contributing Writer for Forbes and Clearance Jobs. You can follow him on Twitter: @PeterSuciu.