T-80 Russian Tank Falls Out of Favor – The T-80 is one of those Russian tanks that seems left out of most discussions about Russian armor. The T-72 and T-90 are more of a fixture on the battlefield. Strangely, a T-80 variant, called the T-80UM2, an experimental tank, was found in Ukraine as a smoking-destructed mess in mid-March. This blown-up tank was thought to be Russia's only prototype and it was a mystery as to why the vehicle was even in the theater of operations in the first place. The Russians may be getting desperate and are throwing any armor they have access to into battle.
T-80: Rate of Fire Is Adequate
The T-80 began its journey of development in 1976. It has a 125mm smoothbore gun with a rate of fire of six to eight-rounds a minute. Firing on the move is simplified. 45-rounds are carried on a carousel apparatus. There are about 1,400 T-80 tanks are in service and hundreds more in reserve.
Bad Performance in First Chechen War
The T-80 was meant to win a mechanized fight against the United States and NATO. It was distributed among Warsaw Pact members to overwhelm the enemy. It later got its baptism of fire in the First Chechen War. There, like many models of Russian tanks, it had difficulty. The urban fighting saw the Chechens executing asymmetric tactics that made the Russians pay a price with many damaged and destroyed tanks. As a result of poor performance, the T-80 saw no service in the Second Chechen War or the short Georgian conflict in 2008.
Gas Turbine Engine Is Novel for the Russians
The tank is known for its gas turbine engine with 1,000 horsepower with a top speed of 43 miles per hour on roads. This gas turbine engine starts better than diesel models in frigid temperatures. So, the T-80s has that advantage when temperatures in the north of Russia are sub-zero.
Anti-tank Guided Missile from the Gun Is Interesting
The Russians tried to improve on the baseline T-80 with the introduction of T-80U in the 1990s after lessons learned from Chechnya. Later the T-80UM variant added thermal sights in addition to the day and night sights. The gun could shoot anti-tank guided missiles so that was an advantage. This munition has a range of up to 2.5 miles and can punch through explosive reactive armor.
The T-80UA model had a new fire control system and an auto-loader for the gun. Later T-80s had better turrets – a welcome addition to the fire control system and auto-loader.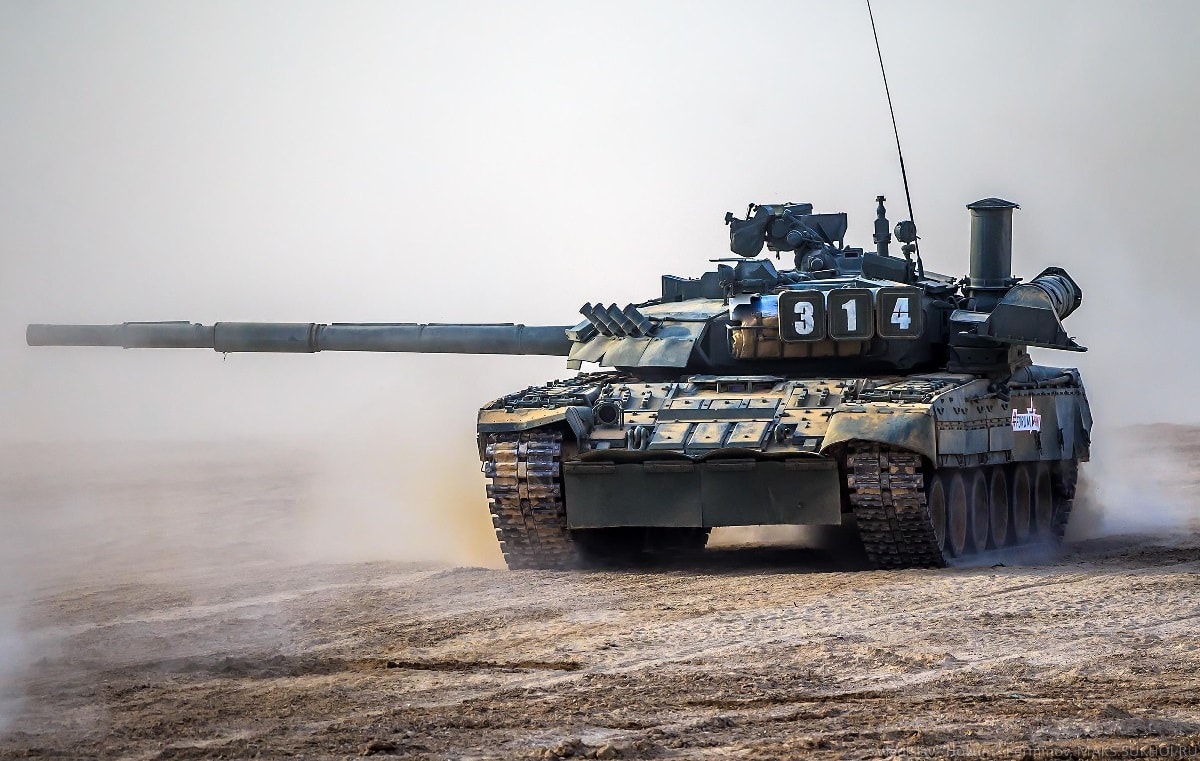 New Model Was Meant to Dominate
This paved the way for the newfangled T-80UM2 mentioned above that met its demise in Ukraine March 17. The Russians trotted it out to the public to much fanfare in 2017. This showcased the new Sosna-U thermal sight and Relikt explosive reactive armor. The Drozd-2 active protection system has been a valuable edition to the tank's survivability.
T-80 Singing the Ukraine Blues
The T-80 variants used in Ukraine are sometimes abandoned in Ukraine. Others are being destroyed most likely due to anti-tank guided missiles, artillery, mortars, and drones. It's a bad sign when your prize T-80 upgrade, the T-80UM2 is reduced to scrap on the battlefield. The Russians are likely to get more of the baseline T-80s out of storage and send them to the front. This may result in additional casualties or abandonment as Ukraine puts its thousands of anti-tank weapons donated by NATO countries into use.
Now serving as 1945's Defense and National Security Editor, Brent M. Eastwood, Ph.D., is the author of Humans, Machines, and Data: Future Trends in Warfare. He is an Emerging Threats expert and former U.S. Army Infantry officer. You can follow him on Twitter @BMEastwood.