Ukraine's Air Force reportedly conducted a daring raid last weekend on Russian-occupied Snake Island. Also known as Serpent Island or Zmiinyi Island, Snake Island is located about 80 miles south of the strategic Ukrainian port of Odessa. The strike was carried out by a pair of Soviet-era Su-27 combat aircraft and filmed using a drone (see video below).
Video of the attack was first released and posted on Saturday evening by the Operational Command South of the Armed Forces of Ukraine. It has trended on social media, netting more than 2.3 million views so far.
"The Ukrainian Air force is still alive — seen here are two Ukrainian Su-27 striking Russian facilities on the famous Snake Island in the Black Sea, in remarkable footage filmed by a TB-2 drone. As we can observe, there is serious damage," Ukraine Weapons Tracker (@UAWeapons) announced in a tweet. 
The video shows the Su-27s making a high-speed, low-level bombing run on Russian forces. The Ukrainian aircraft entered very low from the south. That is probably not the direction Russian forces would focus on – they would likelier focus on attacks emanating from the Ukrainian coastline to the north and west. The attack destroyed a Russian helicopter.
Ukrainian forces have waged a relentless defense-suppression campaign over and around Snake Island with the Turkish-built Baykar Bayraktar TB2 drones. This medium-altitude long-endurance unmanned combat aerial vehicle is capable of remotely controlled or autonomous flight. The Ukrainians have used it against Russian ground forces as well as warships. Last week, a TB2 was reportedly used against a Russian vessel near Snake Island. 
Ukraine Cuts the Snake
Russians seized the 110-acre Snake Island in late February, during the early stages of Russia's unprovoked invasion. Ukraine has steadily attacked the island ever since. The satellite-controlled drones have reportedly been used to destroy at least three low-altitude air-defense systems, as well as two Russian patrol boats and a landing craft.
As David Axe reported for Forbes, "Destroying the air-defenses, along with any naval vessels attempting to reinforce the tiny island—with its single pier, helicopter landing pad and dozen or so structures—cleared a path for the twin-engine, supersonic Su-27s to strike on or before Saturday."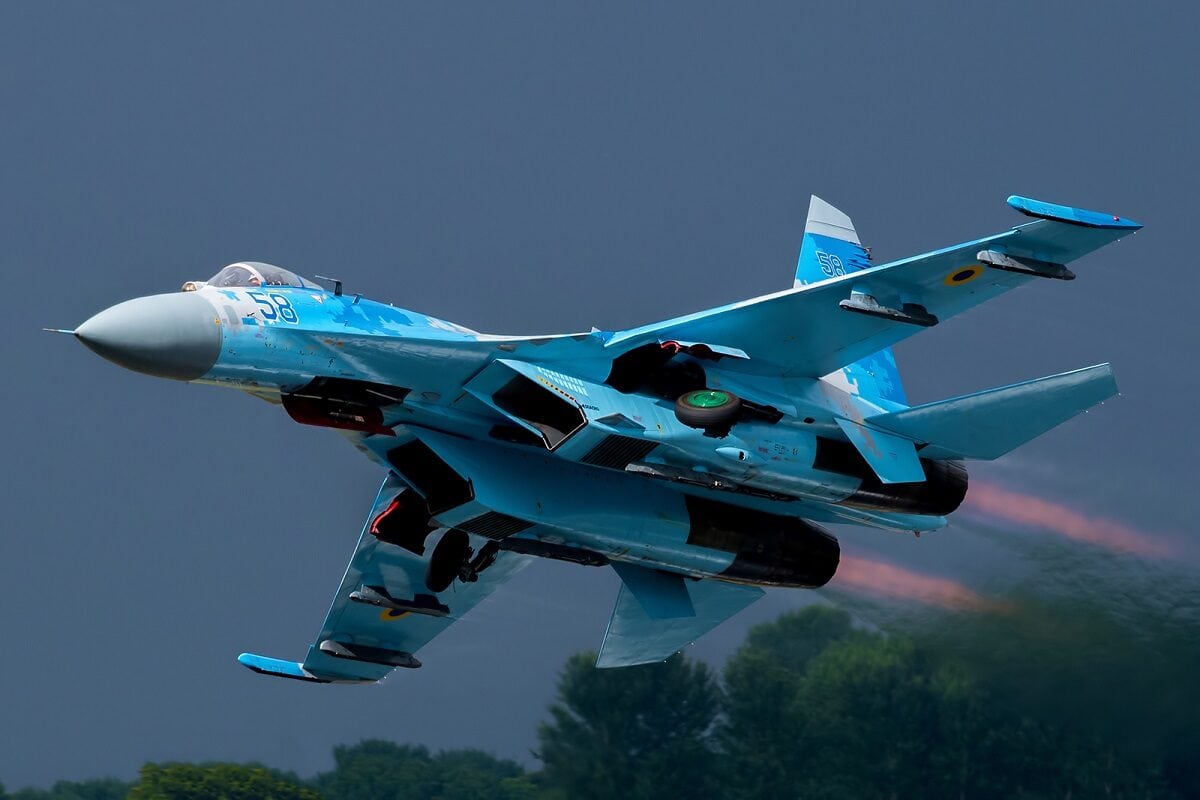 The fourth-generation Su-27 has been primarily employed in an air-to-air role in the war in Ukraine. While it lacks many of the sophisticated systems found in U.S. and NATO strike fighter aircraft, it can serve in a secondary ground-attack role. Its longer range and payload certainly made it a more than suitable aircraft for the raid on Snake Island.
Now a Senior Editor for 1945, Peter Suciu is a Michigan-based writer who has contributed to more than four dozen magazines, newspapers and websites. He regularly writes about military hardware, and is the author of several books on military headgear including A Gallery of Military Headdress, which is available on Amazon.com. Peter is also a Contributing Writer for Forbes.