Attendees to the Association of the United States Army (AUSA) conference in Washington, D.C., late last year were undoubtedly able to see several unique upgrades and enhancements to existing military platforms. Those included the AbramsX, the first hybrid main battle tank (MBT), while Boeing also unveiled its "Modernized Apache Concept."
Much like the M1 Abrams, the AH-64 Apache entered service during the Reagan administration but proved itself in combat in a vastly changed world. Both may have been designed to fight the Soviet Union in Europe, but were able to meet the challenges in the Middle East and beyond.
Current Army plans still call for the Apache to remain operational, as well as an integral part of the service's aviation forces – and as such, the combat helicopter has been optimized to complement the next-generation platforms in the Future Vertical Lift (FVL) ecosystem.
"From the AH-64A in 1984 to today's AH-64E Version 6, or v6, the Apache has grown in leaps and bounds — time and again exceeding expectations and redefining the capabilities of the platform. The Apache has proven to be an extremely lethal attack helicopter platform as well as a very powerful and effective Reconnaissance platform," Boeing stated.
"Continuous modernization has yielded unprecedented advances in lethality, survivability and network connectivity to deliver sustained dominance on an increasingly complex, multi-domain battlefield," the aerospace giant continued.
Apache: Improving on a Classic
The new Apache will be a further evolution of the combat-proven AH-64E v6, which is currently operating around the world. It will feature six major upgrades and additions, including advanced sensors and sensor fusion, and powertrain improvements for "enhanced power, range, efficiency, and speed."
In addition, its advanced mission systems can increase interoperability with the network and reduce pilot cognitive strain and workload during operations.
The Modernized Apache concept will also result in lower-cost airframe sustainment, while munition enhancements could include directed energy weapon systems.
As reported by Janes, the model based on the concept that was displayed at Boeing's exhibit at last year's trade event included additional enhancements on the extended weapons – notably three pylons each, compared with the two pylons on each current Apache wing.
Those hardpoints could be used to accommodate air-launched effects (ALE), as well as direct-energy weapons. The former could be employed to jam enemy radar signals, increasing the aircraft's survivability in contested air spaces.
In addition, it could also be used for loitering munitions to attack ground formations or function as a decoy to penetrate enemy air defenses.
Digital Tools
Boeing has also touted how it utilized the latest digital tools to develop the Modernized Apache. That will leverage the company's 30-plus years of experience in "digital engineering to offer an industry-leading, end-to-end digital lifecycle that will enable unprecedented speed and agility."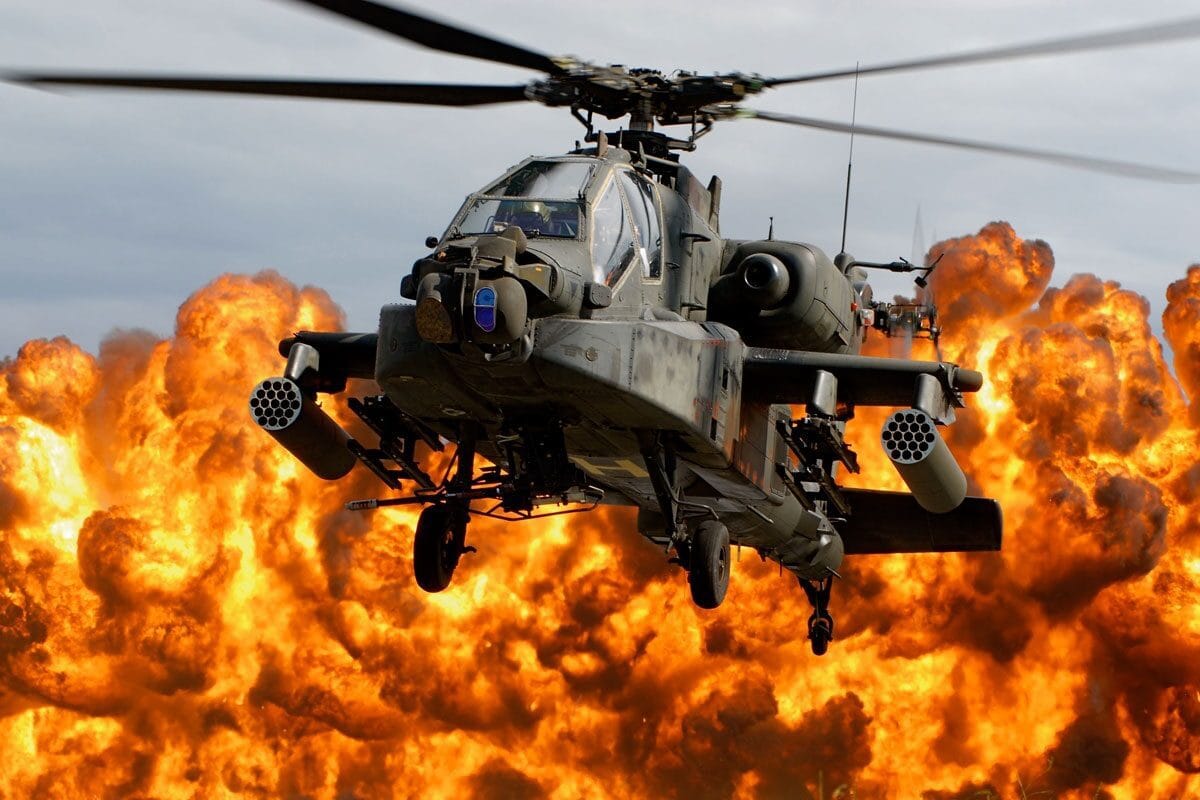 No timeline has been announced, but it is believed the Modernized Apache could be taking to the skies by the end of the decade.
Bonus Photo Essay: Meet the AbramsX
MORE: Joe Biden Won't Send F-16 Fighters to Ukraine
MORE: Why Putin Should Fear the F-16 Fighter
A Senior Editor for 1945, Peter Suciu is a Michigan-based writer who has contributed to more than four dozen magazines, newspapers, and websites with over 3,000 published pieces over a twenty-year career in journalism. He regularly writes about military hardware, firearms history, cybersecurity, and international affairs. Peter is also a Contributing Writer for Forbes. You can follow him on Twitter: @PeterSuciu.