Ruger American, A Short Review: With a name like the "Ruger American Pistol" the only thing missing were a red, white and blue finish and a Captain America roundel on the grip.
Produced in combat and full-size models, the polymer-framed semi-automatic was introduced by the iconic gunmaker in 2015.
Design
It utilizes a pre-tensioned striker firing system, with a Browning-type locked breech short recoil action, and is available in 9mm Luger and .45 ACP models. The American Pistol is part of Sturm, Ruger & Company's continued to move beyond the single action and rimfire handguns the company has produced since 1949. While the company entered the centerfire auto pistol market with its P85 some thirty-five years ago, the introduction of the American in 2016 has further taken the company in a new direction.
One that involves a truly rugged and durable handgun, and as Personal Defense World report that included a pistol that could be frozen in ice, thrown against walls and even run over by a Humvee and still be able to fire. Few sporting shooters would ever subject their guns to such torture, but this merely demonstrates that the American is as tough as a superhero – even if it was only available in your basic gun metal or sleek gray Cerakote versions.
It also features a "no-nonsense" design, which includes a fully-adjustable, serrated rear target sight, ported stainless steel slide to reduce weight, modular wrap-around grip system, pre-tensioned striker system and easy takedown with no tools.
All this begs the question as to why the U.S. military, which has specific endurance specifications, never considered the Ruger American Pistol. In fact, the pistol even featured a MIL-STD-1913 Picatinny rail, which can act as a mounting point for a wide variety of standard sights and lasers. Clearly, someone at Ruger was thinking U.S. military when the American was being developed.
In the end, the Army and Air Force went with the Sig Sauer P320 when it sought to replace the Beretta M9 during the XM17 Modular Handgun System competition a few years ago, but could the Ruger model have been adopted instead? Did Ruger miss an opportunity?
Why Ruger Never Pitched the U.S. Military
As the company tells it, they didn't – and the decision not to submit the American for military trials was a conscious decision. The bottom line reason was very much about the company's bottom line – in other words, Ruger's executives simply didn't see the return on investment.
"A good way to make a little money from federal government sales is to invest a lot money," Ruger product manager told Personal Defense World.
Ruger's team decided not to jump through the hoops to impress the military, but also saw that if it failed to win the contract there would be that belief it wasn't "good enough" for the military. That in turn could cast doubt with shooters. Rather than invest, and face the chance of rejection, Ruger opted to take a win by creating a superior firearm and then simply not enter it for competition.
In the end that may have been the correct decision, as in 2018, the company was forced to issue a product Safety Bulletin for certain Ruger American Pistols chambered in 9mm. The company discovered some of those could exhibit premature wear of the locking surfaces between the slide and barrel. If ignored that could result in a crack. While this typically couldn't occur at round counts below 10,000, such a flaw would be one that could cause a loss of confidence with the military.
Peter Suciu is a Michigan-based writer who has contributed to more than four dozen magazines, newspapers and websites. He regularly writes about military small arms, and is the author of several books on military headgear including A Gallery of Military Headdress, which is available on Amazon.com.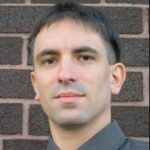 Expert Biography: A Senior Editor for 1945, Peter Suciu is a Michigan-based writer who has contributed to more than four dozen magazines, newspapers, and websites with over 3,000 published pieces over a twenty-year career in journalism. He regularly writes about military hardware, firearms history, cybersecurity, and international affairs. Peter is also a Contributing Writer for Forbes. You can follow him on Twitter: @PeterSuciu.